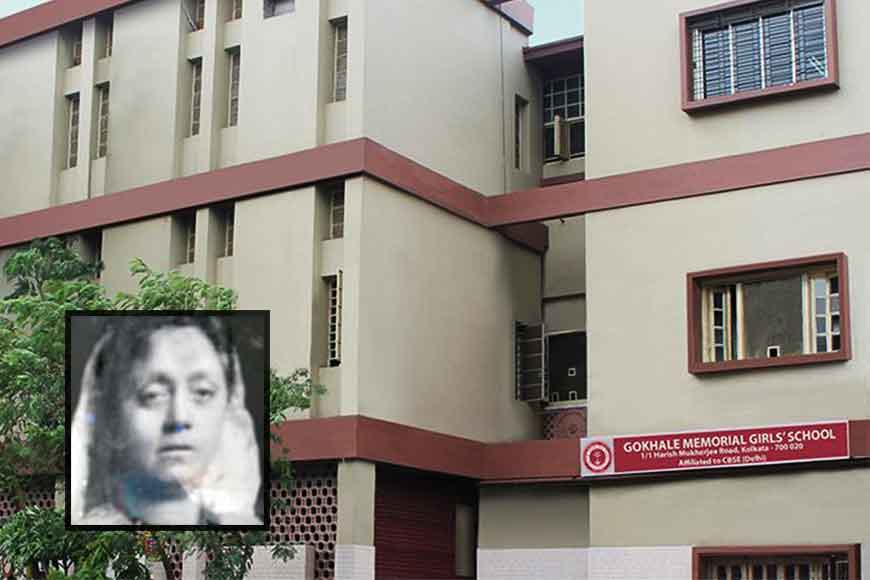 Supriya Roy is an academician and ex-teacher of Modern High School. She is also a prolific writer and researcher
While talking about inheritance, humans always tend to associate property and other material pleasures. Little do we realize that we inherit principles, ideologies, working capacity and a lot more from our ancestors. Our lives are framed by our heredity and environment. Sarala Roy was fortunate enough to have Durga Mohan Das as her father. She was also married to a scholar, Prasanna Kumar Roy, who happened to be the first Indian Principal of Presidency College. He gave complete freedom and supported Sarala Roy to fulfill all her dreams. The other man, Gopal Krishna Gokhale was another strong hand of support and Gokhale Memorial School was established to pay a wholesome tribute to his thoughts and ideologies.
Sarala Roy was aware that freedom of women could not be attained by fighting single-handedly. It was important for men to extend their support in this fight for independence and march together towards attaining the goal. She spent years abroad on and off. Many students from India who lived there were fortunate enough to get a taste of unconditional motherly affection of Sarala Roy in a foreign land. She went out of her way to help everyone.
While she was going through a phase of unbearable grief after her son died in London, she had a dream where the long-deceased patriot and her close associate Gopal Krishna Gokhale appeared and told her that the only way to come out of this grief was to dedicate herself to work for the society. Gokhale Memorial Girls' School was established as an outcome of this dream. Sarala Roy showered everything she had including her power, thoughts, love and affection for her dream school from the very first day.
Lady Abola Bose, wife of famous scientist Jagadish Bose sheds light on the relentless efforts of her sister Sarala Roy in 'Amar Didi.' She says: "Didi used to cut all her vegetables with a boti while talking to the clerks about the school. She often said 'You can always talk even if your hands are occupied.' She used to take care of every detail including where the teachers were supposed to stay, the eating habits and arrangements of the foreign teachers. Her home at 7 Ballygunj Circular Road was always full of guests. It was a melting point of eminent personalities. Tagore had also visited this house. The gigantic house did not seem enough for Sarala Roy. But after she established the school, she used to stay in the balcony to accommodate all the boarders in her house."
Gokhale taught Sarala Roy to eliminate the concept of first personal singular – I, if one wished to do public work. He taught her to endure everything for the betterment of the country. Self-pride had no importance when it comes to working for the country. Roy had once told Gokhale, "None of your political men can live up to your own convictions. Yet, you want to unite India. I am sure with all your liberal views, you have a sacred thread underneath your shirt to denote that you are a born Brahmin. Even you do not have the strength of your own convictions." Surprisingly, the next morning, Gokhale sent a sealed packet that had his sacred thread cut into pieces with the following words: "Many thanks for arousing me to order. I own that I have no business to wear my sacred thread when I do not believe in it. Henceforth, I shall try to act according to my convictions. Forgive."
Such was the vision of two stalwarts who took Gokhale Memorial to its glory. It is very seldom in life that you have the opportunity of meeting a man who loves truth and is strong enough to own an error. Sarala Roy had also told Gokhale that he was missing out a lot by not reading Tagore. Gokhale thus learnt Bengali in just three months. Being a Sanskrit scholar himself, he found Bengali easy. By the end of his term in the counsel, he could read Rabi Thakur's poems.
Sarala Roy believed that women should be all-rounders and inculcate all positive aspects of western thoughts while maintaining the traditions of the oriental culture. Her dreams have truly turned into reality. The girls of Gokhale Memorial Girls' School have always created a wondrous amalgamation of the east and west which is reflected in their personalities. Gokhale had a dream of bringing about the light of women education and Roy became the torch-bearer and transformed this distant dream to reality. She wanted women to be independent without being indifferent. She wanted them to be ideal citizens, ideal mothers and be adept in all household work. Roy made sure that the female teachers who she appointed valued her ideologies. She brought in new subjects like domestic science, comparative religion, music, drawing, sports and much more. Rabindrasangeet and Vedic songs used to be sung as school prayers. Even before Independence, Jana Gana Mana was sung by the students of Gokhale Memorial Girls' School. The legacy still continues.