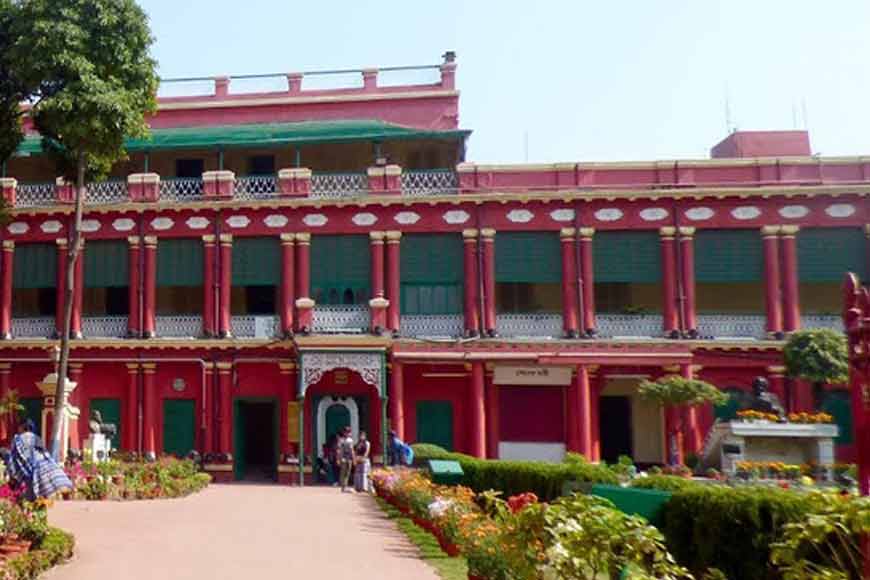 Jorasanko Thakurbari
Having entered the 'native' quarters on last week's walk, we will continue our round of some of Kolkata's grandest residences, commissioned by a group of elite citizens who largely rose to prominence under British patronage, mostly through trade with first the East India Company and then directly with the Crown. Along Chitpur Road and its offshoots, you will find the old family homes of the Mitters (Mitras), Mullicks, Sils, Tagores, and many others who comprised Kolkata's landed gentry in the 18th and 19th centuries.
Not all these old families began their careers in trade with the coming of the British. Many were already in the business of gold, spices, salt, textiles, shipping, and money-lending. However, it is undeniable that trade flourished and the volume multiplied many times with the entry of the British. As a consequence, most of these residences are a healthy balance of East and West, and in some cases, bear a clear message that the colonised were no less influential or prosperous than their colonisers. Indeed, many of these families bankrolled British businesses, at least initially, as equal partners.
But it wasn't all about wealth and pomp. Alongside the lavish celebrations of occasions ranging from Durga Puja to Dol Jatra to the 'wedding' of a pet dog, many of these families produced some of the finest minds of the Bengal Renaissance in the 19th century, thanks to the access to Western education and value systems that the younger members of these families in particular enjoyed.
Many of these magnificent homes are still private residences, so entry is restricted, but if you can obtain permission from someone within the family, or if there is a system in place to obtain permission from the government as there is in the case of Marble Palace, you will be allowed into some areas within the premises.
Point A - Jorasanko Thakurbari
The name Jorasanko (twin bridges) could either have come from two bridges which reportedly once stood nearby, or from a nearby pair of Shiva temples (hence Jorasanko from Jora Shankar), but the information is unverifiable as of now. Completed in 1784, the Thakurbari (Thakur being anglicised to Tagore) was the handiwork of the ancestors of Rabindranath Tagore, whose grandfather Prince Dwarkanath Tagore (1794-1846) gave the family the boost it required to become one of Calcutta's preeminent social entities.
Not only did Dwarkanath amass a huge fortune from coal, indigo, textiles, and shipping, but he was deeply interested in the philosophical and social issues of the day. His son Debendranath inherited this aspect of his father's character, though not his business acumen. And of course, the family reached its zenith with Rabindranath, as well as his astonishingly large number of siblings, almost all of whom were multi-talented in artistic and literary fields.
The Thakurbari stands a little to the right of the Chitpur Road-Muktarambabu Street crossing, and is today Rabindra Bharati University. The public is allowed entry into most sections of the house, and particularly not to be missed is the Rabindra Bharati Museum.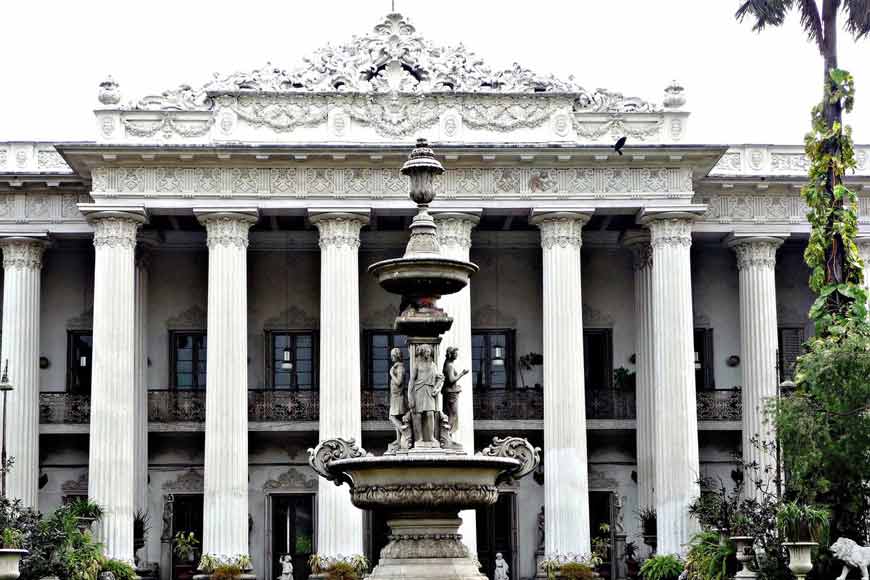 Point B - Marble Palace
Come back to Muktarambabu Street for quite possibly one of the best preserved 19th-century residences in the city. Marble Palace was the dream of Raja Rajendra Mullick, who made a fortune in salt and other trades, and oversaw the completion of his mansion in 1835. A self-made man with a deep interest in the arts, Rajen Mullick acquired a fantastic collection of art and artefacts from all over Europe, many of which are still on display today. The mansion also houses a mini zoo, and has an original painting by the renowned Italian Renaissance painter Titian on display. An immense ground floor banquet hall has a floor reputedly made of roughly 100 kinds of marble, apparently giving it its name, and a Jagannath temple adjoins the residence, housing the family deity Radhakanta. Every year, the palace hosts Rath Yatra with much pomp and splendour, and its Kali Puja is fairly well known too, though it is perhaps one of the few old Kolkata residences not to host Durga Puja.
The house is Neoclassical in style, while the plan with its open courtyards is largely traditional Bengali, harking back to the balance we talked about earlier. You can enter by prior permission, and there are trained staff to show you around.
Point C - The Other Families
Though we have only mentioned the Tagores and Mullicks in detail so far, many other famous family mansions are scattered around this area, including those belonging to other branches of the Tagores and Mullicks. Walking north along Chitpur Road, you will come across Jorasanko Rajbari, belonging to the family of Rajendra Narayan Roy. Temporarily closed now owing to the pandemic, the mansion is remarkable for its lovely terraces and verandas, and a huge courtyard.
A little further on is the now defunct Lohia Matri Seva Sadan, once the abode of Babu Haranath Sil, who apparently sold it to Babu Pradyumna Mullick, a maverick magnate who owned more than 35 luxury automobiles. The graceful house with its lofty Ionian pillars seems larger than it is, thanks to its architecture.
Opposite this is yet another Mullick house, renovated and redesigned by Ashutosh Mullick, who bought the premises from wealthy businessman Madhusudan Sanyal. Famed today for its 'Ghari Ghar' or clock tower, this stately Palladian mansion was the place where Dinabandhu Mitra's banned play 'Nildarpan' describing the horrific plight of indigo farmers was staged in 1872, as a mark of defiance against the British administration.
Nearby is Gorachand Mullick's residence, with its lovely 'nahabat khana' (the equivalent of a minstrels' gallery in old Western palaces), huge pillars, and a remarkable collection of old bronze and marble statues and paintings.
Point D - Pathuriaghata Street
Of course, this is the street made famous by yet another branch of the prolific Mullicks, but it ought also to be known for the Ghoshes. This narrow street once led to a stone-flagged ghat on the Hooghly, and quite disproportionate to its narrowness is the huge mansion belonging to the Khelat Chandra Ghosh family. Prosperous businessman Khelat Ghosh, who had the house built in 1856, was a grandson of Ramlochan Ghosh, diwan to Governor-General Warren Hastings in the 1780s. This was one of the families with 'old money', clearly, and the residence reflects their former wealth and glory.
Next door is the house of Bhupendra Krishna Ghosh, yet another descendant of Ramlochan Ghosh. This appears older than the Khelat Ghosh mansion, and is reportedly almost 250 years old, though it is smaller. Both Bhupendra Krishna and his son Manmatha Nath were renowned patrons of Indian classical music, and their house once played host to almost every celebrated performer in the field.
Standing opposite is the house of Jadulal Mullick, grandson of Nemai Charan Mullick, who lent his name to Mullick Ghat near Howrah Bridge. Today, it remains remarkable for its cast-iron pillars and arches, and steel beams on the ceiling, an innovation way ahead of its time.
Point E - Prasanna Kumar Tagore Street
Turning left from Khelat Ghosh's house, you will find P.K. Tagore Street, named after Prasanna Kumar Tagore, grandson of Darpanarayan Tagore, once a diwan to the governor-general. Prasanna Kumar was a multifaceted genius, a prominent businessman as well as lawyer and social activist, he was also the man behind Tagore Castle, built in 1850. An extraordinary structure resembling an English castle, complete with towers and turrets, the building has been modified and built over several times, so that little remains of the original castle, unfortunately.
Next week, we will continue our walk along Chitpur Road, and proceed toward the Sealdah area. Until then, happy walking.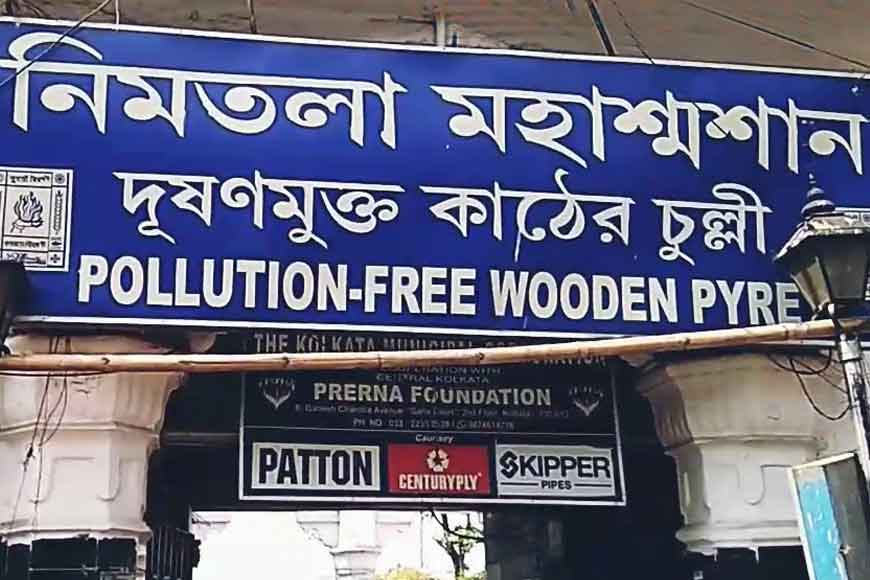 Point F - Nimtala Ghat
One of Kolkata's most prominent and well known cremation grounds, though the approach to it is so crowded and chaotic that it may put you off. If you can brave the walk, the ghat itself shows no signs of the gory scenes ascribed to it in 18th and 19th century writings. Of course, there have been many renovations through the decades, and it is worth a visit simply to remember the many illustrious citizens of Bengal who were given their last rites at Nimtala. Also, it was somewhere between Nimtala and Ahiritola Ghat that Job Charnock is said to have come ashore in 1690, signalling the 'birth' of the British city of Calcutta.
Point G - Darpanarayan Tagore Street
From Nimtala, find Maharshi Debendra Road and then on to Darpanarayan Tagore Street, named after an ancestor of Rabindranath Tagore. The Tagore family shifted to this area from the erstwhile Gobindapur, which was evacuated when construction began on the new (and present day) Fort William in 1758.
From remnants of the palace of Kalikrishna Tagore to the more than 200-year-old Bhagwati temple built by Baishnab Das Mullick, this street also houses the residence that Baishnab Das built in the 1790s, called 'Madhupur'. It was from this residence that the two most important later branches of the Mullicks emerged - the Mullicks of Marble Palace and those of 'Ghari Ghar' on Chitpur Road.
And Chitpur Road is where we will be starting the next edition of our walk. Until then, happy walking.