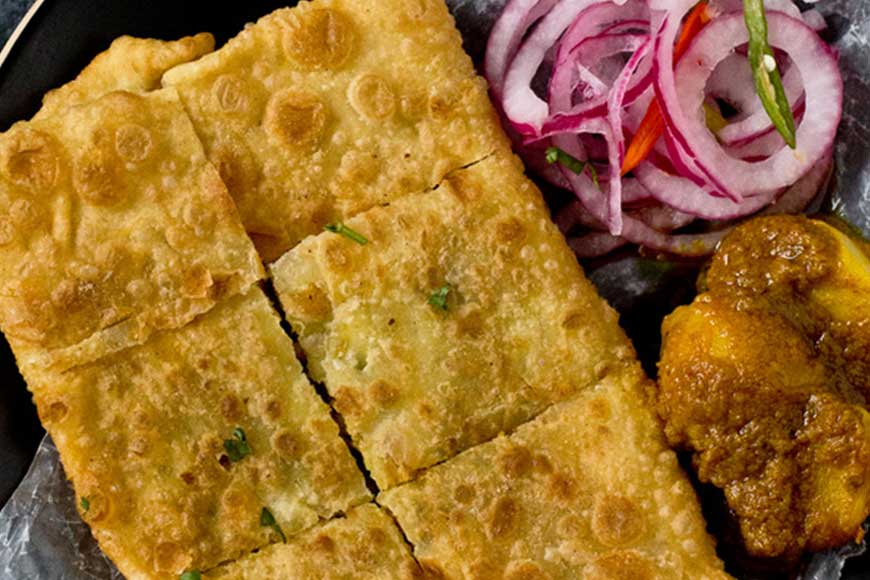 Calcutta is a gastronomer's paradise. And one thing that we cannot get over are those deep-fried egg paratha loaded with minced mutton or chicken meat unique in both look and flavour. Yes, we are talking of Mughlai Parathas. The rectangular paratha made with white flour or maida which is folded like an envelope. The thin-layered, deep-fried paratha consists of a rich filling of eggs, keema (minced meat) and lots of spices. The crispy paratha is cut in little squares and served with potato curry and cucumber and onion salad on the side.
But when and how did this interesting dish originate? Interesting stories galore about Mughlai Paratha. It is believed that the Mughlai paratha originated during Mughal Emperor Jahangir's reign (1569-1627) and it was a creation of his cook Adil Hafiz Usman. The monarch was tired of having the same old paratha and meat served to him during meals daily, so he ordered his cook to innovate a new dish in 10 days' time. On the 9th day, Usman came with zabir fala or anda roti which later was known as Mughlai paratha. Jahangir was so delighted that he gifted 1001 gold coins and a jagir in West Bengal to his cook. Imagine 1001 gold coins for a simple paratha in the 16th-century!
Usman, who originally hailed from Burdwan, not only refrained from sharing his recipe with the khansamas in Old Delhi and Lucknow, but also asked his son to keep the recipe a secret from the other chefs in the royal kitchen. The family secret was fostered for several generations, until their later descendants started selling the delicacy across Bengal during the British Raj.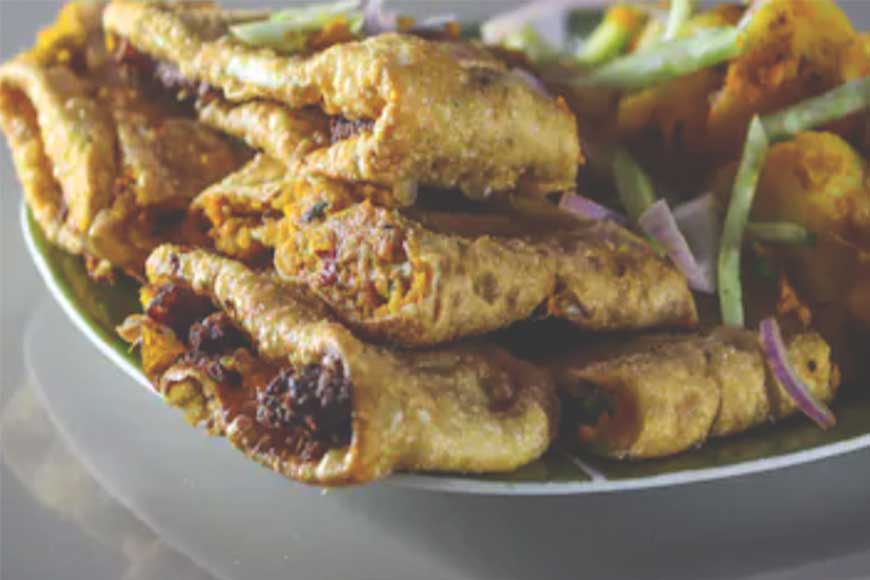 Mouthwatering Chicken Mughlai Paratha
However, we all know the Turk-Afghan influence in Bengal goes back to 1201 AD when military general, Bakhtiyar Khalji invaded this region and the Khalji dynasty ruled Bengal from 1204 to 1227. The Khalji dynasty reigned Delhi between 1290 and 1320, three hundred years before Jahangir. The Turks introduced Indians to Gözleme, a delicious traditional Turkish savoury. It is a flatbread recipe stuffed with spiced and minced lamb or beef filling. It is somewhat similar to Mughlai paratha and can be called the precursor of Mughlai Parantha itself.
Another dish quite similar to Mughlai paratha is found in Maharashtra. The 'Baida Roti' (baida means egg) is a flaky wrap filled with meat, eggs and spices. It is shallow-fried and served as a mid-day snack or a lunch meal. The Baida Rotis are also known as 'Burma Rotis.' It is another form of Mughlai Paratha. In Burma (present day Myanmar), a version of these rotis known as 'Palatas' are very popular. The entry point of Burma rotis in India can be traced back to the British period when both Burma and Sri Lanka were under the British administration. It is believed that in those times people who migrated from Burma brought the recipe to the Indian shores. The Mughlai paratha has a lot of similarities with the Arabic or Lebanese breads, where you find a square-shaped and deep-fried bread or wrap stuffed with meat.
A very interesting point has been raised by noted academic and food historian Dr. Pushpesh Pant. He says spices like pepper, galangal, saffron and pounded almonds were very much present in central Asian and Delhi Sultanate food practices and it was the Britishers who were behind the term Mughlai. They ousted the Mughals and promoted the myth to appear like the true successors of Mughals and today in the West, 'Mughlai' has become synonymous with all Indian food. Also, after the fall of Delhi in 1857, talented bawarchis took refuge in small states and served the local zamindars or 'Rajas.' They contributed significantly to evolve existing dishes into exotic dishes and the addition of 'Mughal' or 'Mughlai' made it more authentic and appealing. Besides, it added glamour of the Mughal Durbar and class to the dish.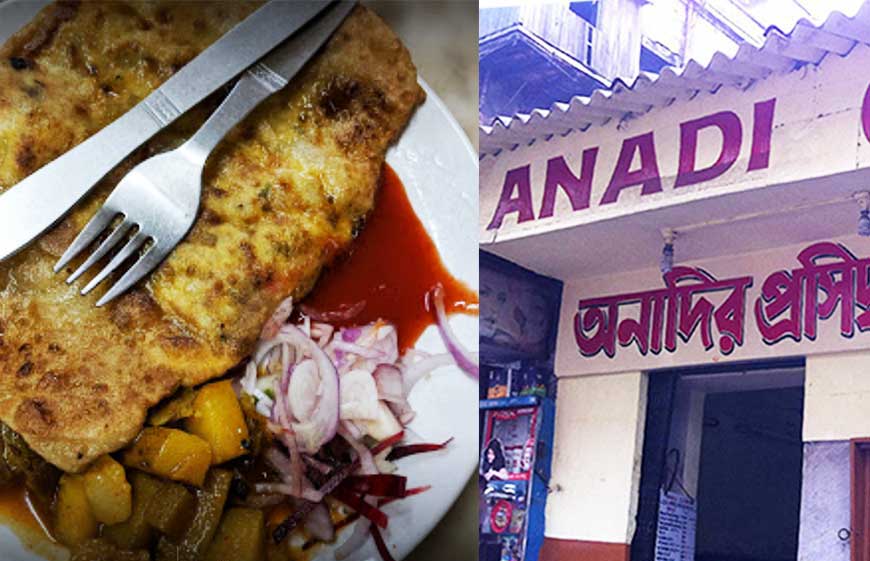 The iconic Anadi Cabin and its Mughlai Paratha
The classic snack is also a popular street food in Dhaka. Before the British invasion, East Bengal (now Bangladesh) saw a greater Muslim influence in their food. The extensive use of keema in their dishes is one characteristic feature of the regional cuisine of East Bengal. Many propagate the theory that the Mughlai parathas travelled to Kolkata via Dhaka after Independence but that is negated because Anadi Cabin in central Kolkata (Espanade) was set up in 1925, long before Independence by Balaram Jena in memory of his deceased son, Anadi. At present, the establishment is run by the third generation of the family. The décor has remained unchanged as has the quality of the food. People still throng to this eatery to savor Anadi's piping hot Mughlai paratha with dry, diced spicy potato curry, a few slivers of onion and cucumber and some mustard sauce or tomato sauce. Even in this 21st century when foodies are spoilt for choices, Calcutta's love affair with Mughlai paratha continues unfazed.