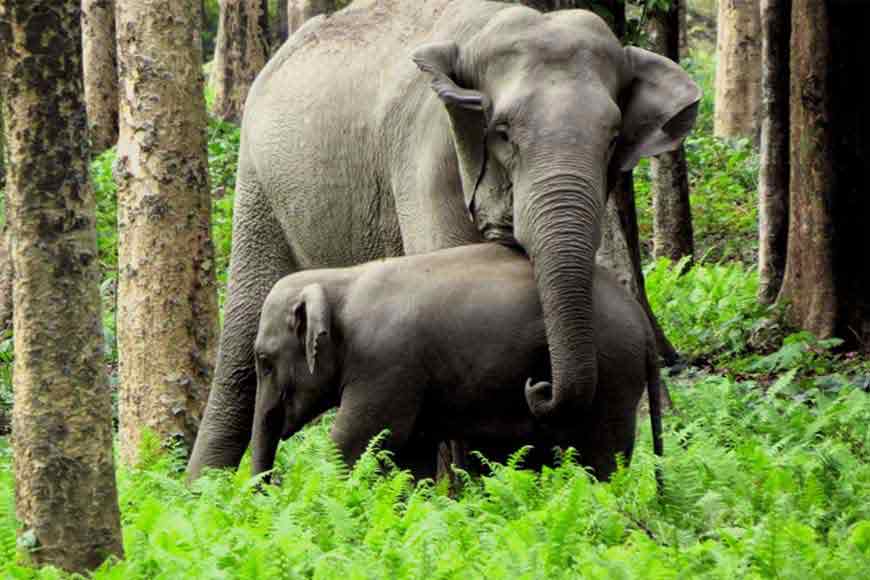 The portrait of the Mother Elephant standing in a Kerala pond in pain with its unborn child within and dying a silent death, thanks to the firecracker laden pineapple given by villagers to eat, made me numb. It also reminded me of a fine wintry morning on the fringes of the Jaldapara Reserve Forest of North Bengal. As I went out of the Tourist Lodge to take a stroll, I was told by locals that a herd of wild elephants were seen last night close to the lodge gates. Though I had seen barbed electric wires on the forest boundaries and was quite curious to know if the elephants get electrocuted and die, I was told they are solar powered wires with very low ampere. Hence there is no possibility of any fatal damage. I was relieved!
I was also happy to note that the State Forest Department had taken up several innovative methods to keep the elephants away and even creating awareness among villagers, taking them into their fold, so that instead of poisoning elephants that usually people in Kerala do (in Kerala incidentally almost every week an elephant is killed as pointed out by nature conservationist and activist Maneka Gandhi in a recent interview), the people of Bengal try to protect these giant creatures along with protecting their own ripe crops that the elephants invade every cropping season.
The human pachyderm conflict has a history. It started both in South and North Bengal, due to rampant clearing of Jharkhand and Mayurbhanj forests, where mining and other activities in the last few decades have led to huge forest depletion.Historical records of south Bengal show that prior to 1900, the area had dense sal forests and was home to elephant herds. But rapid deforestation in the early 20th century changed the forest landscape. Elephants almost vanished from this region for several decades—till the 1980s, as per records. Instead elephant herds from Dalma Wildlife Sanctuary in Jharkhand started migrating to south of West Bengal from 1987 onwards. Before that, there is only a single record of elephant sighting—in 1976—when a herd of 42 elephants migrated from the Dalma to Sindri in Purulia district.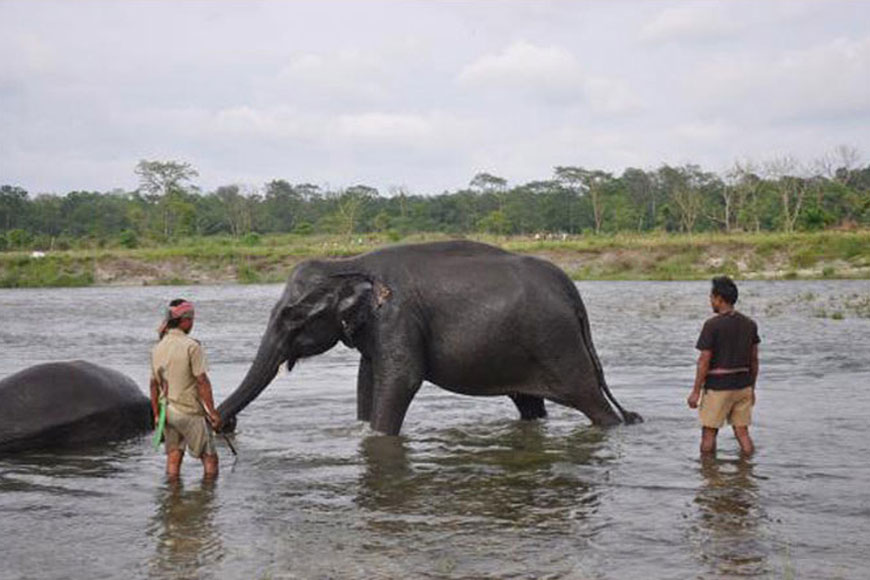 A shot from Gorumara Elephant camp
As Subhankar Sengupta, Chief Conservator of Forest and Field Director, Buxa Tiger Reserve mentions about several measures that have been taken by the State Forest Department to tackle the conflict. 'Regular awareness campaigns are held with villagers with strict do's and don'ts that they have to follow. The electric wire sensing used are of high voltage but low ampere and their batteries are charged by solar panels. Since last three years, we are sending bulk sms es to the villagers and gram pradhans, for advance warning, in case sighting of elephants in the area happens. More and more areas are being brought within its ambit for wider spread of the Sms es. Several water holes, fodder grass, fruit trees have also been planted so that elephants get their food from the forest itself.' True, both scientific methods and compassion can save both humans and elephants from perishing. And Bengal is doing it successfully.
Interestingly, return of elephant herds to West Midnapore, Bankura and Purulia after decades is also an indicator of robust forest growth in South Bengal, the result of an afforestation drive carried out by the forest department and local communities in a joint forest management (JFM) programme. 'Incidentally, the elephants' migration was aided by the success of forestry projects in West Bengal, under which large patches of degraded forest were turned into regenerated forest. These forest patches provide corridors for movement and convenient shelter to elephants,' writes pachyderm expert Nilanjana Das Chatterjee in Man-Elephant Conflict: A Case Study from Forests in West Bengal, India (2016).A change detection study based on satellite data from 1988 to 1991 for Midnapore, Bankura and Purulia districts confirmed an increase of 315 sq. km in forest cover.
Emergence of elephant herds in South Bengal is really a new issue but Bengal is tackling it very efficiently. Initially, the herd from the Dalma Sanctuary would come up to Jhargram in West Midnapore, their movement restricted up to the western bank of river Kangsabati. Later, the herds started crossing the Kangsabati and spending most of the time in the eastern part of the river as this area was fertile with food and water in abundance. With each passing year, as the migratory herds kept expanding their numbers, they began pushing deeper into south Bengal, even crossing over to Burdwan district!
The forest department estimates that at present there are about 140-150 elephants in south Bengal. Of this, about one-third return to their home in the Dalma hills in Jharkhand but the majority stay back as there is easy availability of food and water. South Bengal is not a natural habitat for elephants and the exponential pachyderm population has made matters worse for villagers and forest officials. Still they handle these huge animals with a lot of caution. Hullah parties are organized which is a village task force specially trained by the forest department. A hullah is a 3-4m pole of iron or sal wood, the tip of which is wrapped with jute or cloth and soaked with kerosene or diesel. The leader of the group ignites the tip of the hullah and chases the herd till they are driven away from the crop fields. Along with the hullah, they also use firecrackers and fireballs supplied by the forest department.
According to some officials, chasing away elephants by scare tactics causes more damage as the herd splits into smaller groups and run amok in various directions. In the process, they raid multiple fields of crops. But the best modern technique is forming of an Elephant Movement Coordination Committee (EMCC) to tackle this menace. The EMCC brings together officials of different districts through WhatsApp groups and email exchanges, updating a herd's movement. A special human-wildlife conflict mitigation cell has been established which sends out bulk SMS alerts to villagers warning them about a particular herd. This is an early warning system to prevent human casualty. And needless to say I had witnessed at least two herds of elephants in Jaldapara with robust bulls and a number of elephant kids, walking down the corridor, just a few km from our vehicle. They seemed quite calm, not in a rush. Probably they knew locals out there will not kill them. They had no fear.
(Saheli Mitra did her higher studies in Environmental Biology and runs her own Nature group called To Trees with Love)
Story Tag:
West Bengal State Forest Department, Environmental Issues in Bengal