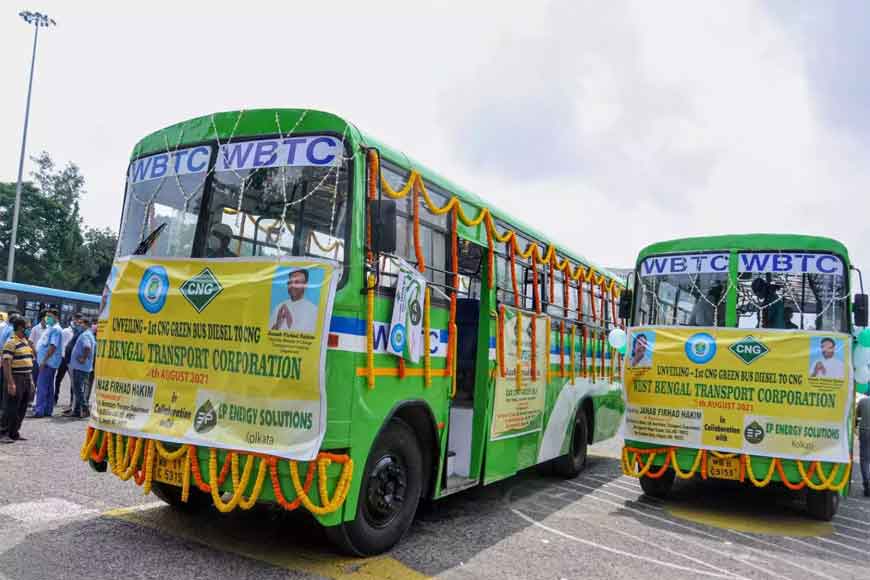 Fuel prices are soaring at a record high across India, leaving commuters flustered. It is time to consider using alternative sources of power. The State Transport Department for the first time is all set to run three government buses fitted with compressed natural gas (CNG) and dual-fuel engines respectively. This will ensure the sustainability of energy usage.
The dual-fuel engine will have a combination of CNG (compressed natural gas) and diesel. CNG is both environment- friendly and economically viable, cutting down on fuel costs between 25 to 30 per cent for bus operators. CNG drastically reduces emission levels of both carbon monoxide and hydrocarbons. Two diesel-run buses under the West Bengal Transport Corporation (WBTC) is currently undergoing structural changes at WBTC Kasba depot for CNG conversion process and will hit the road while the other fleet of the South Bengal State Transport Corporation (SBSTC), a state government undertaken transport corporation, will also follow suit within a couple of weeks and will hit the trail with dual-fuel engines.

According to officials, a dual-fuel kit will be installed in the buses along with CNG tank. The fuel will be carried to the fuel kit via a pipe attached to the CNG tank. It will blend with diesel and then reach the engine. The dual-fuel engine will run on a combination ratio of 60 per cent diesel and 40 per cent CNG.
Sources at the SBSTC said a private automobile agency in the city has been engaged to install a dual fuel kit worth about Rs 1.50 lakh on a bus from the Belghoria depot under the corporation. The bus will be converted to the dual-fuel engine by the agency and the corporation plans to operate it on trial run after the conversion. In the inaugural stage, SBSTC has decided to launch bus number WB 39A/70134 to run on dual-fuel technology.
The three fleets will be plying through different roads in the city on a trial basis first and then carry passengers after getting clearance from agencies authorized by the Centre. If using this alternative source of fuel succeeds, then the project will be sent to the testing agencies under the Ministry of Road Transport and Highways, Union Government, for approval. SBSTC already runs a fleet of 60 CNG-fuelled buses on the busy Asansol-Durgapur route.
(Translated by TTW)