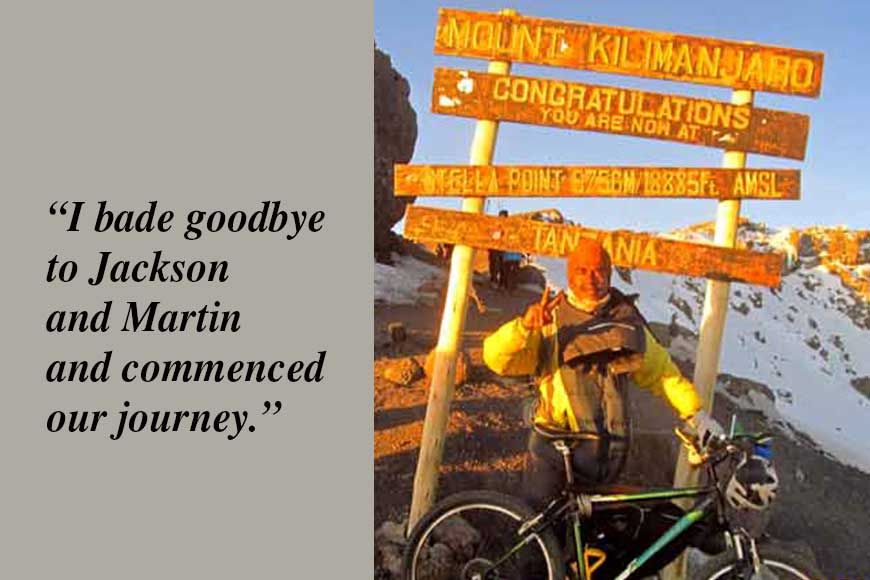 Jackson woke me up even before the alarm bell rang. He had a bowl of hot semolina porridge (Suji halwa) that he asked me to have. I must have been very tired after the steep journey to Kibo Hut because I realized I was in deep sleep. I had the porridge and asked for a cup of coffee. Jackson got it for me. By now I freshened up and began to dress for the journey. I went outside the room and realized it was biting cold. It had been snowing. We were at a height of 4,720 meters. Uhuru Peak, the summit of Kilimanjaro was at a height of 5,895 meters and I would have to scale another 1,175 meters to reach the top. It would be even more bitterly cold up there.
Last night, my guide Bruno had advised me to wear four layers of clothing and I followed his instruction. A half-sleeved T shirt, followed by a full-sleeved tee, a full sleeve wooly cot shirt and finally my feather jacket. Likewise, I had my Bermudas then a pair of wooly cot trousers and rounded it up with a pair of windproof trousers. I put on my usual pair of socks then a pair of woolen socks and trekking shoes given to me by Julio. I wore thick leather hand gloves, woolen cap and a bandana wrapped around my neck. I had my goggles and camera hanging from my neck. My rucksack had water pouches and some extra water bottles, a raincoat and a few slices of cake and some chocolate bars.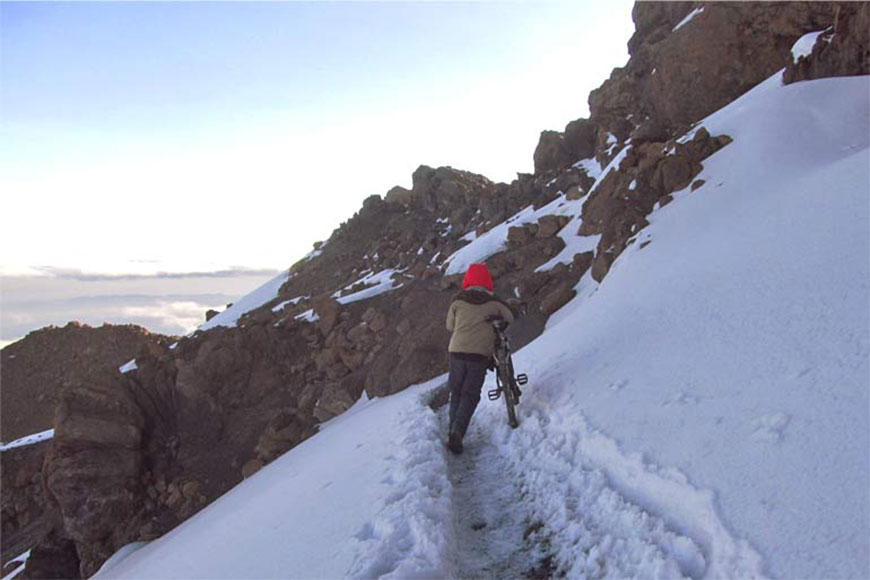 I put the extra batteries for the camera in the inner pocket of my jacket to keep them warm. There was no provision to charge camera batteries in Kibo Hut but one had to shell out $5 to charge cell phones at the warden's room. This provision was available at Hermbo Hut where I had charged my camera cells. It had cost me a princely amount of 10,000 shillings (Tanzanian currency) which, if converted to Indian currency, would be Rs 300.
I came out of the room. Kaito was almost ready. The other two had gone out to freshen up. I saw Bruno had taken out Chetak from the warden's office. I was exhilarated as I thought of how close I was to fulfilling my childhood dream – it was just a matter of a few hours before I would be atop Kilimanjaro with my bicycle! The countdown started. I could see a few dots of light in front of us. Many trekkers had already started their journey. I was getting restless and asked Bruno to speed up.
I bade goodbye to Jackson and Martin and commenced our journey. My wristwatch showed it was 12.10 am, Tanzanian time. The date was January 26, 2019. In India, it was 2.40 am. The group that had arrived from Pune was also on its way up and the team members were shouting "Shivaji Maharaj ki Jai' with gusto. They had selected to reach the summit on India's Republic Day. We slowly moved on and crossed the group as we advanced further up. It was pitch dark as we trailed the rocky path. We both had torches fixed to our headgears. We could barely see as we lugged along with Chetak on the precarious route. Bruno was of great help.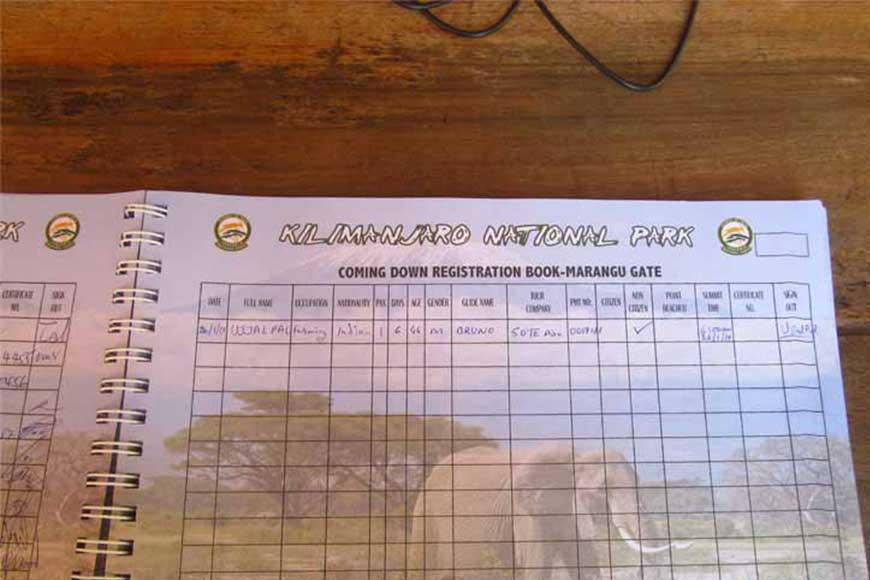 The journey was extremely arduous and I had to exert a lot of physical strength to move up. It was extremely cold and windy and we were freezing inside our bones. As we proceeded, the trail became narrower and treacherous and it rose steeply upwards. After two hours we took a short break. It was 2 am. We could see stars twinkling above us in the clear dark sky. Below us we could see a trail of moving lights emanating from the trekkers' headlights as they ascended the path. There was nobody preceding us. We had a slice of cake each and gulped some water before we resumed our trek. Bruno was very upbeat and asked me constantly if everything was okay with me or if I needed any aid.
Till now, there was no proper track to ride my bicycle, so I was carrying it. After a while, we encountered a region full of solid boulders. Here I had to lift my cycle on my shoulders. Bruno also pitched in from time to time. It was gruelling to say the least and many a time, I had the temptation to leave my bicycle stationed here and head for the summit with Bruno and take it on our way back. When I suggested this idea to Bruno, he brushed-off the idea immediately. He encouraged me saying, "Commander, you will have to fulfil your dream and I am there to help you in every possible way." That uplifted my spirits and we continued our vertical climb.
The weather was getting extreme. A layer of freshly-formed snow covered my bicycle. I sipped from my water pouch but no water came out. The water had turned to ice. Icicles hung from below the boulders. After struggling under duress for two more hours, I was at the end of my tether and kept asking Bruno how much more we would need to walk to get to Gilman's Point. I had read that Gilman's Point marks the end of the scree-filled slopes of Kibo and start of the crater rim. From Gilman's Point, the route to Uhuru Peak, the summit of Mount Kilimanjaro, via Stella Point is on the same height as the crater and requires no vertical scaling. Bruno assured me saying we were almost there.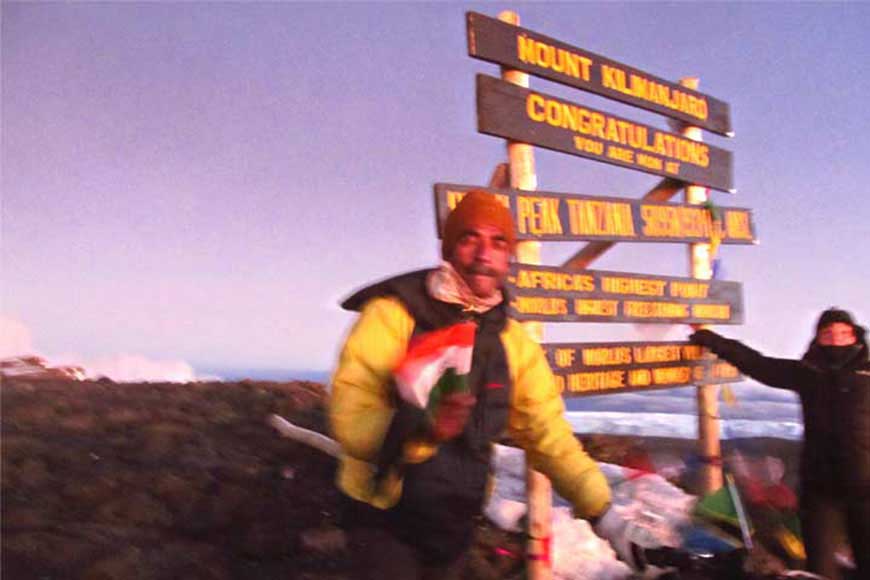 I craned my neck to look upward but missed a boulder step and fell down. Fortunately, my Chetak was with Bruno. If I would have been carrying it then, I would have lost my balance totally and stumbled below. I was fatigued and my body seemed to revolt against this physical strain. After trudging for 20 minutes or so, the scenario suddenly transformed. There was a post on a pair of poles. It read: 'Mount Kilimanjaro. Congratulations. You are now at Gilman's Point. 5685 meters, 18652 AMSL (Above Mean Sea Level), Tanzania.'
It was 4.20 am. Gilman's point is located on the eastern part of Kibo's crater rim — the highest of Mount Kilimanjaro's three peaks. I was ecstatic and hugged Bruno. I finally could do it. He assured me, there was no more climbing to be done, so we could walk the crater rim going clockwise to the summit. The snow-laden path had hardened in the wee hours of the morning. A trail depression had formed on it due to mountaineers walking through the snow. It was adequate for one person to walk on it but I had my bicycle with me as well. It was very difficult to trudge with it beside me. Bruno helped me and we finally reached Stella Point.
Here again we encountered a similar board that announced we had scaled 5756 meters or 18, 885 feet. Another trekking route meets at Stella Point. I could see other trekkers on their way to reach Stella point. The night-long punishing trek had sapped us of our energy and we all looked haggard but the adrenaline rush at reaching the peak was something that filled us with joy. Dawn was approaching. I could see a couple of climbers throwing up their hands in unbridled raptures and hugging each other emotionally. I knew this was the pinnacle of the highest mountain of the African continent and I had finally fulfilled my boyhood dream. I was on top of 'Chander Pahar' (the Mountain of Moon).
We slowly moved forward towards the point. We were greeted by another huge signpost. It read: 'Congratulations. You Are Now At Uhuru Peak, Tanzania. 5895 Meter, AMSL, Africa's Highest Point. World's Highest Free Standing Mountain. One of World's Largest Volcanoes. World Heritage and Wonder of Africa. Welcome.'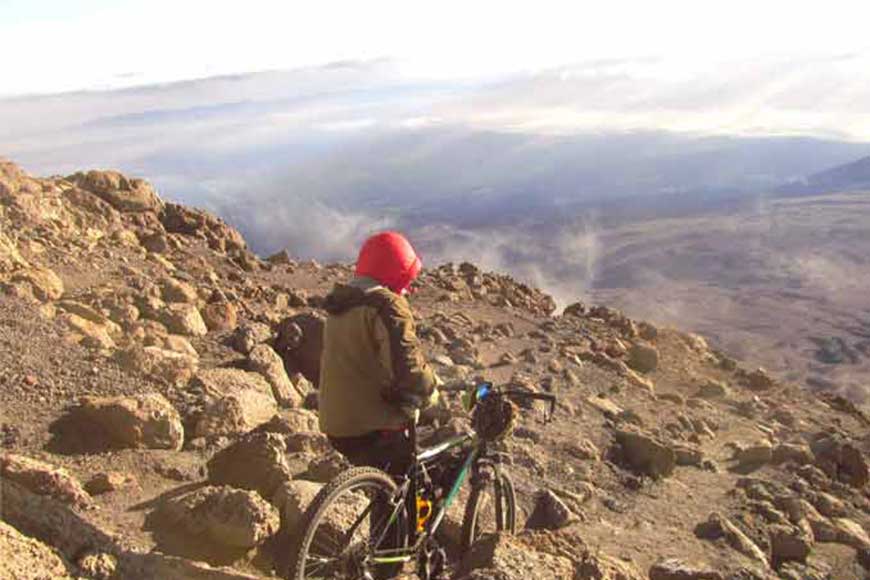 It was 6 am, local time. I took out my country's national flag from my backpack. Indian time 8.30 am. It was January 26, 2019. The country was celebrating its 70th Republic Day. The national flag was being hoisted in different parts of my country and here I was, Ujjwal Paul, the first Indian to scale the highest mountain peak in the African continent with my bicycle, all set to hoist the tri-colour flag atop Uhuru Peak in Mount Kilimanjaro. The early morning light bathed the mountain in pastel shades. I did it and I felt proud of my achievement.
I also took out flags of my mountaineering club, Sonarpur Aarohi, my 'Green on Wheel' campaign banner and my state's emblem, 'Biswa Bangla' and asked Bruno to click pictures. It was minus 15 degrees centigrade and Bruno's hands shook like dry leaves and the pictures he took were slightly off focus. I surveyed the crater carefully. The mouth of the volcano was cavernous inside and most of the areas were covered with snow. The ridge went deep down. The remnants of Kilimanjaro's glaciers looked stunning in the early morning. It was frigid and we were forced to retrace our way downwards.
From Summit it was back to Kibo Hut. We had lunch there and then descended to Herombo Hut and then to Kilema Gate. Finally, at 7 pm, I reached Moshi town.