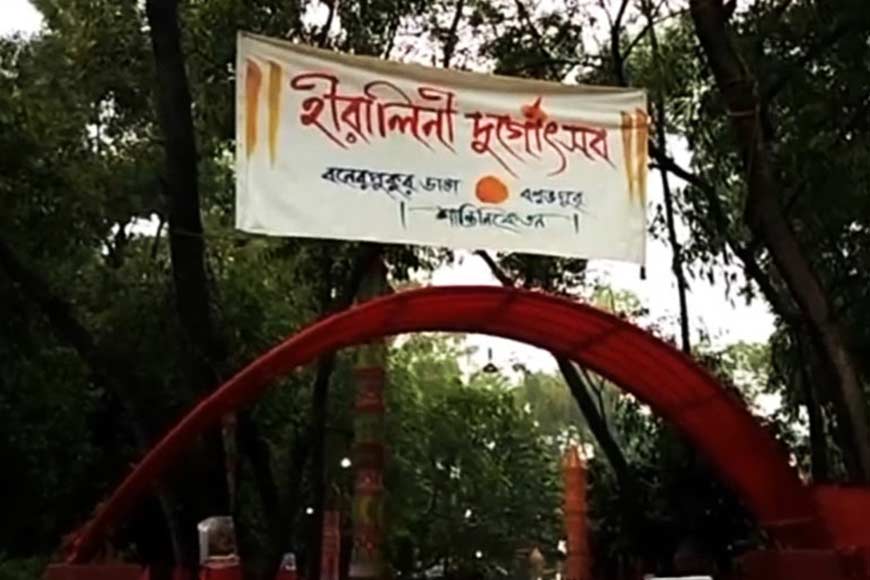 One of the most invoked forms of Goddess Durga is her manifestation as the youthful, multi-armed deity who successfully battles the mighty buffalo demon that symbolizes among other things, the elemental powers of brutish ignorance. Mahishasura's sole purpose was to dominate and control and his exaggerated ego-sense was destroying the balance of the universe. At this juncture, the Goddess geared up for the grim battle to wipe out demonic forces. Durga took up arms to annihilate the dark and restore the equilibrium in the tri-lokas (or three worlds -- heaven, earth, atmosphere; later, heaven, world, netherworld). It was the universal war between knowledge and ignorance, truth and falsehood, the oppressor and the oppressed.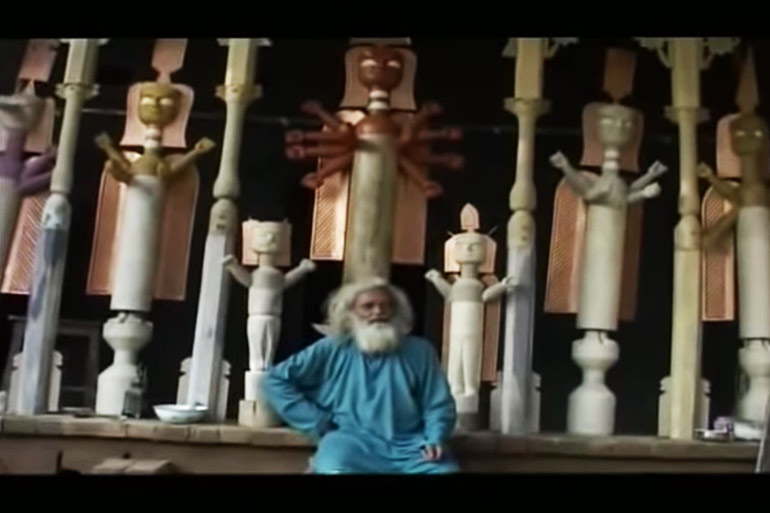 The common imagery that comes to our mind when we think of Devi Durga is that of a fierce, ruthless war goddess who does not hesitate to pierce a sharp lance in Mahishasura's chest and watch nonchalantly blood oozing out from the defeated demon's heart. But artist Badhan Das always felt repulsed by all the gore and violence and had reservations about accepting Durga presenting a fierce, menacing form to her enemies. While teaching in a school he had realized that brute force was inadequate to counter the dark forces of ignorance. Knowledge, he insisted, was the one and only tool of transformation. When he conceived the Durga idol, he replaced all the weapons with lotus flowers in Goddess Durga's hands and also in the hands of Lakshmi, Saraswati, Ganesh and Kartik, who are worshipped along with Durga as her children. The lotus, incidentally, signifies enlightenment, wisdom a greater/higher understanding, spirituality, higher human consciousness and purity. Mahishasur was also bereft of any weapons. The Durga Puja idols that Das sculpted are unique. There are five separate idols made of terracotta, bamboo, wood, earth and iron.
In 2002, Krishnapriya Dasgupta made a documentary on the now-celebrated 'Hiralini Durgotsav' of Sonajhuri in Santiniketan. He interviewed artist Badhan Das, who conceived the puja in the Adivasi-populated area. Besides being an artist, Das was also a social activist who tried to preserve, revive and encourage the practice of the folk culture of the Santhals in the villages of Santiniketan.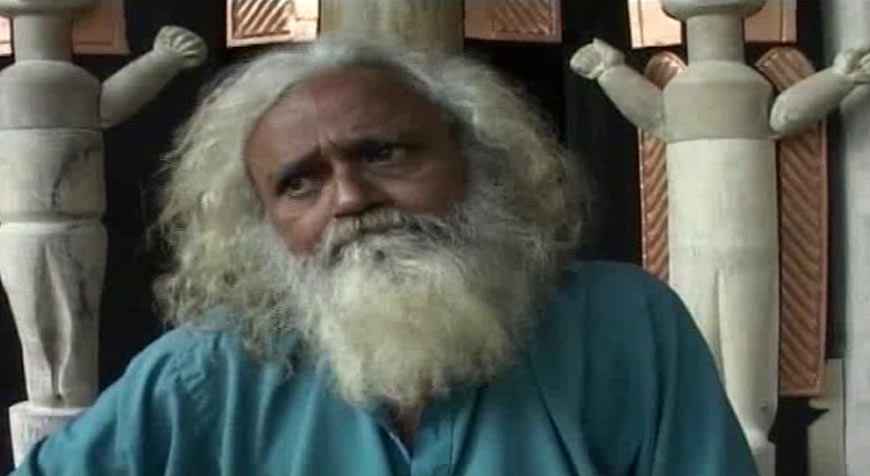 During the interview, Das said, "Intolerance and discrimination based on belief should never be encouraged. Beliefs originate from what we hear - and keep on hearing from others and then forcefully compel others to accept our principles. I am pained to see the way we treat our fellow humans. If one wants acceptance of an idea by others in the society, it has to be done through knowledge. Brute force cannot be a substitute to establish an order. That's how I sculpted my Durga." It is most unfortunate that a few months later, Das breathed his last in December at the age of 57, leaving his dream project midway, hanging in limbo. He had dreamt of spreading knowledge among tribals through the worship of Mother Durga as an incarnation of nature and an icon of knowledge.
Das was a child when his family was forced to migrate from former East Pakistan aka Bangladesh and take refuge in a tiny village in Dhubri, Assam. He came to Calcutta to study fine arts at the Government College of Art & Craft. During this time, developed a strong belief in social activism through art and he held on to his faith till the very end. In 1966, he passed out and later became a teacher of the hallowed institution. In 1990, he bought a plot in Santiniketan near the Sonajhuri forest to open a studio. After 10 years, he decided to organize a Durga Puja in the compound of his house involving tribal people from neighbouring villages of Banerpukurdanga and Ballabhpur. Accordingly, in 2001, Das and his student, Ashish Ghosh initiated the 'Belboron Porob' (festival) with local tribals. The terracotta idols in the inaugural year's puja were a unique fusion of trained artistic creativity and indigenous society. The next year, wood was carved to shape the deities. Durga had 10 arms but instead of holding weapons in those hands, lotus flowers adorned in her hands. This concept has been retained and Durga is still worshipped the way Das had conceived and initiated it in the Sonajhuri forests for two decades.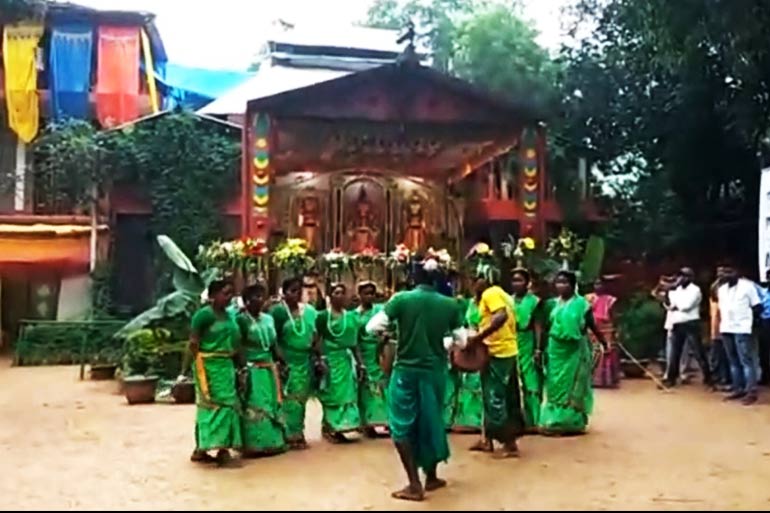 After Das' demise, his sister, Chitra and her artist husband, Asish Ghosh, who was a former student of Das, live in the rustic home now and organize the annual Puja. Asish said the idols of terracotta and wood were made by Das. The remaining three were made by Asish and his students. The artists followed Das's form and style and used bamboo, clay and iron to sculpt Durga and her children. Villagers from the neighbouring Bonerpukurdanga, Phooldanga, Sarkardangla and Ballavpurdanga congregate at Das's house to celebrate the festival. In keeping with Das's wishes, the idols are not immersed after Vijaya Dashami or Dussera, the day Durga Puja ends. The five idols are worshipped by turn every year.
The tribal people are the lifeblood of this puja. Every year, various tribal cultural troupes, including some from Jharkhand, along with local bauls, perform here. Rural crafts, eateries and miscellaneous stalls cater to the visitors. Jatras (folk theatre) are staged on all four days. Rural crafts, eateries and miscellaneous stalls cater to the visitors. Hand-made musical instruments and other knick-knacks made by Adivasis are sold at the venue. Over the years, Hiralini Durgotsav has gained immense popularity and people from Calcutta and many areas of Birbhum and other districts visit this Puja and participate in the revelry with locals. The festival was christened Hiralini Durga Puja and there is an interesting tale behind this.

Das had a sister named Hira whom he lost in her infancy and his father's name was Nalini Das and that is how the name 'Hiralini' was coined. When Das was asked by an interviewer, what prompted him to start Durga Puja, he said, "While living here, I had witnessed a severe drought. An acute dry spell had forced an entire village to bow down and pray for some relief. There was a severe shortage of water. I was shaken by their helplessness and wanted to do something for them. I went to Kolkata and spoke to people, brought in experts, arranged for planting trees but the locals remained indifferent and aloof to these measures taken for their benefit. I then zeroed in upon this idea of a festival that seemed to me to be a way to connect with them and establish a relationship. Everyone looks at Durga Puja in different ways, for me, this festival is nothing but a great medium of social connection."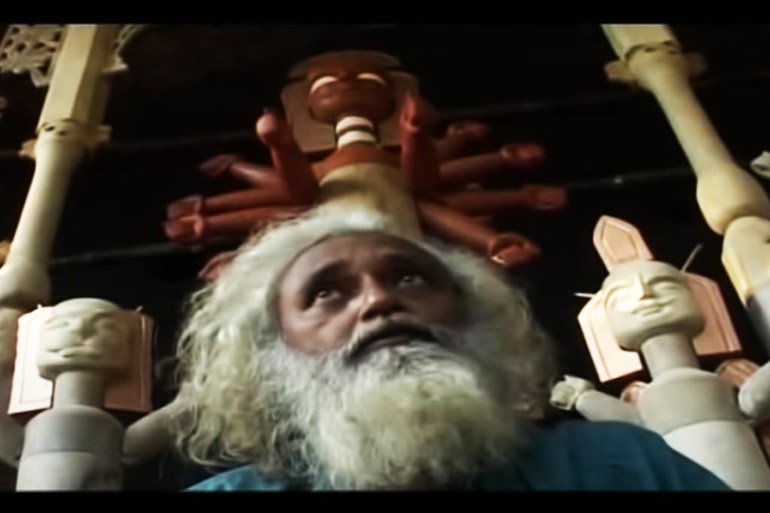 It is intriguing how seamlessly the Adivasis blend and participate in another culture which is essentially idol worshipping. Visva-Bharati has a substantial number of Santhali scholars. They join and offer their services voluntarily. The Adivasis now consider this to be their own platform. The best thing is that these groups have started to perform independently and earning money – that's the greatest achievement for Das and in his absence, his brother-in-law, Asish Ghosh.
The organizers were forced to put the brakes on to all festivities in the last two years as the threat of pandemic loomed low but situations have changed now and the mood is upbeat this year. The people of Birbhum and art lovers from all over India are looking forward to be part of 'Hiralini Durgotsav'.