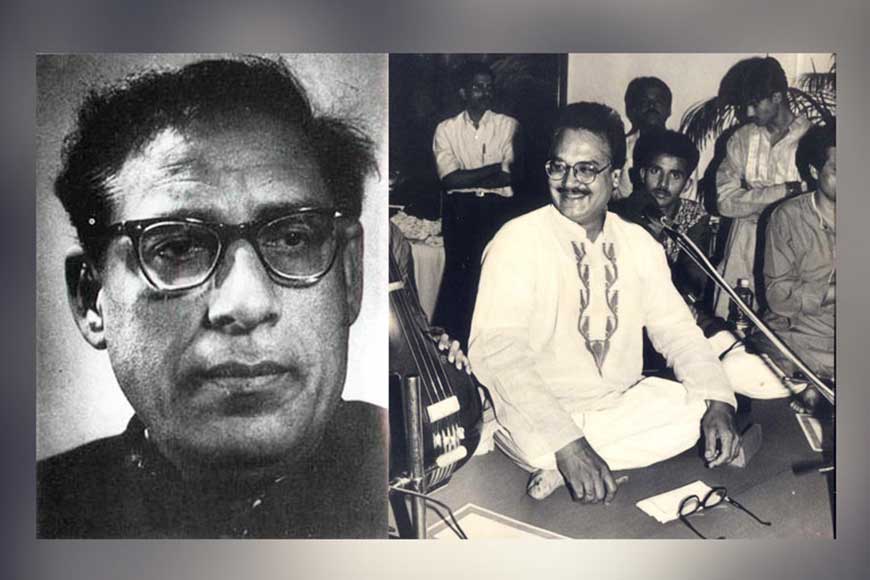 Mohan Singh studied and specialized in classical vocal music at Sangeet Bhavana, but he hardly sang Ranbindrasangeet. For him, Rabindrasangeet was a kind of devotion and he offered Tagore's songs as prayer and sang to himself, for his own peace of mind. He performed duets with Neelima Sen, nee, Bachchu-Di. He started learning Bengali formally, then graduated to reading Tagore's works, listening to his composition and then gradually fell head over heels in love with the creator himself!
There is an uncanny similarity of gayaki (rendition) between Mohan Singh and his guru, Santidev Ghosh though he was never formally trained in Rabindrasangeet by Ghosh. Mohan Singh staunchly believes one should never copy or sing 'like' someone else because in doing so, the song's originality is lost. While performing, the singer should pay utmost attention to the bhava (expression of the idea by delineating the mental state of the lyricist) and clear diction. If 10 singers realize a song and interpret the same song in their individual style, 10 variations are bound to be sung. That is the reason why the audience never tires of listening to the same song repeatedly by different artistes.
Video courtesy : bongodorshon.com
The charm of a song is never lost for the listener. Besides, if a singer follows the sparsh or swara (melody) correctly as specified in the swaralipi (direction on notation) of Rabindrasangeet, any song is elevated to a different level altogether. Mohan Singh learnt the technique of Gati or speed from Santidev Ghosh who in turn learnt it from Dinendranath Tagore. For generations, the quest for the perfect Gati has taken Rabindrasangeet to the pinnacle of excellence. From Rabindranath to Dinendranath, to Santidev Ghosh to Mohan Singh. As Mohan Singh puts in: "When I plan to sing a particular song, I try to imagine what would have been Rabindranath's expression if he was to sing this number. I get my answer and I sing."
Mohan Singh learnt that Ragas come as an outcome of meditation from Amir Khan, Ranadhir Roy, Dhruv Tara Joshi and Mohan Singh. Mohan and Tuku (Ranadhir), both were Pandit Joshi's disciples. Their friendship bloomed from there. Mohan's vocal recital with Ranadhir's instrumental accompaniment were known to all. There was a guest house in the premises of Dhruv Tara Joshi's residence. Renowned artists and musicians from all over the country stayed at the guest house during their visit to Santiniketan. Once the legendary vocalist Ustad Amir Khan came to stay at the guest house for a few days. Mohan and Tuku would go to the guest house daily to see Khan Sahib and listen to his vocal recitals. One day the duo reached there and were surprised to see Khan Sahib sitting outside the guest house on the floor. They asked him the reason and Ustadji said, "I am meditating Raga."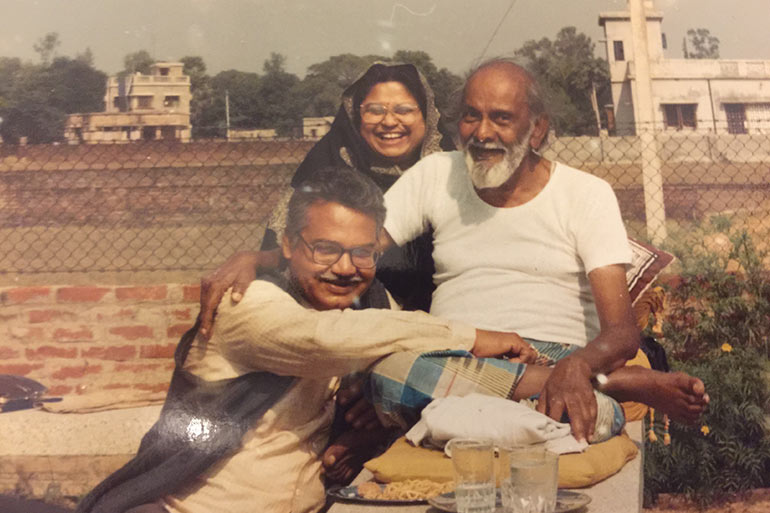 Dhruv Tara Joshi and Mohan Singh
This was the first time Mohan Singh had come across the concept of contemplating for a Raga. That a Raga has to be visualized, has to be deliberated before actually rendering it was a revelation, a learning experience. Amir Khan had said, "Come tomorrow. I shall cook. You two come and dine with me. "
The next day, they reached the guest house. Khan Sahib started cooking mutton at 4 pm. He was humming a tune while cooking. When asked what he was cooking, Khan Sahib answered "Bageshree Kanara." After cooking was over, he rendered Puriya Dhaneshree in his inimitable voice. Mohan requested Joshi-Da to make a new Bandish for Bageshree Raga.
'Okay, come tomorrow. I shall keep a new Bandish ready for you."
"This was the kind of genuine, broad-minded friend-philosopher-guide Joshi-Da was," reminisces Mohan Singh. He suffered from acute constipation. One day, Singh went to Joshi-Da's house. The latter was in the washroom for a very long time. Finally, when he emerged, Singh asked casually, "Joshi-Da, what happened? Did anything happen?" Joshi replied nonchalantly, "No son, just heard the flute for a prolonged period."
Joshi was not only a humorous gentleman but an ideal guru. Their guru-shishya relationship was exemplary.
Transcribed from an original interview of Mohan Singh Khangura taken by Arpita Chatterjee
Story Tag:
Mohan Singh Khangura, Shantiniketan