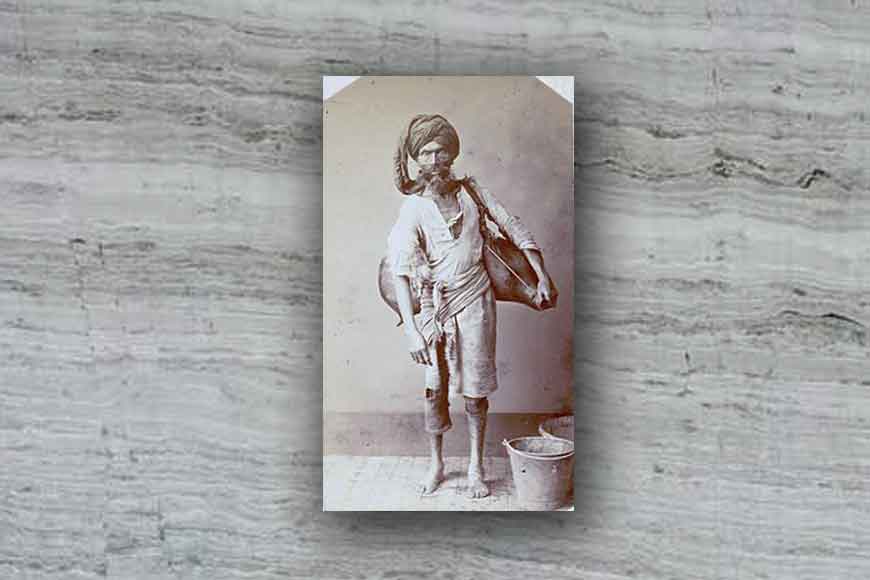 They were the ones who used to quench our thirst once upon a time, supplying the residents of Kolkata pure drinking water. Well, we are talking of an age when the city homes did not have bottles of mineral water stacked or even RO filers to bring in germ free water. The Bhistiwalas then were an integral part of our lives.Even Sukumar Roy had spoken of them in his no-nonsense poem.
The word Bhisti has its origin in the Persian word 'Bihisht' meaning paradise. Bhistiwalas had the responsibility of supplying water to homes and offices. They truly seemed to be the messengers of paradise to houses where water did not reach regularly. But, Bhistiwalas were regular and sincere enough to supply water from one end of the city to the other with the help of a special bag called Mashak, made of goat skin, that kept the water cool. Mashakswere used in British India, as sources of water to big houses and households.
Bhistiwalas had a very old connection and association with Kolkata. You could see them at early hours of the day roaming in the lanes and by-lanes of the city with Mashaks full of water. You could also see them cleaning the roads with water. But they dwindled in numbers and today only a handful of them reside in this city. Even a few years ago, they were seen in areas like Park Circus. They used to supply water to the crumbling buildings which inhabited by Anglo-Indians and the Chinese. These houses have today been replaced by modern apartments with water pumps.
Today, around 40 Bhistiwalas operate in a handful of pockets of Kolkata. Most of them belong to Katihar of Bihar. If you visit places like Bow Barracks, Bowbazar, Ripon Street, Eliot Road, Vrindaban Das Lane, Marquis Street, Rafi Ahmed Kidwai Road, Sandal Road and other areas of Central Kolkata, you might come across a man with a mashak.They are only there to supply water to buildings and shops that even today do not have a constant water supply. Surprisingly, each mashak can accommodate almost 30 litres of water.
Today, they are asked to supply methapaani or sweet water,used for cooking and bathing. Thus, in certain areas, Bhistiwalas are still in demand. With the red coloured barrack buildings of Bow Barracks in the backdrop, you will spot Bhistiwalas walking briskly with mashaksfrom erly morning. Each family spends around Rs 400 a month for this service.
But most Bhistiwalas have chosen other occupations. The remaining strive to hold on to the profession of their forefathers.Since, the majority of the city does not need the service of these Bhistiwalas anymore, it is likely they would soon become history. And the man with the mashak walking through the lanes of Kolkata will vanish into oblivion!