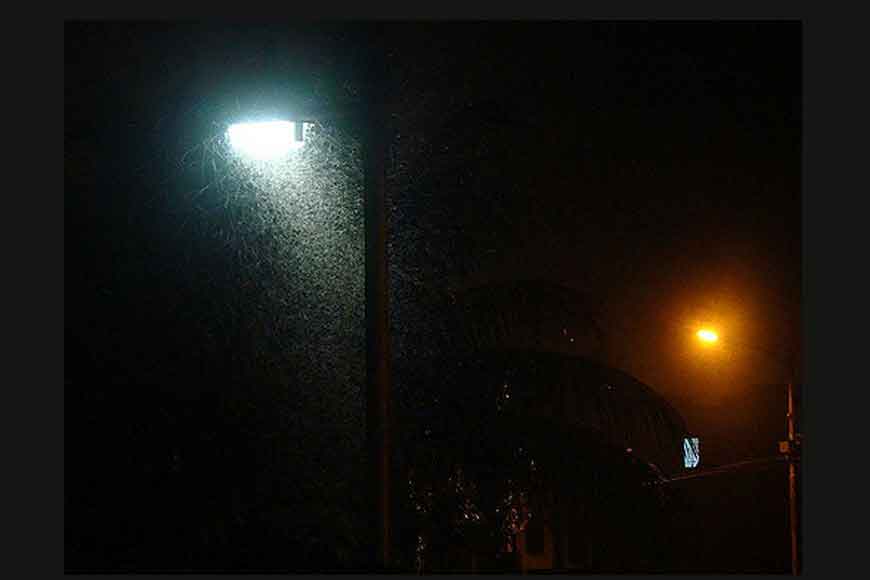 Remember, how Feluda in Tintoretor Jishu realized the authenticity of a Jesus painting, after he detected a shyama poka on the canvas and questioned if the insect existed during the times when the painting was done? We all must have encountered hordes of these tiny insects that came exactly before and during the Kali puja and Diwali and were more of a nuisance to the entire locality. Just after the sharp showers and before the winters set in, these tiny insects that are usually green in colour used to invade every locality and at times caused itchy bumps.
They were called Shyama poka or Diwali poka as they were so much related to the month of Kali Puja. These mites were a must every November during Kali puja. Attracted by bright lights, hosts of these insects would invade interiors and pandals, and next morning floors and window sills would be covered with thousands of these dead insects.But like sparrows they seem to have disappeared altogether. This Kali puja few if any of these insects could be detected anywhere.
Are they then the victims of the overcast sky that never seem to brighten up this season, and drastic weather changes? Undoubtedly, global warming has a huge role to play. Late October and November were never this warm, there would definitely be that nip in the air and after showers, these insects did breed at random. But where are the grasslands in urban Kolkata where they would breed? Thanks to the rapid increasing city structures, most greenery is lost. So Shyama Poka also lost their breeding grounds and habitats.
Will they be wiped out and take place in books where our future generation would read about these insects that came for light and died in hundreds when the lights were switched off? Like their own short shelf life, may be one day they will be extinct thanks to the pollution.