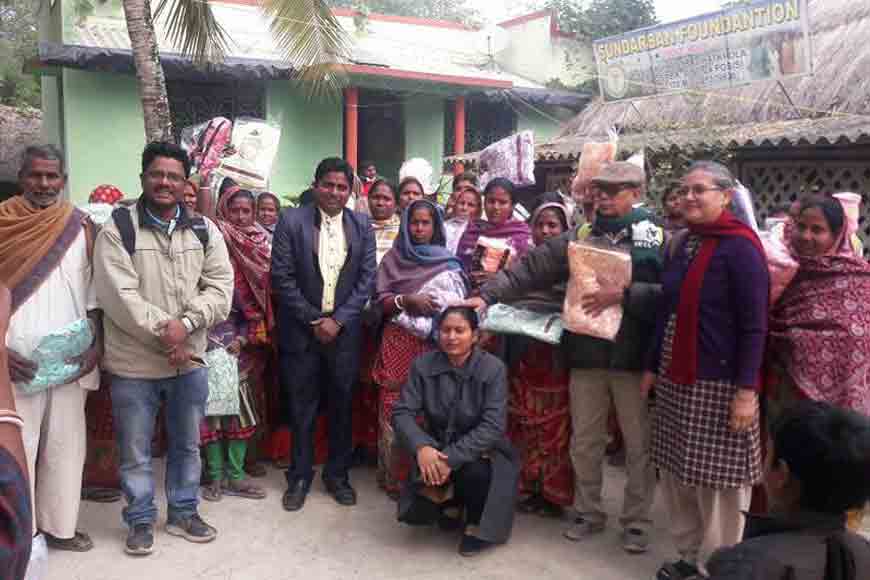 Bali-Amlameti Island is one of the remotest islands of Sundarbans near Gosaba. It was a great experience to visit this island on being invited by Prasenjit Mandal, who runs a NGO named Sundarban Foundation there.This foundation works for the livelihood of Tiger widows and preventive healthcare related to thalassemia, anemia and cancer for rural people. It has tie-up with Bidhan Chandra Krishi Viswa Vidyalaya projects such as black pepper sapling distribution and other agricultural interventions that help in the financial development of villagers.
Bali Island is surrounded by Bidyadhari and Datta rivers, the other side of it gives way to the dense forests of Sundarbans. A significant part of the population collect wild honey from the jungle for a living, and they are locally called Moule. They risk their lives to collect honey, sometimes get killed by tigers or paralyzed by snake bites. Many NGOs are working for the betterment of Tiger widows and providing them an alternate livelihood.They are given lessons in Bee Keeping courses by Ramkrishna Mission, so that they can avoid going to jungle to collect honey and do apiculture by rearing bees in their own backyard. Another form of livelihood for many women there is to catch baby tiger prawns from the river. However, over exploitation of prawns can damage the riverine ecosystem to a large extent.
Residents primarily dependent on agriculture, aquaculture and jungle-based livelihood. Kishalay Foundation, another NGO operating in the area, is working in quality early education. They have also formed a group of Sundarban Changemakers, who are bringing positive changes in Sundarbans.
The state government is largely spending on water transport infrastructure improvement of this region, and this will surely bring in more tourist footfall leading to better scope for eco-tourism and other opportunities. Padmashree Tushar Kanjilal from Rangabelia, Sunderbans, believes alternate livelihood needs to be created, so that they stop catching prawns and protect rivers. If the fragile ecosystem of the area is not preserved, then the area will again fall prey to cyclones like Aila!After all, Sundarbans protect Kolkata from storms, and the survival of this delta is very critical for both Kolkata and Bengal.