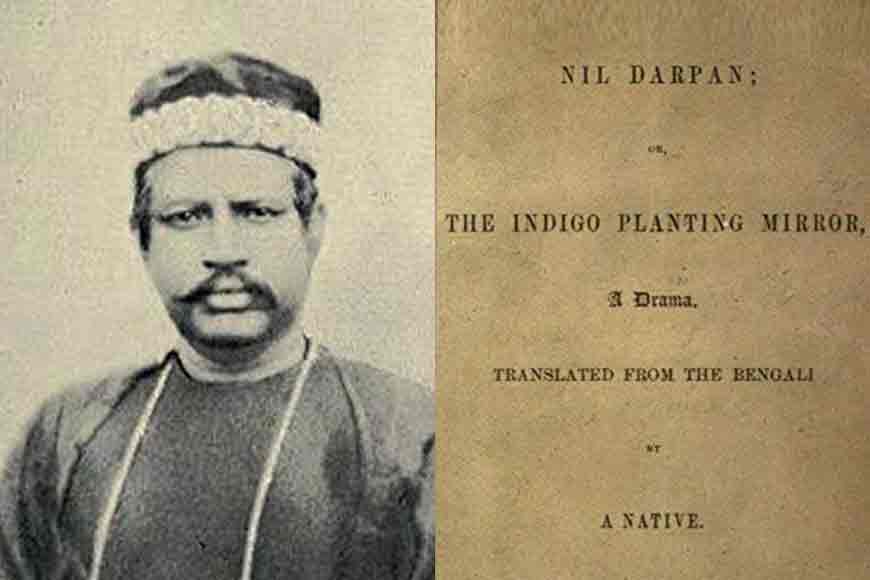 If the little boy of eleven would not have summoned up the courage to flee from home at the age of eleven, we would have probably missed out on his wondrous literary creations. Dinobondhu Mitra was born in Chouberia village of North 24 Paraganas on April 10, 1829. His father, Kalachand Mitra called him Gorbhonarayan. As soon as his course of Paathshala was over, Dinobondhu's father arranged for his work at the Zamindar's office. He was only eleven and could not concentrate on his work. He fled to Kolkata and started living with his uncle, Nilmoni Mitra who was an engineer and the first architect of Bengal.
Dinobondhu was a meritorious student and got a scholarship. He also got an opportunity to study in Hindu College but did not write the final examination. He took up the job of a postmaster and went to Pune in 1855. In the next few years, he was posted in various parts of Bengal like Nadia, Dhaka, Sreerampore. After Sepoy Mutiny, Bengal was bleeding with a series of revolutions. Indigo Revolution was one of the most noteworthy revolution during those times. Dinobondhu was posted in various parts of Bengal and had witnessed the torture of the British upon the helpless farmers who were forced to abandon their food crops and grow indigo for the British.
In 1858, the historic documentation of Indigo revolution was transformed into work of literarture, 'Nildorpon.' Dinobondu Mitra's other literary works got overshadowed by 'Nildorpon.' After being published in 1860, the book created quite a buzz in Kolkata. Michael Madhushadhan Dutta translated this drama into English that was published by James Long. Nildorpon gained a huge popularity in Europe and surpassed the popularity of any other book of those times. The book came as a big blow for the British. James Long was dragged to the court and was fined Rs 1000 in those times and was behind bars for a month.
In 1972, Nildorpon was staged on the very first night. Actor Ardhendushekhar Mustafi played four important characters- indigo farmers, zamindar Golakbabu, his wife and torturous British Mr Wood. Eminent personalities from Kolkata were invited to the play. One of them was Ishwar Chandra Vidyasagar. Looking at the character of Mr. Wood, Vidyasagar fumed in rage and even threw one of his shoes at him. For a while, Mustafi stopped acting, picked up the shoe and placed it on his head, as a reward for his acting.
Dinobondhu Mitra had also penned many poignant poems. His literary style was influenced by Ishwarchandra Gupta. His most significant works include Surodhoni kabbyo, Dadosh kobita. Apart from Nildorpon, other important plays written by him are Nabin Tapaswini, Biye Pagla Buro, Shodhobar Ekadoshi, Lilaboti, Jamai Barik and Komole Kamini. Dinobondhu Mitra's novels include Mora Moheshwar and Jomaloye Jibonto Manush. Dinobondhu introduced the concept of comedy revolving Hindu Gods and goddesses. Rajshekhar Basu, later carried forward this style. Bankim Chandra Chattopadhyay had compared Niladorpon to Uncle Tom's Cabin.