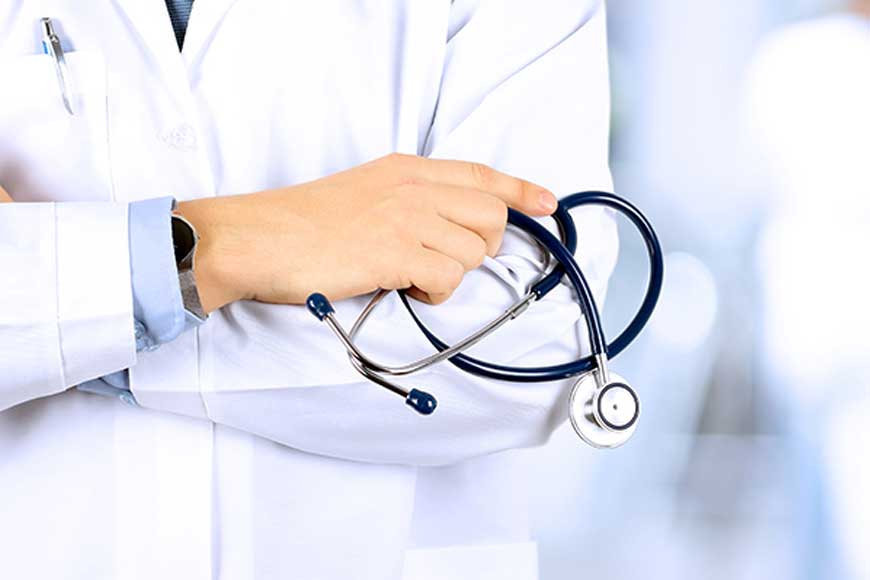 Since the beginning of the Covid-19 second wave in India from mid-February this year, about 800 doctors have died of the virus. This terrible piece of data was announced by the Indian Medical Association (IMA) in the build-up to National Doctors' Day, which is observed nationwide every year to mark both the birth and death anniversaries of legendary physician Bidhan Chandra Roy (July 1, 1882-July 1, 1962), who was also chief minister of West Bengal from 1948 until his death.
This year, the IMA has declared that the theme for Doctors' Day is 'Save the Saviours'. Which is as it should be, but the continued deaths of physicians across the country is not something we should talk about only on one particular day. Last year, the first wave of Covid-19 accounted for 754 deaths, according to IMA data. That brings the total number of doctor deaths in India to more than 1,500 since the virus first appeared in our midst.
A majority of the deaths during the second wave came from Bihar and Delhi, says the IMA, totaling 128 and 115 respectively. In addition, there were 79 deaths in Uttar Pradesh, 62 in West Bengal, 51 in Tamil Nadu, 44 in Rajasthan, 42 in Andhra Pradesh, 39 each in Gujarat and Jharkhand, 37 in Telangana, 36 in Odisha, 24 in Kerala, 23 in Maharashtra, 19 in Haryana, and 10 in Assam.
There's a reason why these statistics need to be remembered. In the same way that we remember the deaths of armed forces or police personnel. These are frontline warriors who have died while doing their jobs. If we can use the term 'martyr' or 'shaheed' for a soldier or police person who dies in the line of duty, why should we not use it for medical personnel too?

My eldest cousin is a senior doctor in one of Kolkata's foremost government hospitals. His wife Parbati has lived in constant fear of her husband's life ever since the onset of the pandemic. And this is the other aspect of a doctor's life that has not received the attention it deserves, particularly in the past year-and-a-half. How has this unprecedented outbreak affected those closest to the medical fraternity - their families? When a doctor has had to spend day after day at the hospital without coming home, working for hours without a break, has had all leaves cancelled, and even when at home, has been terrified of infecting his or her family with the virus?
My sister-in-law has spoken of her terror every time her husband has to go on 'Covid duty'. Particularly during the second wave, she says, her husband and his colleagues have worked almost non-stop. "During the first wave, they would work in shifts, with proper breaks. This time, I see no sign of that," she told me. "He (my cousin) has been prone to colds and fevers since childhood. But when he caught a fever after his last Covid duty, we were scared out of our wits. This constant fear and uncertainty drains you of all mental strength."
With the virus now mutating into a new strain almost on a weekly basis, doctors and other medical personnel are likely to grow ever more important in our daily lives. The newer strains have affected young and old alike, unlike the earlier variants. "He has watched so many younger colleagues die," Parbati says of her husband. "Each death has come as a severe shock to the system."
The disproportionately high number of deaths among the medical fraternity is, of course, a result of the intensity of their exposure to the virus. And nothing can change that. However, what we can do is obey basic Covid protocol (and we all know what it is by now) far more diligently than we do now, so that we can decrease a doctor's workload in our individual small ways. That would be the proper resolution to adopt on Doctor's Day.