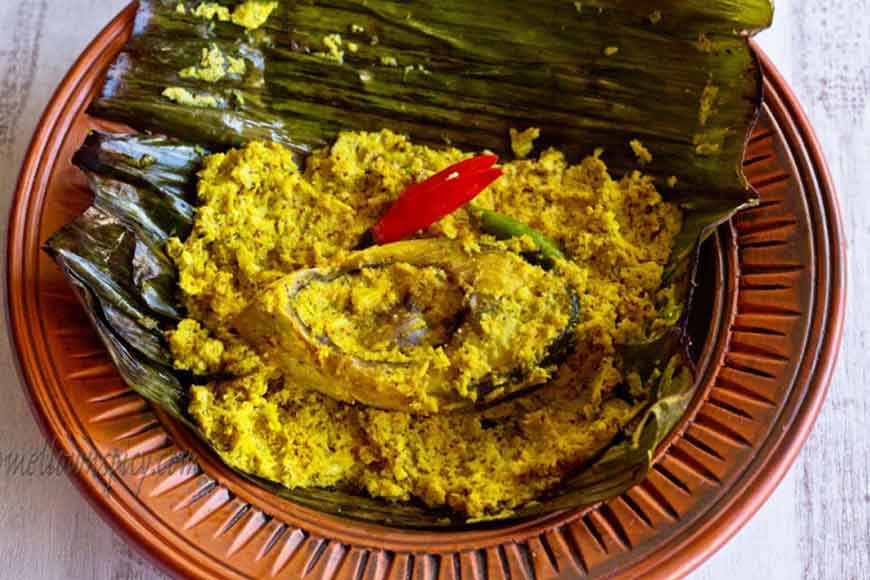 Well, this is no fight over fishes. But battle of spices! With the pattering raindrops, Hilsa catch in Bengal goes up. The ilshey guri, makes way for better hilsa spawning and netting. Many of us must have tried Bekti paturi at home. But the forgotten recipe of Ilish Paturi of Bangladesh has a different tangy taste, not just of mustard, but a dash of our all-time-favourite pui saag. Get Bengal brings you some lesser known recipes from different districts of Bangladesh, to help you celebrate this 'Hilsa season' with a difference. Watch the rain clouds, get some Pui Saag from the market and use them as wrappers.
Ilish Paturi
Ingredients:
| | |
| --- | --- |
| Ilish | 1kg |
| Chopped onions | 2 cups |
| Green chillies | 5-7 |
| Oil | half a cup |
| Ginger garlic paste | 2 teaspoon |
| Haldi powder | 1 teaspoon |
| Cumin paste | 1 teaspoon |
| Corriander powder | 1 teaspoon |
| Pui Saag leaves | As wrappers |
How to make:
1) Remove the head of the fish and cut big pieces.
2) Wash the Pui leaves..
3) Mix all the spices with the chopped onion.
4) Smear the fish pieces with the above mixed spice and onion combo.
5) Then tie each piece with a Pui leaf and a clean thread.
6) Add salt for taste.
7) Shallow fry these fish pieces in leaves on simmering flame and serve hot with rice.