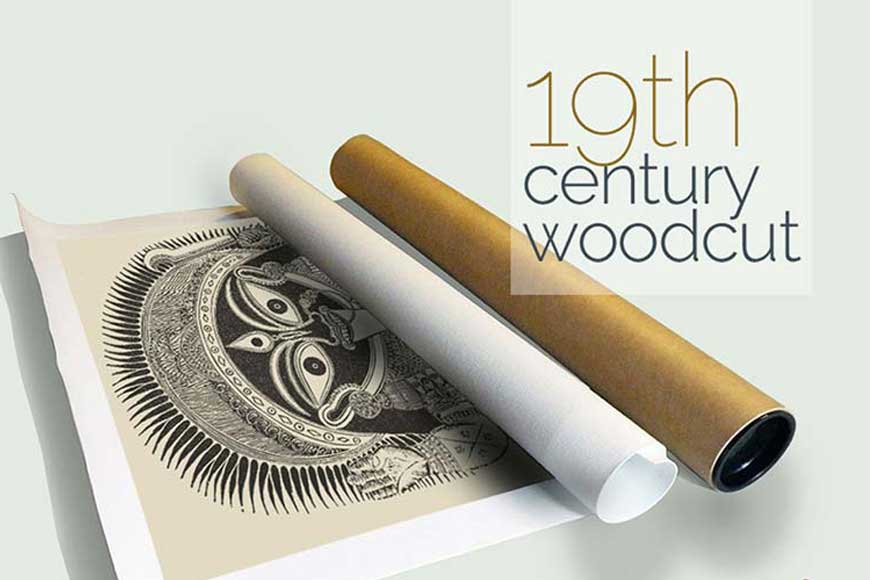 PThe Dark Goddess Kali is not just another idol depicting a religious fervor --- rather it is all about meeting of cosmic energy of the universe sending her divine power and blessings. That's why this aggressive feminine form was popular even in 19th century Kolkata, where Battala artists used their skills to bring out a unique woodcut Kali in all her splendour. Calcutta as it was called then was the earliest printing and publishing hub of British India. Battala woodcuts created an interesting visual narrative whose archival value is often ignored by many. Benimadhab Bhattacharya was one such traditional artist whose depiction of Kali had a great impact on the religiously zealous Bengalis of that era. The woodcut was not only gigantic but had a magnetic and mesmerizing effect that caught the attention of art connoisseurs.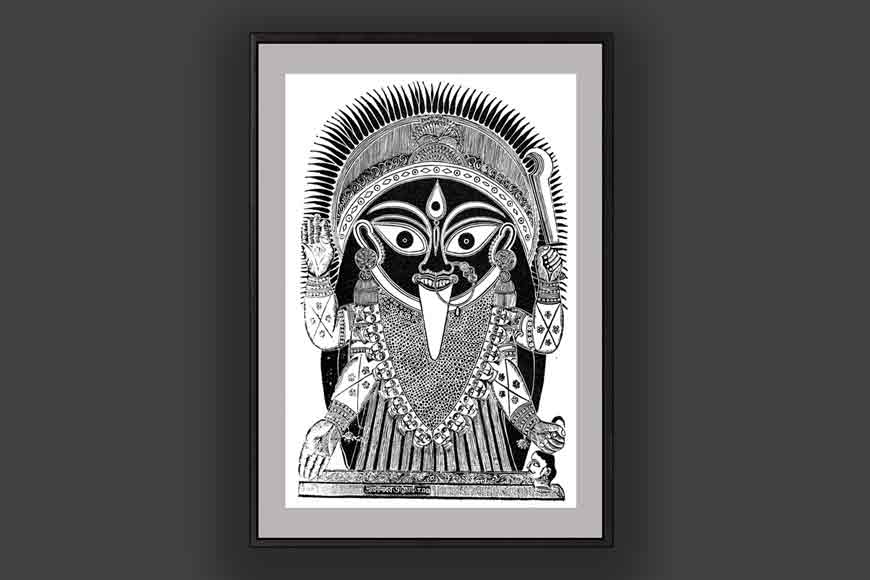 Wish to own a 19th Century Woodcut Print Kali Poster by Benimadhab Bhattacharya? Click Here
While, Panchanan Karmakar was a printmaker who revolutionized Battala Art and laid the foundation for the emerging print industry. This art form started off as book illustrations and evolved into a unique and unparalleled style. Battala artists practiced broadsheet woodcut, bringing in their unique artistry. They can be compared to patuas of Kalighat, who gave wings to their artistic imaginations and were not bound by whims of publishers and writers. This soon became a flourishing trade and several printing production units came up in Ahiritola, Kumurtuli, Shobhabazar and other areas of North Calcutta. All these woodcuts came in black and white shades and were highly appreciated despite lack of colours. Very few such unique and ancient prints survived the cheap paper and humid conditions of Bengal. Only Benimadhab's Kali which was a rare wood cut that created a history of its own withstood the test of time.

His Kali was a unique amalgamation of opposing forces of creation and destruction. The face is similar to Puri's Jagannath Dev and the Goddess has no feet. The upper left hand carries a kharga, and the hand below has the head of the asura. On the right are abhayamudra and sampradan mudra. She is adorned in a garland of several human skulls. Inspired by goldsmiths of Garanhata, artist Benimadhab created similar jewellery designs for the Goddess. White Firingee hands enhance historical value of the painting and create a sense of inexplicable mysticism. The lustrous dark face and white hands depict a contrast and is thus a unique portrayal of Kali. Benimadhab's Kali truly revolutionized the woodcut broadsheet genre. More than two centuries have passed, but even today, the first sight of Benimadhab's Kali leaves an everlasting impression.
If you wish to possess a piece of this unique ancient art form that is very rarely found, then the Bengal Store, the online e-commerce site on products only from Bengal, will provide you a version of this 19th-century Battala woodcut. The Dark Goddess originally carved on wood by Benimadhab Bhattacharya has been plate-litho transferred by The Bengal Store only for you.