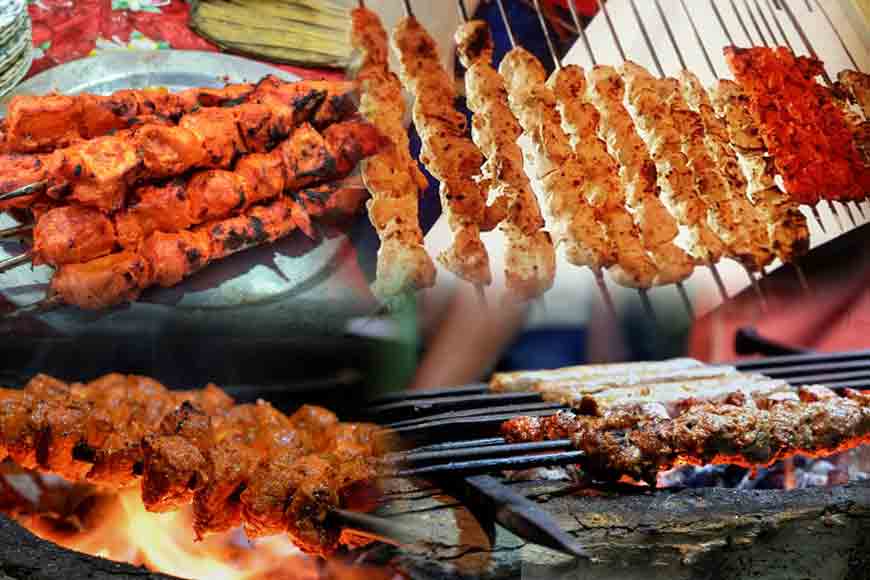 Come winter and Kolkata turns into a gastronomical paradise. For foodies fond of Mughlai delicacies, this is the time to hit Zakaria Street (Jacquaria Street) situated near Mahatma Gandhi Road in Kolkata. This is a commercial hub and home to the largest mosque in Kolkata 'Nakhoda Masjid.' Although this masjid has a charm of its own, the street is where the life is. People visit this place mostly for the variety of Mughlai food it offers.
As you enter the street you will be greeted by stalls of sweets, dates(khajoor) and laccha/semayi shops. Then there are these giant kadais(cauldrons) where milk is boiled constantly and dry fruit sellers with carts heaped with a mix of raisins and different kinds of nuts move around selling their wares. Both sides of the street are flanked by stalls selling all kinds of seviyan — the toasted vermicelli used to make sweets as well as savoury dishes, eaten through the year but it comes into its own during Ramadan.You have to penetrate a bit more and on the interiors, you will be surrounded by that distinct smell of kebabs, fried fish and chicken that tells you that you've arrived at the heart of it. People from far off places visit this street not only to taste Kolkata Mughlai street food, but to intake the feel of the living street. It is a melting pot of food andculture.
The first eatery on the street that one comes across, is the Bihari Food Corner. This shop's signature item is the soft Pyaare kebab that melts in the mouth. According to legend, the soft Kakori kebab was invented to please an Awadhi nawab who had lost all his teeth due to age. Pyaare is close to kakori. Within 30 metres, tucked in a prominent corner is Taskeen. None can miss this corner shop.The window display comprises a humongous blob of marinated meat and of course the ubiquitous seekh of kababs. The chicken pieces there are said to be soaked in 51 spices to make the legendary Murgh Changezi. Named after the notorious Mongolian invader, Chengiz Khan, this dish is what the owner calls 'deep-fried marinated chicken.' You can also savour on mahi Akbari -humongous katla rings marinated and deep fried with rich, hot spices. The bylane next to Taskeen leads to another food paradise. A small shack, Moradabadi Laziz Kabab, offers char-grilled prawns and pomfret.
Sufia is another popular joint here and the shop has a dedicated band of foodie followers who swear by the beef kebabs, their stew and dal gosht with lentils and meat. Further down the street stands the ancient eatery, Bombay Hotel. Their beef bhuna and chaanp are delectable, and something to die for, proclaim die-hard fans of this restaurant.The small stalls and loaded handcarts selling varieties of breads and cookies jostle for attention. The bread generally comes in two varieties Bakarkhani and Sheemal. The bakarkhani bread is a thick and crispy layered bread smeared with poppy seeds, on the other hand sheermal is a soft and sweet as the milk forms an integral part of its dough.
The next stop is a small shop off Zakaria Street which has been around for ages. This is Abdul Hamid's Khiri Kebab shop. Run by the fourth generation of the family, they are famous for Khiri kebabs made from cow's udder. The only other kind of kebab they serve is gurda(made from kidneys).Probably the most famous kebabs in the area are the Sutra kebabs at Adam's Kabab Shop. The Sutli kebab or Suta kebab are exotic kebabs made with beef mince, so soft that it needs to be tied around the skewer with threads, and hence the name sutli kabab or suta kabab. Khiri kabab on the other hand is made out of cow's mammary gland.
For those with a sweet tooth, there is a wide variety of sweetmeats to choose from. It is indeed difficult to take one's eyes off those creamy, saffron-tinged breads topped with shingle-shaped dry fruits at Lucknowi Shahi Tukra or a glass of Faluda, a concentrated saffron flavoured milk. topped with chopped pistachio nuts and rose syrup.