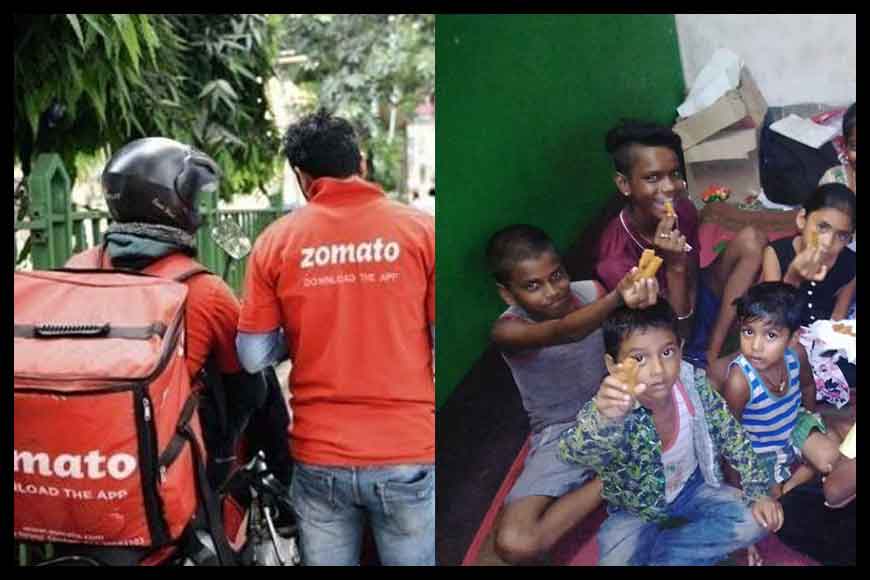 "There are people dying
If you care enough for the living
Make it a better place
For you and for me…." Even in a country like India, where more than half of the population do not get two square meal a day, there are many who waste their food every day. It is this wasted food that Roll Kaku of Kolkata is tapping into and feeding hundreds of underprivileged children.
Pathikrit Saha, a Zomato delivery man is the 'Roll Kaku' to the kids. We often order a lot of fancy food online but often end up cancelling the order eventually. These cancelled orders are generally given away to delivery guys. Pathikrit distributes these cancelled orders he gets, mostly chicken and egg rolls, biriyani and other dishes that fall under cancelled orders. Pathikrit takes them and gives them to the underprivileged children. This Zomato delivery man also teaches the street children without any remuneration and organizes feasts for them along the Dumdum Cantonment area. His only aim is to see these children happy and smiling.
But how was Pathikrit inspired? Four years ago he came across a teenage boy who fell to his feet and was desperate for money. He thought that the boy was addicted to drugs and tried to push him away but the boy would not leave. Pathikrit slapped him and the boy broke down saying that if he failed to bring money, his mother would kill him. Such was the enormous effect of poverty. This incident was an eye opener for Pathikrit. He came across various other homeless children who have never stepped inside a school and just roam around on streets or platforms begging. They often get waylaid by the elder ones who are into drugs and various other criminal activities. This pathetic reality of poverty led Pathikrit to devote his time for the welfare of the needy.
He left his job with Kolkata Municipal Corporation and joined Zomato as a delivery guy. His initiative is supported by a kind restaurant owner who decided to help Pathikrit by sending the excess food and cancelled orders so that he can distribute more food to the poor and spread happiness. Hope our society gets to see more young men like Pathikrit in the days to come.