Did you know a British India law to rein in horse drawn carriage drivers was applicable in Bengal even a few months back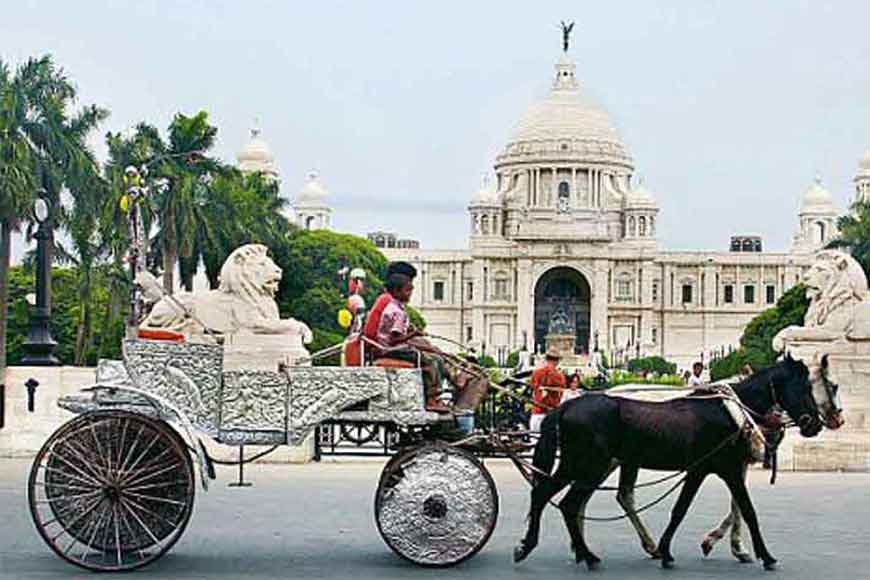 After 156 years, the Stage Carriages Act of 1861 has been finally abolished. In the late 19th century, horse-drawn trams had been introduced in Calcutta. Before long, streets of Calcutta were ruled by phaeton, brougham, cabriolet, randem and landau - a variety of horse drawn carriages. The Stage Carriages Act of 1861 was introduced to rein offenders driving or riding on these horse-driven carriages, including trams. The law specified the degree of punishment for offenders who hurt the beasts. There was provision for levying penalty on the coachman if he misbehaved with any passenger.
British era horse drawn carriage
Those days are long gone in the annals of history. Rare, as a mode of transportation nowadays, these vehicles ply around Victoria Memorial and Babughat. The picture is identical in Dhaka where horse-drawn carriages are limping to survive. Brilliant anecdotes about the witty coachmen, locally known as Kutti, are found in the writings of Syed Mujtaba Ali. Here's an anecdote that goes thus: a passenger fell while getting down from the carriage. Immediately, the Kutti rushed to his rescue and while helping him stand on his feet and wiping the dust from his dress, he went on praising the passenger saying one has to admit how Kotta (the master) got off the vehicle at a lightning speed. The coachman's light banter with a difficult customer would be something like, 'Please don't say that, else even the horse (Ghurai) would burst out laughing.' Gone are those mirthful repartee from our lives.
The last nail on the coffin was ceremoniously put by the state transport minister, Subhendu Adhikary, who passed a Bill in the State Assembly and made it clear the horse-drawn carriages, in which people take joy rides around Victoria Memorial or Babughat, will not be affected by the Bill, as these carriages will be plying under The Calcutta Hackney Carriage Act of 1919. In this regard Adhikary also informed members of the Legislative Assembly that five years ago, 279 tram cars plied on the roads of the city but ever since certain routes were found to incur huge financial losses due to lack of passengers, they were taken off the track. At present, 85 tram cars are running.
Original Article written by Debdutta Gupta
on
www.bongodroshon.com
Translated by