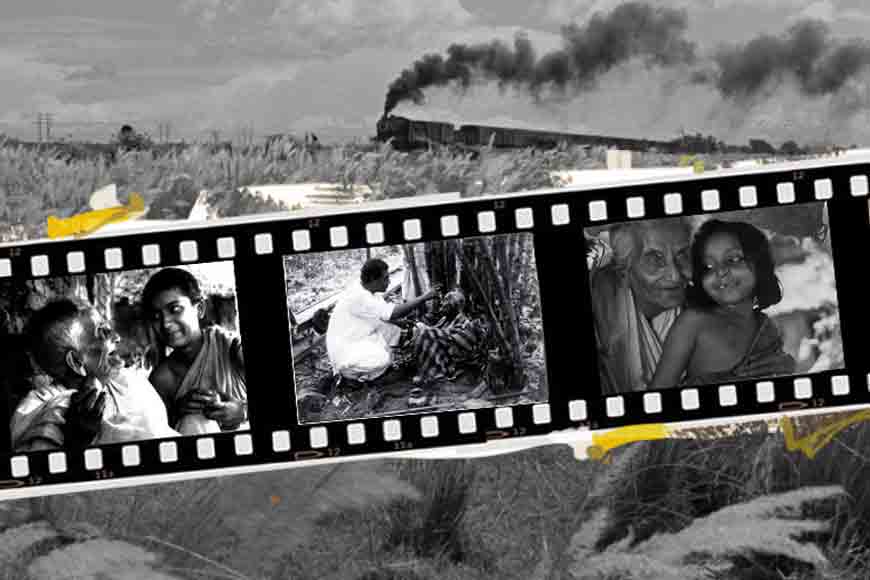 Pather Panchali, the Apu-Durga masterpiece, was brought to life by Satyajit Ray. Though he had given the work of the film's music direction to Pandit Ravi Shankar, Ray did use his originality when he made Chunibala Devi sing as Indir Thakrun. While speaking to music critic and author Sudhir Chakraborty, Satyajit Ray had once said:
I can never forget the day when I first met Chunibala Devi at her Paikpara residence. By then I had already located actors to play the roles of Apu, Durga, Sarbajoya and Harihar. The character that was left was that of Indir Thakrun. Chunibala Devi was too good, I was very impressed at our first meeting. She completely matched the character as depicted in the book by Bhibutibhushan Bandopadhyay, as that of a frail 75-year-old woman, who stooped forward while walking with a bent vertebral column. When I asked her if she knew any rhyme and if she can recite, Chunibala started reciting the popular Bengali lullaby 'Ghum Parani Mashi Pishi.' I have never heard more than 10-12 lines of this Chhora, but she went on and on. I was really taken aback at her memory and how she remembered the whole lullaby at her old age! However, till then I did not know she could also sing.
On a regular afternoon tea adda, one day Satyajit Ray asked her if she could sing. In the book there is no mention of Indir Thakrun's song. But Ray always felt if he could make the character sing while she is sitting at leisure, it could bring a different dimension to the movie. Chunibala asked Ray if she could sing religious songs. And Satyajit Ray agreed. And she sang: "Mon aamar Hari Hari Bol/ Bhabasindhu Paar Chol." The song was recorded. But nowhere in the movie, this song is heard. Instead, the audience heard a different song in her voice.
Then what happened in reality? Incidentally, it was a moonlit night when the shooting was on. While Chunibala was singing sitting in the courtyard, she suddenly remembered another song, which was better than the first one. She asked Satyajit Ray if he wished to listen to this new song and Ray was interested. That's when Chunibala sang: "Hari Din toh Gelo Sandhya holo/ Paar kor amarey…." That immortal song of Pather Panchali. The recording of this song was thus sudden and dramatic, giving way to a neo-realistic journey of Indian movie.