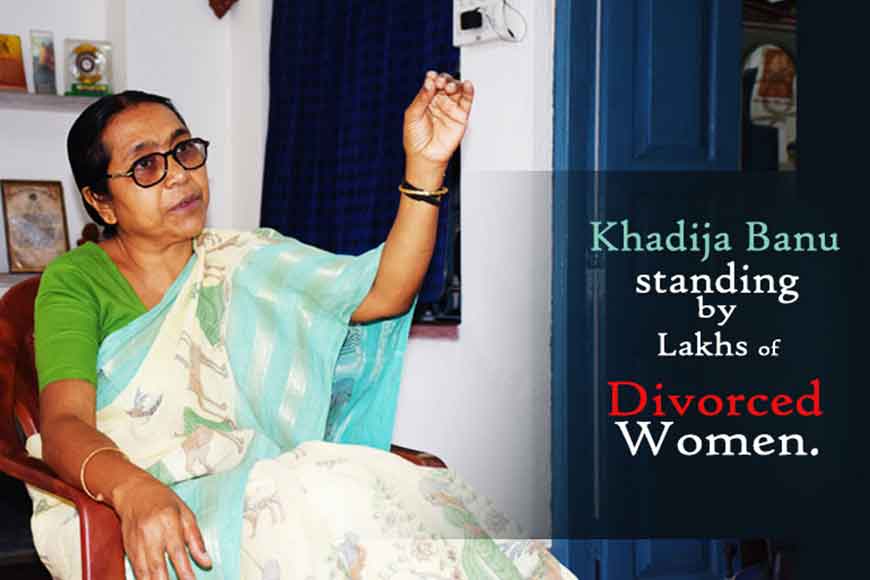 When society changes, people change and problems also keep changing, why should values and religious rules remain unchanged?
Ten years in the past from now, Sajeba Bibi, a resident of Beldanga's Mirzapur village, got 'Talak' (divorce). Since then she has been working as a bidi binder to earn livelihood and raise her children. Sajeba married off her daughter in 2012, but she too got talak that very year. This was because Sajeba couldn't give the entire amount of the dowry she had committed. This is a picture of Murshidabad district. In fact, this is more or less common in the state and across the country as well. At least this is what social worker Khadija Banu claims. According to her, the number of such helpless women alone in Murshidabad district is over a lakh. Khadija can claim this for she is the one who has set up 'Rokeya Nari Unnayan Samity' with thousands of ill-fated women. She has moved door to door to see for herself the stark poverty of these women, listened to the tales of their hellish pang.
Khadija doesn't want to speak up about herself. Still what could be gathered about her was that she was an SFI member in her student life and social work was her passion. Her husband Swapan Ghoshal was an activist of the Leftist students' organisation DSO. When both of them were students they came to know each other and fell in love. Khadija takes pride in saying that her father-in-law Dhanapati Ghoshal, a Brahmin, teacher and an old timer of Baharampur, personally supervised their marriage ceremony. That her family and husband are the inspiration behind her activities is the another thing that she declared proudly.
Murshidabad is the only minority-dominated district in the country. It is on the top of other districts in the state on several counts. This border district is number one in woman and child trafficking. This is also a district of heavy soil erosion. The erosion by the Ganga and the Padma has affected 14 blocks of Murshidabad. There is a population of 15 lakh in the district. People talk about poverty, trafficking and erosion and these often make headlines in newspapers. But the women who have been deprived of their right to live simply because of talak, pronounced only by the word of the mouth, do not find by their side the religious community, political society, civil society and even the law or the constitution.
Khadija also has a grievance against the All India Muslim Personal Law Board. Her question: "When society changes, people change and problems also keep changing why values should and religious rules remain unchanged?" She is unhappy also with the political parties because they are accepting religious distortion for the sake of votes. Protesting against this, Khadija and her organisation raise few demands, which one must say, are very bold if the country's present political-religious scenario is kept in mind.
Khadija makes it a point that in our country the way talak is given at one's will or a man marries several women has no approval in the Islam.Despite knowing that these are unjust village heads, Moulavis take the side of men. The All India Muslim Personal Law Board also keeps mum on such issues. Even if women getting divorce move the court demanding alimony, justice is not meted out to them most of the time. Khadija doesn't forget to point out that the demands she and her organisation have raised to clean up the colossal pile of unjust have not come out of the air.
"The country which cannot protect women's social dignity, the state that fails to protect the dignity of law cannot be civilised" : Khadija Banu, a veteran social worker and a Leftist to the core, says forthrightly.
Giving plethora instances of Muslim-dominated countries, she says there has been a change in the family law in Bangladesh. Getting talak is not possible without assigning sufficient reasons to the court. Pakistan also follows a similar law. In Egypt and Jordan women have the right to give talak to their husbands. More than one marriage is forbidden in Indonesia, Maldives, Tunisia and Morocco. In Turkey one has to get permission from the court before going for second marriage. In Iraq the Law of Personal Status, 1959, states that more than one marriage gets approval only when the Kazi is convinced that there will be no discrimination between wives and that the man is financially solvent.
Man and woman both will have the equal right to give talak. And this will be done through the court.
Having more than one wives has to be banned. Women must have the equal right to inherit property. If husband dies when the father in-law is alive, the widow and her children must be given the right to inherit property.
Adoption law has to be enacted. Programmes must be introduced to make self reliant the oppressed, divorced, deserted women and widows.
Khadija Banu, who hails from the district of Rezaul Karim, Dr. Abdul Kader, Syed Mustafa Siraz is, however, no longer alone today. Abdul Kader fought alone against the system of talak. Moulavis threatened Rezaul Karim that nobody would come to his 'Janaja' for Namaz. Rezaul Karim replied: "This is my room and this is my cot. I will lie dead on this cot in this room. My body will rot. It will be dumped by the municipality people." December9, 2010-Khadija took to the street in Kolkata with all these women. People like Sankha Ghosh stood beside her. A meeting was held at the base of the Gandhi statue and a memorandum was sent to the then Chief Minister of West Bengal. On December 28 another memorandum was sent to the Governor. That charter of demand reached to the central government. After quite some time, a reply came from the centre's minority affairs department : "We are unable to meet your demands," the letter said.
But Khadija didn't give up. She founded Rokeya Nari Unnayan Samity in 2007. At present she is the organisation's secretary and Prof Sujata De Basu is the president. Alongside the samity another organisation-Forum for Empowerment of Women in India has born. Its secretary is prof Afroza Khatun and president is Justice Malay Sengupta. Khadija is the vice president. If the former is a mass organisation, the second one is an organisation of intellectuals.
Khadija's idols are Vidyasagar, Syed Amir Ali, Osman Ghani, Rokeya Begum. Today she has by her side the people like S M Jaki, Dr. A Hasan, Dr. Nirmal Saha, Dr. Biswanath Gangopadhyay, Urmi Rahman, Baijid Hossain, Afsar Ahmed and Shaikh Maqbul Islam. It has been decided that all will meet the country's prime minister to present mass signature.
Though Khadija Banu has no awards to return, she carries on inspiring lacs of women to protest and fight for their rights against multiple social and religious intolerances.
Translation from original by Kushal Dasgupta