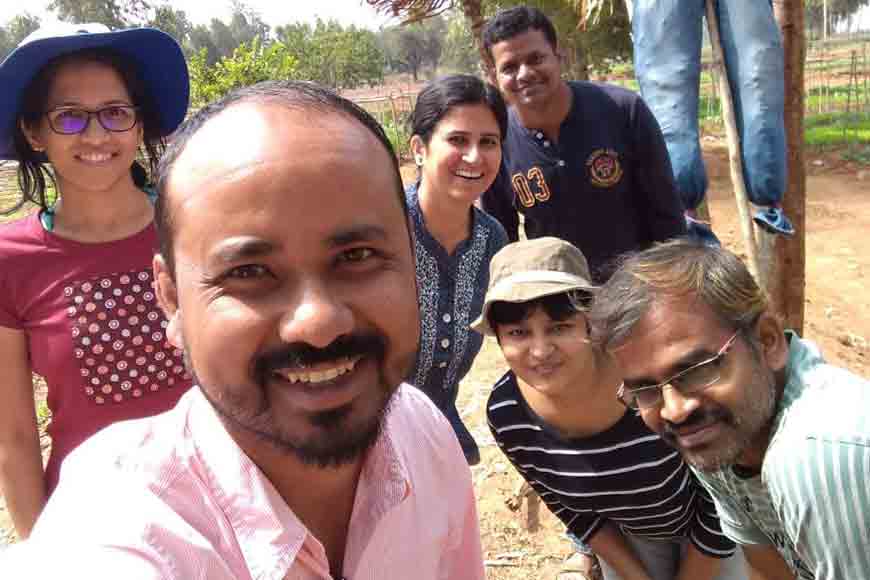 • How did the idea of 'growing your own vegetables on your own farm plot' come up?

Consumers are very concerned about pesticides and excessive fertiliser use in growing fresh produce these days. Hence, many of us have been trying to grow our own food on terraces and balconies. However, space, time and expertise issues make it difficult to actually grow enough food on our own. To solve this, we came up with the Farmizen concept, where we solve your space, time and expertise problems, by letting you, remote control a mini-farm to grow your own food and have it home delivered.

• Being a software engineer settled in Bangalore, how much time can you give to this project? Was it your brainchild?

I am a serial entrepreneur, having started and built multiple start-ups before this. I work on this initiative full-time. Farmizen is now a nine-member team. There are three of us who are part of the founding team at Farmizen - Sudaakeran, Gitanjali and me - we know each other for over a decade.

• How far is organic farming a necessity in present urban life?

Many current lifestyle diseases can be attributed to the poison in our food - in the form of pesticides as well as increased concentration of nitrates, owing to excessive use of chemical fertilisers. So, getting back to our roots and adopting naturally grown food, is not a question of choice - it's really the only viable option in front of us.

• How do you connect to farmers and clients who wish to take up a plot to grow their vegetables?

Consumers have an app available on both iOS and Android, which they use to book their mini-farm, choose vegetables they want to grow, keep track of how their crops are growing, provide instructions for their farm etc. Farmers also have an app which let them manage their farm efficiently and follow the actions that have been requested by customers.

• How are the farmers benefitted in the process?

Farmers benefit owing to predictable and increased income. Most of our partner farmers make 3-5X more money than before, and also get paid every month, without having to wait for the end of a crop cycle. In our model, farmers can focus on their core competence - production, while Farmizen takes care of the rest - marketing, technology, logistics, agri-inputs, crop advisory etc.

• Do you plan to bring your services to Bengal? If so when can we expect you here?

We plan to be present all over India - this year, we plan to first get to Chennai, Hyderabad, Mumbai, Pune, Delhi-NCR and Kolkata. We are targeting being present in all these cities this year.

• How many clients do you have now? And how are you growing?

We have 475 subscribers right now and all our partner farms are fully subscribed. We have been growing 100% month over month since November.

• How can new clients enrol with you?

They can download our app from app store or play store and book their mini-farm from the app.

• Is Farmizen about growing organic vegetables or also about building a healthy community that work in a symbiotic relationship?

Farmizen is about fixing the food system, by making it better for farmers, better for consumers and better for the soil. This is only possible if all three stakeholders are aligned in a symbiotic relationship.

• In Bengal do you think this model will work?

We think the model will work anywhere, where consumers do not have access to safe food they can trust, and where farmers make very little money with high unpredictability. So, there's no reason why it will not work in West Bengal.