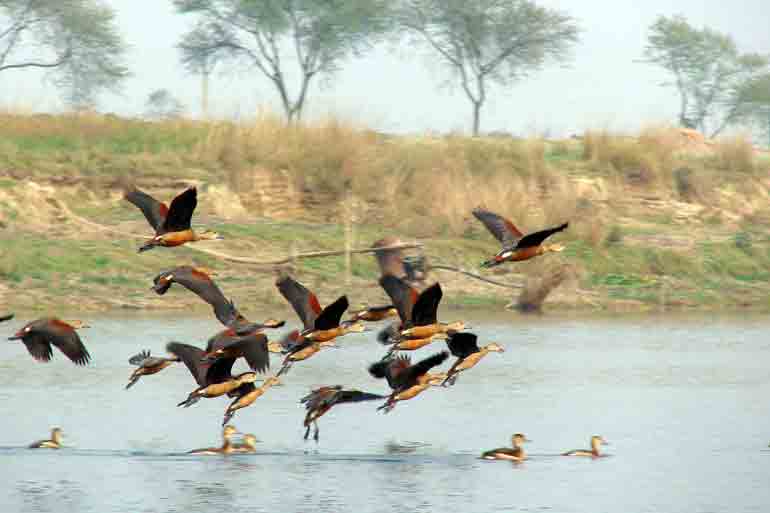 Come winter and guests descend on the pristine water of the jheelsof Bengal. This year, lakhs ofmigratory birds have found a new haven ---ponds of Narja-Karjana village in Bhatar of East Burdwan district. Villagers of this area are not only excited with the new friends coming in, but have made elaborate arrangements to protect them from poachers. They consider the arrival of migratory birds as a good omen and rejoice when their guests arrive.
The majority of birds that flock here are the Lesser Whistling ducks, also known as Indian Whistling Duck or Lesser Whistling Teal. Locally known as Bali-haansh, these birds have been migrating in winter for years and have been flocking in the lakes of Santragachhi in Howrah and Chupi in Purbasthali. These places are frequented by bird-watchers in large numbers during winter. As a result, in recent years, the birds have gradually abandoned these well-known nesting hotspots, and moved on to places like Narja, that are comparatively quiet.
Birds seem to like this peaceful village as is evident from a steady rise in their numbers annually. This year, all past records have been broken and a remarkably large number of migratory birds have flocked to Narjar. In fact, locals insist, when the birds take to the sky in unison, the flapping wings overhead make the horizon invisible.
Local farmers keep a strict vigil, while working in their land. The moment a stranger is spotted near a pond, a word of caution is hollered: "You may watch birds or click photographs but don't you dare harm them or kill them." When farmerstake their lunch break, local youngsters pitch in and continue vigilance. This is how the residents of Narjar are protecting their guests.Despite the vigilance, a couple of miscreants were caught arriving with guns. Timely detection saved the day. But since the safety of the birds is the prime concern of the residents, they suggest a pro-active approach by the police posted on the Katowa-Burdwan highway, that runs close to their village, can be very beneficial and help them in their efforts.
Shubhro Chattopadhyay, BDO of Bhatar, has also noticed the efforts of the locals and has already communicated with the members of the panchayat to assist the residents of Narjar in their noble effort. He plans to take up the issue and inform the district administration and forest department so that Narjar gets recognized as a paradise not only for ornithologists but even amateur bird watchers.