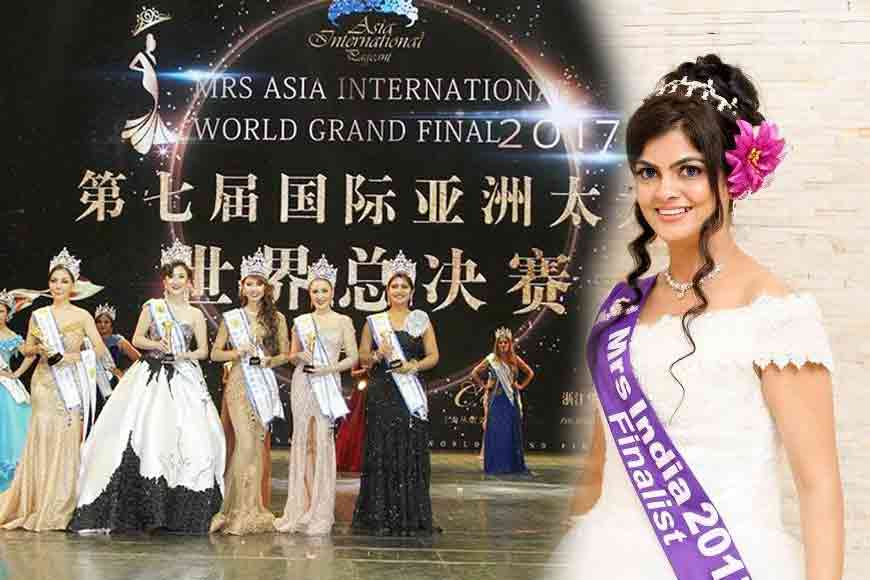 Rinku Bhakat of Purulia entered the prestigious 'Mrs Asia' beauty pageant at the age of 41 and came out trumps. Her journey, that began in Huchukpara, Purulia, four decades ago, has been an interesting one so far. She had never ever thought of entering any beauty competition in her life. Her husband, Narendrakumar Madhukar is a doctor in the Indian Army and travels. While they were posted in Mandi, she came across a local beauty pageant and impulsively decided to participate. Rinku was shocked when the winner's name was announced. She had defeated all the other contestants, many of them far younger to her, to win the coveted Mrs Himachal Pradesh crown. However, this was Rinku's first stepping stone who was now far more confident and decided to participate in the national-level show, 'Classic Mrs India.' This Annual contest is held for women above 40 years of age. For Rinku who passed out of Nistarini College, Purulia and later studied law at Hazra Law College, this was like a dream journey.
Rinku's next destination was Shanghai, the venue for 'Mrs Asia' show. In end-November she flew to Shanghai. This annual show, organised by Malaysia, is internationally affiliated and has been going on for the past decade. When she reached the venue, she came to know that she would have to participate in the 'Mrs Asia International Popularity' contest. She was unnerved temporarily by this announcement, because many of the contestants participating in this contest were far younger, mostly in the range of 28 to 30 years. Many contestants from Vietnam and Philippines were amazed to find that Rinku had never done any cosmetic surgery. She knew she would have to impress the judges with her poise, intelligence and her sphere of work.
Rinku also happens to be a talented artist and has been working tirelessly to popularize Madhubani and Sohrai folk art forms to help the village artisans. Rinku's mother still lives in Purulia. She is an inspiration for Rinku who believes nothing in this world is unattainable if one really works with full dedication. She is also indebted to her husband for his constant support and encouragement. Madhukar, four years her junior had been in love with her since childhood and has always been her pillar of strength for her. He has very good aesthetic sense and she is fully dependent on him for the right choice of clothing, colour coordinated accessories etc. In fact, he took a long leave to accompany his wife to Shanghai. Being a military man, it was extremely difficult to get approval for the journey to China, but the duo somehow managed it.
Despite all the fame and adulation, the mother of a teenaged son's feet are firmly grounded and she is fully aware of all her responsibilities. She is not too ambitious and is not keen on joining any other beauty contests not even Mrs World and one reason why she doesn't want to join is her reservation about the bikini round. She says she will not feel confident in that robe. In fact, she has taken her crown as a key to further her work in the field of folk art and involve others to work for the betterment of the homogenous art forms of our country. She has plans to start a scheme in Purulia soon where artistic pieces will be createdout of scrap materials. She is determined to succeed and has already started chalking out plans for the project.