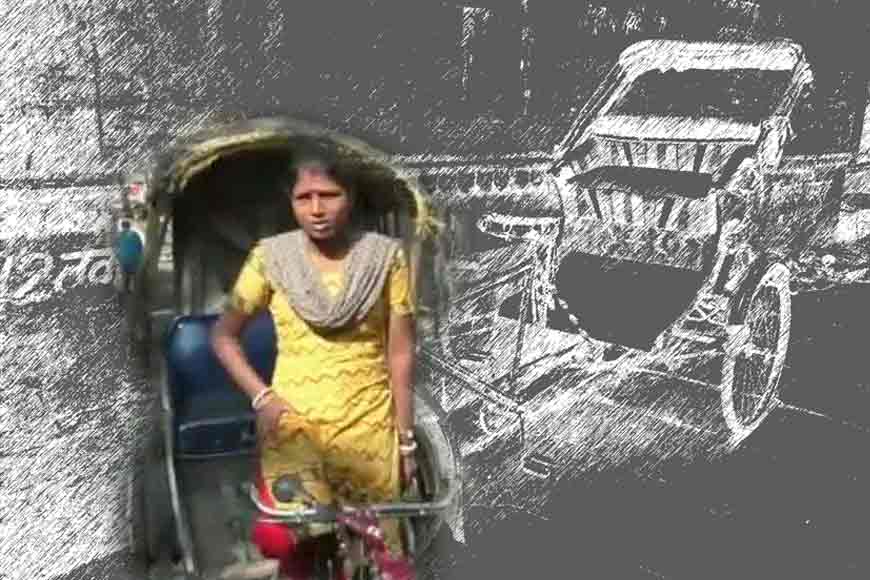 She is a rickshaw-puller whose decision to storm the male bastion has earned her the ire of her male colleagues. When she started plying her rickshaw, she was harassed, insulted publicly and denied to park her vehicle at the scheduled stand. The males ganged up against her and insulted her with catcalls and lewd comments and even threatened prospective customers with dire consequences if theytook a ride on her rickshaw. But nothing could deter 28-year-old Mithu Pandit's resolution. She has survived all and emerged a winner.
Mithu has an urgency in her mission: she is determined to provide a better life for her two childrenand continue her husband's treatment who lies at home paralyzed. Her husband Barun was alsoa rickshaw puller and Mithu worked as a housemaid. Butsuddenly her world came crashing down, when her husband, who was an alcoholic developed a complex nerve-related disorder. Mithu needed money and a housemaid's job was not enough to earn the amount. So a desperate Mithutook up her husband's hired rickshaw and started running it.
The stiff resistance she faced from the male rickshaw pullers shocked Mithu, but it strengthened her resolution to continue. There were days when she pedaled her rickshaw for the entire day looking for passengers and at the day's end would earn less than Rs 100. But one day Rajib Das, municipal councilor of Ward no 126, saw her and summoned her to his office. When he heard her story, he was highly impressed by her grit and determination. He intervened and arranged a place for parking her rickshaw in the Pora Ashwathatola stand. He also assured her assistance. Now Mithu takes out her rickshaw twice a day. In the morning, she cooks and takes out her rickshaw at around 9 am. For the next two hours, she is on the road. In the afternoon, she returns home to feed her family and have her lunch with them. After a mid-afternoon siesta, she again takes out the rickshaw and plies it till late evening.
Mithu's income has increased and she makes between Rs 200 and 300 per day. She has been saving from her earnings and has bought a second-hand rickshaw. Now she earns about Rs 5000 per month with which she pays the house rent, her son's tuition fees and for her husband's treatment. Her mother-in-law tries to pitch in from time to time.
Her male colleagues have still not been able to digest her choice of career but do not criticize her openly. Mithu's rickshaw can be spotted at Behala Sil-Para and she commutes between Pora- Ashwathatola to Khalpaar in east Barisha. So, next time if you are somewhere near Behala Sil-Para and notice Mithu, remember you are looking at a fighter who has broken shackles of societal norms and emerged a winner.