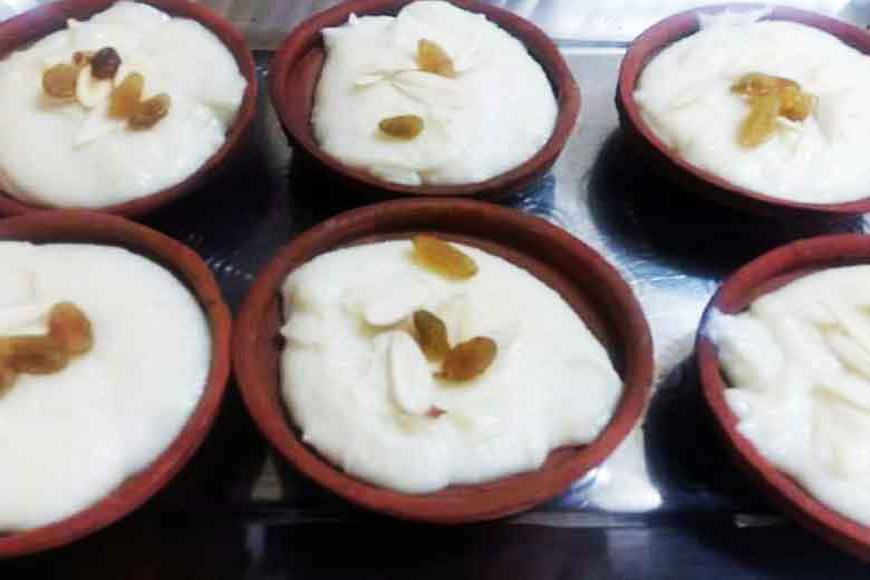 The otherwise quiet lanes of Kustia Road in central Calcutta burst into a flurry of activities on Chaand Raat, the night when the full moon is sighted after a month of Ramzan fasting. Revellers seem to be everywhere, with last minute Eid shopping in full swing. Manoeuvring these lanes, one finally reaches Sufia's home. Immediately you are greeted with a rich aroma of delicious food. Sufia's mother Shabnam Begum is busy churning out dishes, preparing an extensive menu that is a part of any Eid celebration. From Murg Musalam, Murg and Mutton Korma, Mughlai Murg, Mutton Deek Kebab, Chicken kebabs, Murg Changezi to Halim, Shermal Roti, Baida Roti, Mughlai Paratha, Kachi Biriyani, Shahi Pulao to Dum Beef Biriyani, name any gastronomic delight and you are stumped before you enter their huge kitchen. Eid celebrations are never complete without sweet dishes that come in the form of Phirni, Sheer Khurma, Shahi Tukda, and Semai. Sufia's mother remembers Eid as a grand affair once upon a time at the Malka Bibi Haveli, their ancestral home in Cossipore, when 21 brothers and sisters celebrated together with home-made dishes. "Neighbours of any religion used to pour in at our house and celebrate together. We never knew then what was religious tolerance and intolerance and we celebrated all festivals with equal zeal," remembers Shabnam.
Shabnam Begum with daughter Sufia Khatoon
Shabnam Begum shares with us the following Eid Special Recipe from Sufia's grandmother Quamrunissa's cookbook:
Sheer Khurma, a Mughlai dessert made with generous amount of milk, vermicelli, dried dates, dry fruits, sugar and lots of love. Sheer stands for milk and Khurma means dates, in Persian.
MILK: 2 litres.
DRY FRUITS: Dates, almonds, cashews, raisins, pistachio soaked in water over-night.
CHERONJEE: One cup or 100 gms (boiled, strained and cut.)
THICK VERMICELLI: 100 - 150 grams..
GHEE: 50 grams.
ZAFRAAN / KESAR POWDER: 1tsp.
CARDAMOM AND CLOVE: 4-6pieces.
Method:
1. In a pan add ghee and dry raisins. Slowly heat for a few seconds and remove them.
2. Add clove and cardamom and once you get a rich aroma, add chopped dry fruits and chironjee. Slowly cook so that they do not burn.
3. Now add dry vermicelli and fry till crispy.
4. Add milk and stir till it boils. No lumps should be formed.
5. Cook on low heat for 15-20 minutes.
6. Once it starts boiling, add 2 pinches of cardamom powder and 2-4 grams of kesar.
7. Serve hot and garnish with the fried raisins.
(Serves 10-12 guests)