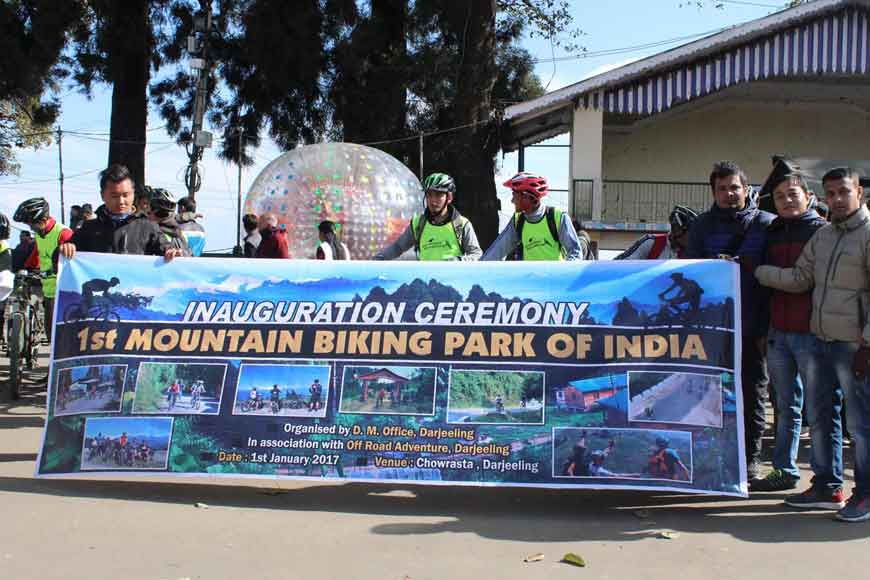 Imagine biking along a trail that passes through a wildlife sanctuary! Yes, you stand a chance to even have a Himalayan black bear, barking deer, wild boar or hornbills as company, with some running probably at a speed more than the vehicle that you ride. For the adventurous soul nothing can be a greater charm than trying out North Bengal's Chatakpur Mountain Bike trail. This 20-km stretch runs through the Senchal Wildlife Sanctuary, undisturbed by other forms of vehicles which are prohibited from the region.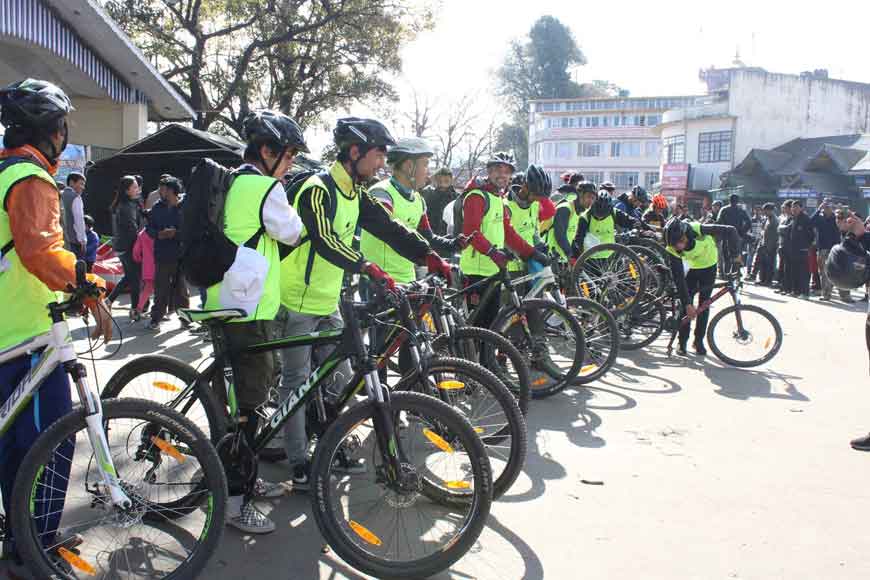 The bikers all set for the trail
The picturesque trail originates at the Sanctuary's main gate near Jorbangla and finishes at the State Tourism guesthouse of Chatakpur, a quaint and quiet hilly hamlet. Verdant green terrace cultivation of organic crops, shrubs and medicinal plants make the place an upcoming tourist attraction. If you wish for a quick tea break on the trail, you can always rest at the stalls along the village that will serve you a hot cuppa along with warm snacks to keep you going on a winter morning. There are also lodges in the village, basic homestays where you can even rest for the day or spend a short vacation after your biking adventure is over.
For biking activity contact: Off Road Adventure (Recognized by Lonely Planet), Darjeeling, offroad.darjeeling@gmail.com,
Mobile-919064294450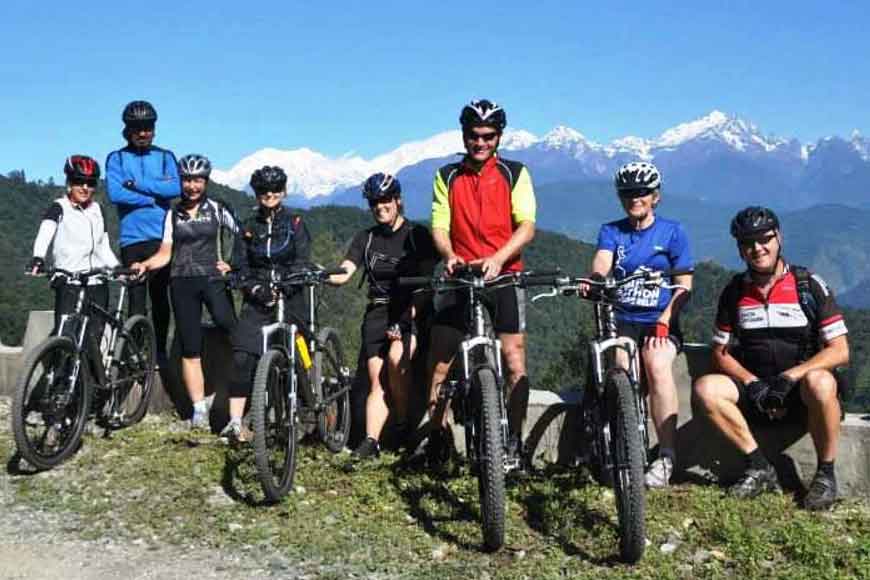 A group of biking enthusiasts
The Darjeeling forest division has come up with two cottages with double bedrooms. In an area of about six hectare, there are 19 houses, six of which are registered home stays that can accommodate between three to six persons. The forest department cottages can accommodate a maximum of 12 tourists.
A picturesque halt
Recently, the district administration has declared a 20-km stretch within the wildlife sanctuary as a Mountain Biking Park that can be accessed only by mountain bikers who will go for this adventure. "Mountain biking is fast catching up in the hills of Bengal," feels Sangay Sherpa, director of Off Road Adventure, that organised a Mountain Bike Rally from Darjeeling to Chatakpur. "Two years ago, people here used to tease those who would try their hand at mountain biking saying they were trying to ape the western world. But now things have changed. At present, there are more than 100 mountain bikes in Darjeeling. The average charge of hiring a mountain bike here is Rs 800 a day," he added.
Tips for the biking adventure
• If you wish to do mountain biking at Chatakpur, contact a travel agent in Darjeeling who will be provide a bike, head gear and a guide for a day's ride.
• Mountain bikers will have to pay Rs 70 to enter the bike zone which will open at 6am and close at 6pm.