It came as an artfully tranquil story of grounded tones, healthy hues, starry nights, of owl hoots and pre-dawn chirps. It also came to us as a deliciously subtle and memorable trip, not just because we as a family were desperate to run away from our city home, but also because Dam Dim welcomed us to a home, far away from home. The Barra Sahib bungalow cradled in the lush tea estate of Dam Dim had all the elements of a colonial hangover - well-kept, well-preserved and well-planned even in this 21st century when heritage buildings are broken down or restored in the most grotesque manner. Thankfully Dam Dim bungalow retains the British charm with every detail from an exquisitely embroidered tea-cozy serving you the morning hot pot, to the old-world wooden chest with coffee table books ranging from Tiger Woods to Tea Plantations. For me, Dam Dim was sheer poetry, in the misty mornings just before sunrise with a plethora of birds as company, perched on a Tree House, out in the garden alone. And that break of dawn, with acres of tea gardens before you, golden sunshine penetrating through the eerie fog ----a moving poem, where one can simply bury any pain, forget the past and just seep in the moment. A moment frozen in the garden of gerberas, blossoming in the well-manicured lawns of Dam Dim.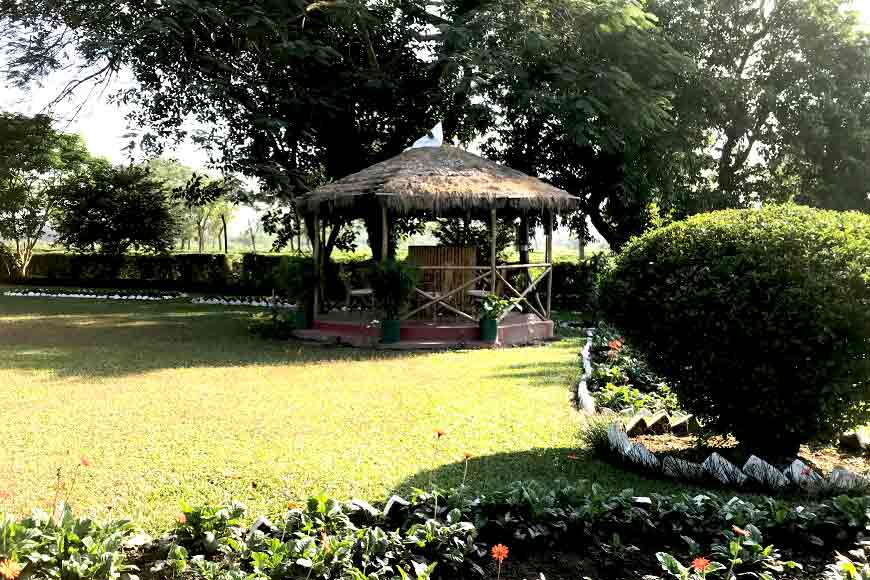 Lush green lawn in front of the bungalow
Under the sub-division of Malbazar, this place is conveniently located, just an hour drive from NJP through a picturesque trail of sleepy tea gardens and bamboo gates, reminding us of the Enid Blyton tales of a British countryside. However, once you enter the gates of Dam Dim, a different story unfolds. I saw smiling faces of children of workers, playing with balls and bats and waving at us. The early morning siren, notifying all workers to start their day, somehow reminded me of the Industrial Revolution and how the East India Company set up these tea gardens of Darjeeling and Dooars and did brisk business with Europe.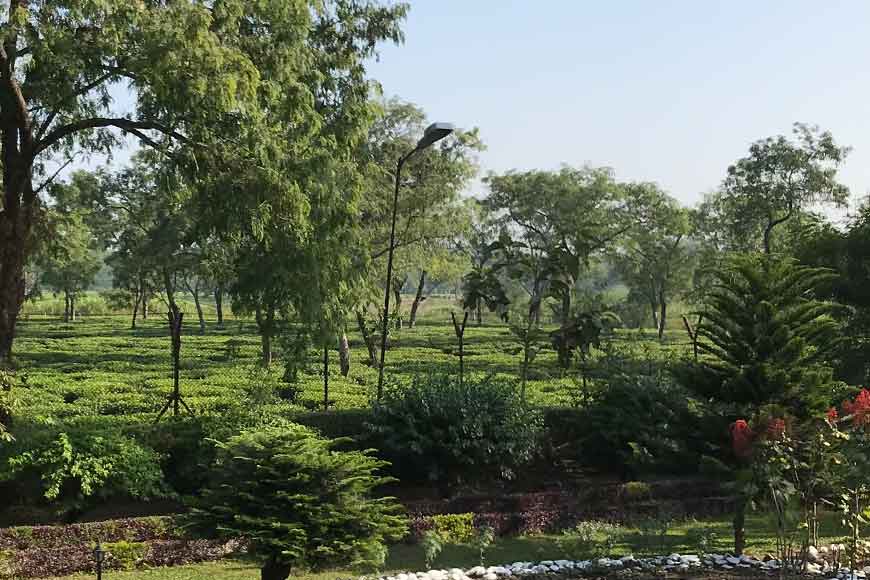 Extensive stretch of tea plantation adjacent to the bungalow
Even today the garden does brisk trade at the tea auction and the well-organised Tea Trail, that comes as a part of the Dam Dim tour package is extremely educational specially for students. The tea planters give you an exclusive look at their tea nurseries, where the plants are first grown, and how they are relocated to new areas, how vermi-compost is made by female workers, and even how tea bushes are planted. For me however, the fascinating tales from locals on how leopards and elephants enter the estate frequently and need to be driven away, were more interesting. There are machas or roped stands inbetween bushes on top of tall trees from where a strict vigil is maintained against elephant herds, specially during the paddy season, when they enter in dozens.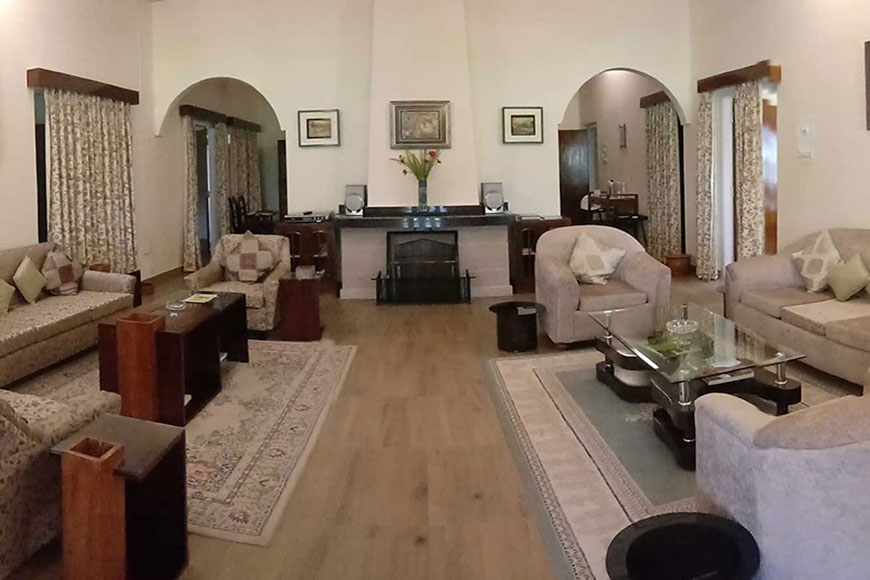 The comfortable living room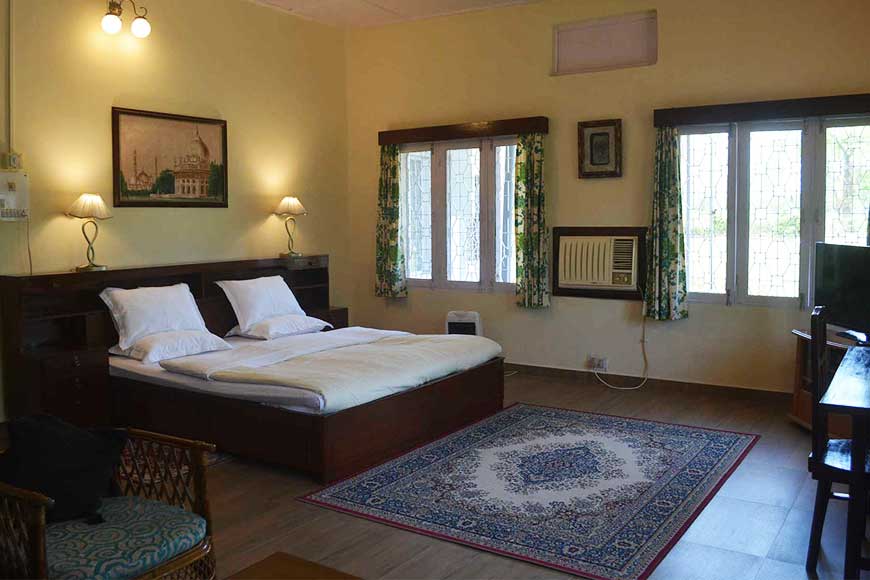 The large and cosy bedroom
And for a biologist like me, another fascinating part of the trail was driving through tall tea trees! Yes, not bushes, but trees that are grown to get the flowers and seeds, which will again go in the making of new saplings. I never knew tea flowers could be so pretty and all that my husband could remember was the Shah Rukh-Deepika starrer movie Chennai Express and the lush tea-estate landscape which he believed was a replica of Dam Dim. I thanked my stars for he never compared me with Deepika or asked for a photo shoot standing on the jeep that was taking us around. I was happy clicking pictures of tea seeds and tea flowers and that winding lane through the gardens --- welcoming, haunting, absorbing all that I wished to leave behind.
For bookings : contact +919382342597 or +919830049829. You can also mail at theoakhospitality.resv@gmail.com
How to reach: Take a train to NJP or a flight to Bagdogra. The car from the tea estate will take you to Dam Dim. It is not more than an hour drive.
Best time to visit: Any time of the year but preferred time would be winter and spring.
Sight-seeing: Most forests including Gorumara, Gorubathan, Chapramari, Murti and even Bengal Safari are quite close by. You can also take a day trip to the beautiful hamlets of Samsing and Suntalekhola that are not more than an hour drive from Dam Dim
In the evenings you are treated to some fabulously delicious pakoras to beat the winter blues. Trust me, the cooks of Dam Dim can put to shame any chef of a five-star Kolkata property. We were literally spoilt for a choice – from the best of vegetarian dishes that satiated my hunger to the best fish meals that the others just loved. Locally bought, freshly done, and superb tasty meals are definitely a feather to the cap of Dam Dim. Even the pudding as a dessert was an icing on the cake, as was the typical English breakfast of cornflakes, honey, toast and eggs made in any form you wish. After all the name Dam Dim is supposed to come from Deem or egg and the legend says one of the English officers was so frustrated having Deem or egg every day that he shouted and said 'Damn' Deem. However, we had no reason to feel frustrated as we were treated to everything from Gobi, to Chicken, to Egg to Fish.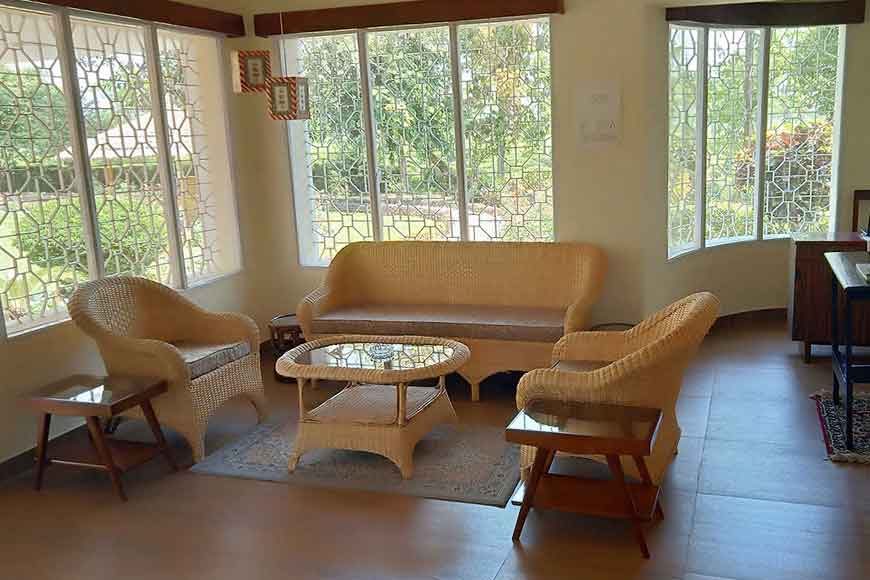 The large sitting space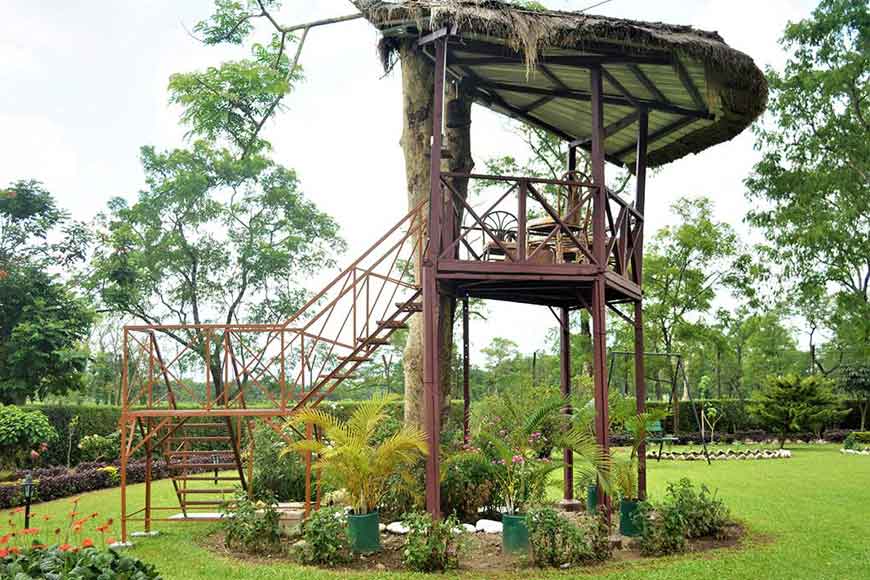 The tree house
As we bid adieu to the picturesque surroundings after a hot cup of a well-blended tea, warming not just the cold body, but even our souls, a Himalayan Roller, hopped across one of the trees and a bunch of magpies kept whistling. The nourishing colors of Dam Dim mystically came alive with a huge tree of Rudra Palash blossoming to the hilt! Dam Dim taught me, "If Winter is here, can Spring be far behind?"