A watering car, over 100 years old, in good running condition
In the early 1990s, the then Left Front government began dismantling Kolkata's century-old tramways, introducing state buses in their place. Today, Kolkata is still the only Indian city operating a tramway, which is, in fact, the oldest electric tramway in India, in operation since 1902, though it was in 1873 that the country's first horse-drawn trams ran between Sealdah and Armenian Ghat Street, a distance of approximately four km.
The Calcutta Tramway Company was formed and registered in London on December 22, 1880. The route from Sealdah to Armenian Ghat was laid through Bowbazar Street, Dalhousie Square and Strand Road. On November 1, 1880, the route was inaugurated by the Viceroy, Lord Ripon.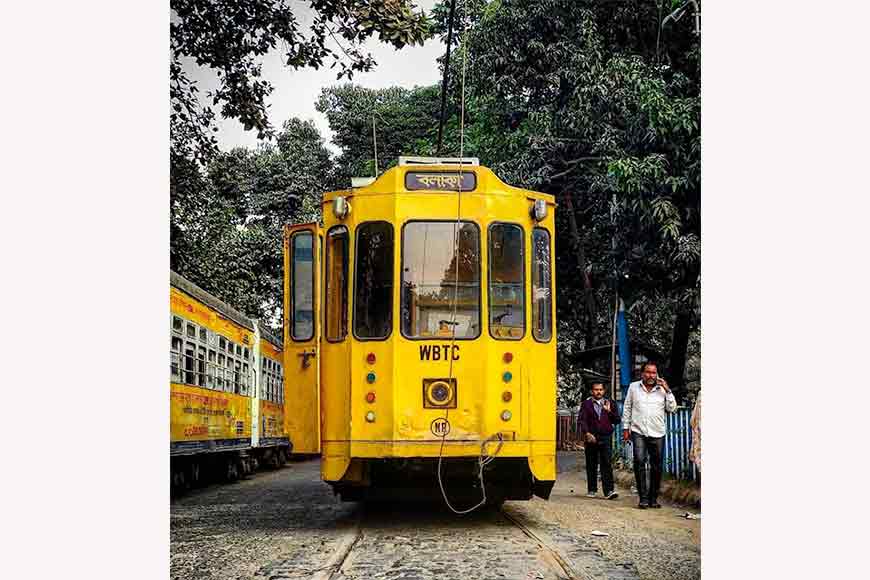 A luxury tram over 90 years is in good condition to run
Until 1947 or thereabouts, wooden trams would be imported from Britain. Even as late as the 1960s, trams in Kolkata ran on 37 routes, but today, the number has dwindled to five, and post-Cyclone Amphan, there are a mere four routes that are still operational. Clearly, Kolkata's trams, an integral part of its heritage, are disappearing in front of our eyes, unless drastic action is taken to save them. Which is where the Calcutta Tram Users Association (CTUA) comes in.
Going back to the early 1990s where we began, like numerous young Kolkatans, Dr Debashis Bhattacharyya was a regular on the city's trams. Today, the scientist from the Indian Institute of Chemical Biology says that back in 1992, he suddenly realised that he was about to lose a critical part of his life, as well as a vital means of daily transport. "Trams weren't just something I used to go to college or to work. They were part of my childhood in the 1970s and '80s. On Sundays and holidays, they were something we took joyrides in," he says. And in protest, he participated in a few meetings where he met like-minded people.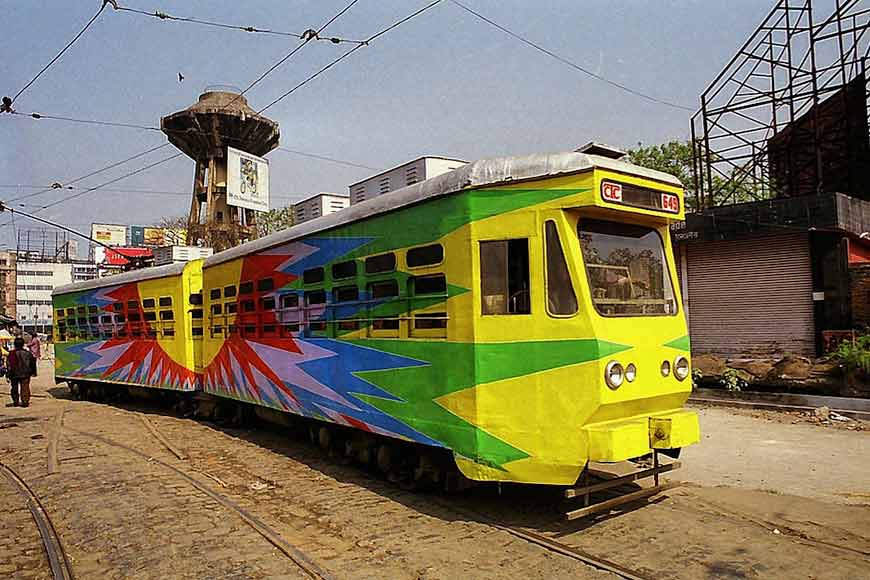 A tram painted as Rising Sun
Thus began a lifelong engagement with trams that eventually culminated in the citizens' initiative called CTUA two years ago, of which Dr Bhattacharyya is currently the president. Among its members and supporters are people of all ages, including environment activists, heritage buffs, even some Indian Railway employees. Had the Covid crisis not intervened, the association would have been a registered body by now. However, at a time when hundreds of cities across the world are laying new tram tracks, the fight is still on to save what remains of Kolkata's trams, and the motivation is manifold, says Dr Bhattacharyya.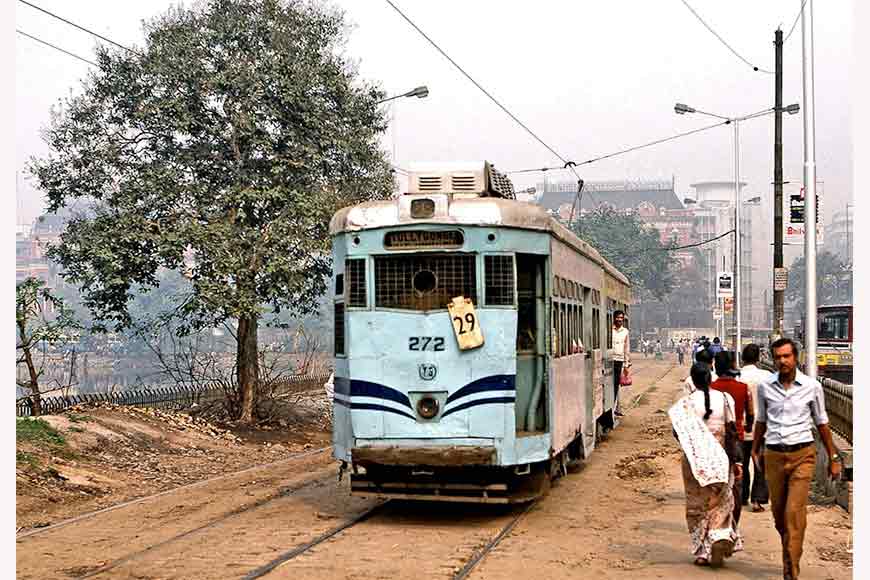 An iron body standard tram car now available in the city
In the current popular perception, at least in this city, trams are a slow-moving waste of space, and financially unviable too, though their environment-friendliness has never been in question. All of which is inaccurate, says Dr Bhattacharya. "Trams require the least maintenance and last the longest among all forms of transport. An average tramcar will serve you for 50-70 years. They also have the lowest running costs and actually help in the decongestion of roads, and are the least prone to accidents," he explains. "Had they not been economically viable, they wouldn't have been making a comeback in various parts of the world."
On a trip to Bordeaux, France, in 2004, Dr Bhattacharyya saw how interconnected tram tracks were being re-laid through roads which had been closed to vehicular traffic, changing the look of the city. "It was always the rule in Kolkata that trams would run on reserved tracks, along raised boulevards. The problem arose when tracks were laid on roads meant for other traffic. Naturally there would be difficulties for both," he says.
Do the new kinds of trams, such as AC trams or one-coach trams, help? The fibre glass trams are a welcome step, says Dr Bhattacharyya, particularly since many of them have been refashioned from the old wooden trams and their successors, the iron trams. When it comes to AC trams, however, the diesel-powered AC machines defeat the very environment-friendly quality that trams are famed for. As for one-coach trams, he says it is a complete mathematical misconception that two coaches require more clearance space than one coach.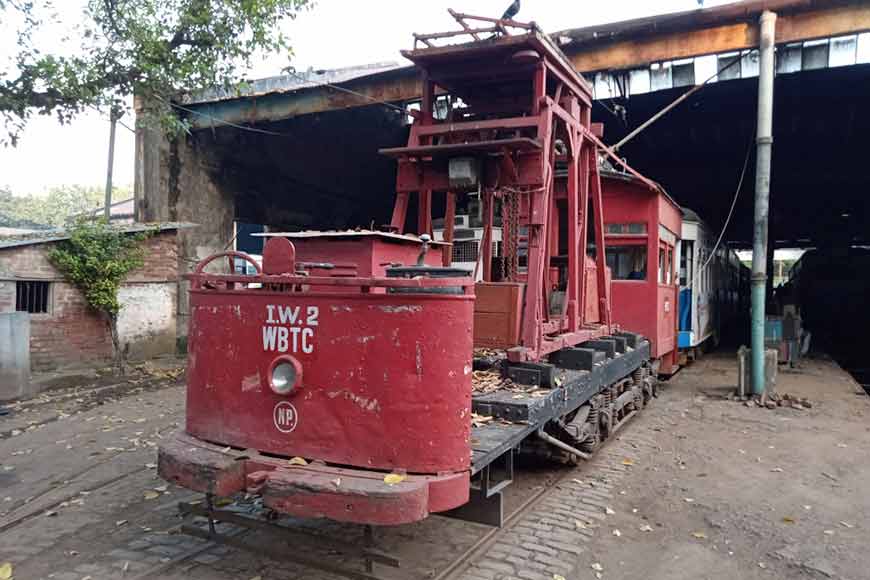 Overhead traction repairing car, now left aside in a depot to rot
The other big problem, says the CTUA president, is that even on the surviving routes, tram tickets are far more expensive than bus tickets. Besides, given the very small numbers, their frequency becomes negligible, allowing buses to forge ahead. In every case, commuters are discouraged. "Yet, in cities where trams are a viable means of transport, for example San Diego, where I have seen this with my own eyes, people are happily using them. In fact, I saw trams in San Diego with five or six coaches, and even people with cars prefer them. Just one such tram, for instance, would become a substitute for 1,000 cars, leading to a lack of congestion," says Dr Bhattacharyya.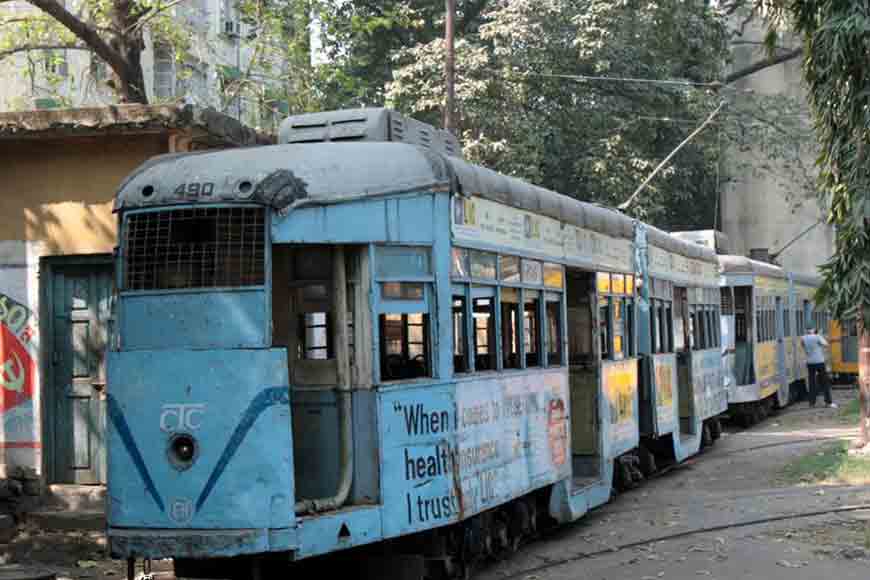 Wooden bodied car left to degrade for sale to scrap metal dealers
These and other factors continue to motivate the members and tram enthusiasts of CTUA, and they have been inviting representatives from the Transport Department and other government agencies in the hope that a revival will be possible. "We need to encourage more people to use trams, and that can only happen if the number of trams increase, instead of dismantling tram depots and selling off their land. There is still time, we just need some political will," he concludes.
Image Courtesy: CTUA