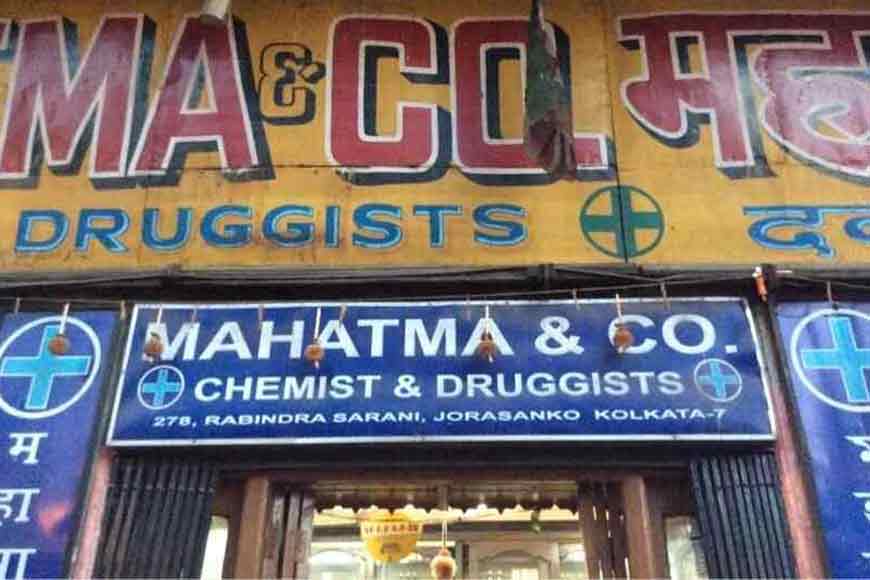 Historic Jorasanko in North Kolkata is best known for Jorasanko Thakur Bari, former home of poet Rabindranath Tagore and his illustrious family. The entire stretch from Jorasanko to Rabindra Sarani is dotted with traditional Bengali mansions and local markets. A colossal building stands close to Ganesh Talkies and the entire ground floor of the sprawling mansion houses a medicine shop. A huge signboard displays the name of the shop, 'Mahatma & Co. Chemists and Druggists,' written in English, Bengali and Hindi script to facilitate the cosmopolitan crowd identify the store.
This sprawling store located in an overcrowded business district may seem a little odd, but this is not like any other run-of-the-mill drug store. It has a rich legacy and its connection with Rabindranath Tagore's last few days has ensured the shop a place in the annals of Kolkata's history. A photograph of Tagore is displayed prominently on a shelf close to the cash and delivery counter.
Eighty years ago, the poet breathed his last on August 7 (Baishe Shravan, according to Bengali calendar). His health deteriorated at the age of 76. On September 10, 1937, he lost consciousness for two days. He was diagnosed with kidney and prostate problems. The poet was also suffering from fever, headache, chest pain and a lack of appetite. His health needed immediate attention. Dr Nilratan Sarkar visited him. On September 19, 1940, Tagore went to Kalimpong with his daughter-in-law Pratima Devi to recuperate. But a week later he lost consciousness again due to pain and infection in his urinary bladder. He was rushed back to Jorasanko for treatment.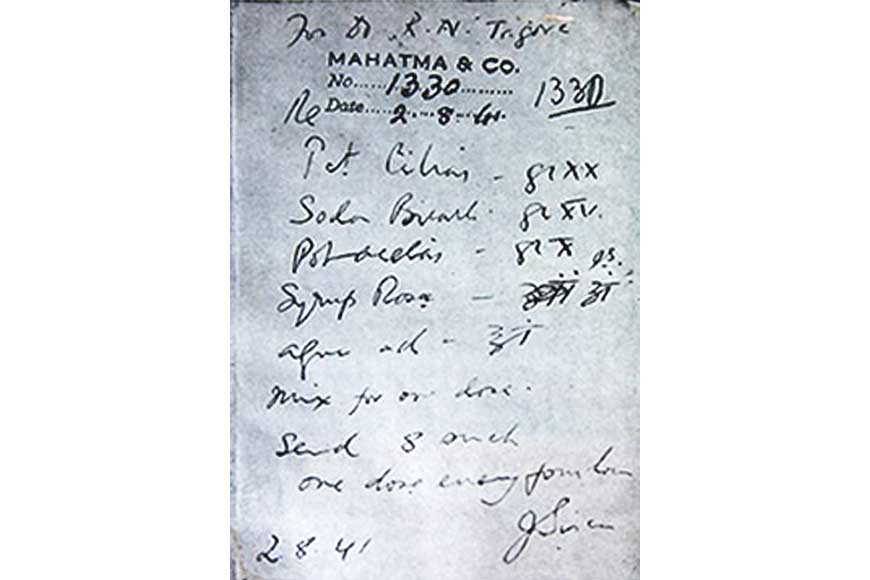 On July 16, 1941, his doctors advised him to undergo a surgery. Suddenly his condition became so critical that he nearly stopped passing urine. Doctors diagnosed him with uraemia and other complications and it was decided that a surgery would have to be performed to cure the poet's ailment. The operation was scheduled to be conducted on July 30 but Tagore was not informed about it as doctors and his family members feared that he would not accept it.

On the pre-scheduled day after making all arrangements, Dr Lalit Bandopadhyay finally told the poet about the operation. Tagore was shocked and unhappy but his eldest son, Rathindranath consented to the doctors' verdict and the poet accepted the decision. Dr Bandopadhyay conducted the operation and later inserted a tube into his bladder to relieve his urinary retention. But to everyone's dismay, following the operation his condition worsened. He was writhing in pain and doctors treating him realized the end was near. To relieve the excruciating pain, doctors finally decided to try a concoction of different bio-chemic mixtures.
Pill citrus, sodium bicarb, pot assiduous, syrup rose, menthol, belladonna etc. were different chemicals which were mixed according to required proportion to prepare a potent pain killer drug for the poet. All these medicinal ingredients were procured from a single shop, Mahatma & Co. the shop that witnessed the poet withering away slowly and painfully from this mortal world, trying to help him desperately.
Mahatma & Co. was established by Radhabinod Roy, an ardent fan of Mahatma Gandhi. Gandhiji knew Roy personally. Dr Bidhan Chandra Roy referred his patients to this medicine outlet. Radhabinod's eldest son Ranajit Kumar Roy used to run the establishment. But after his demise a few years ago, his younger sibling, Shambhunath Roy became the proprietor of the heritage shop. The family has been meticulously preserving all the documents pertaining to the poet's treatment, the hand-written prescriptions by renowned medical practitioners of the time who were treating the poet including Dr Nilratan Sarkar, Dr Lalit Mohan Bandopadhyay and Dr Bidhan Chandra Roy. Sepia tinted paper cuttings of that time, including the reports published in different newspapers announcing the poet's death on August 7 (Baishe Shravan), about the poet's funeral journey have been preserved too. A trip to the shop is akin to a memorable journey down the pages of history.