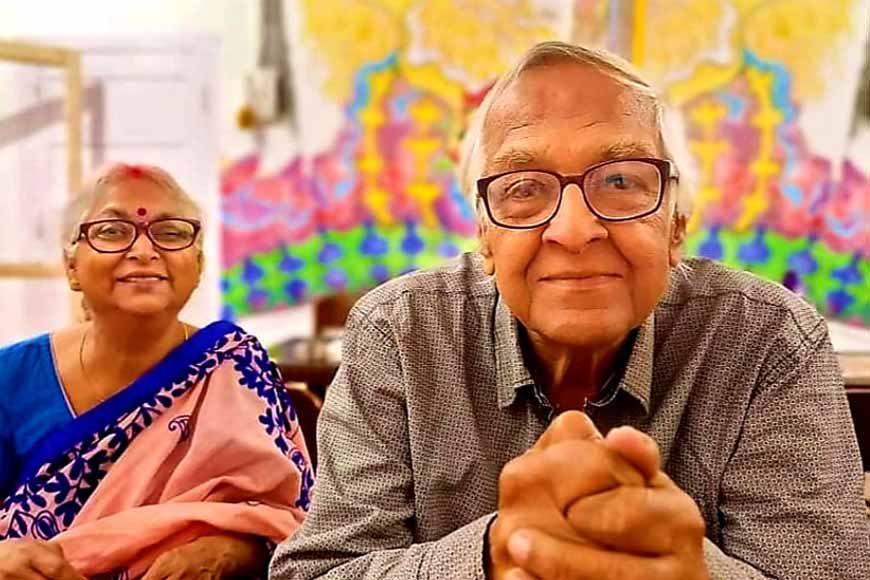 Anjan Chakraborty with his wife Arundhati Chakraborty
"A room without books is like a body without a soul." Correctly said by Marcus Cicero, only readers would understand the importance of books in life. For most book lovers who love reading and are never without books, the smell of a book is a sort of craving for them. Bibliosmia runs through them. Former school teacher Anjan Chakraborty of Bijoygarh in South Kolkata is one such bibliophile.
Over a decade ago, an article was published in a national daily about three bibliophiles in Kolkata who had their own private libraries and Chakraborty's name was one of them. The other two bookworms were thespian Utpal Dutt and Sudhin Chattopadhyay. Chakraborty's collection at that time was well over 35,000 and now several thousands have been added to the existing collection over the years. And there's no stopping this compulsive book lover from adding more to his already huge collection.
One of Chakraborty's friends was a librarian at the National Library. He was astounded to discover Chakraborty's vast collection of books. In fact, he actually needs 20 spacious rooms to keep all his books in order but since that is not feasible, he has crammed his prized possessions in five rooms on the second floor of his house. And these five rooms are literally out of bounds for all because it requires immense maneuvering skills and well-practiced delicate steps to tiptoe in the rooms carefully without stepping on the books. Chakraborty has proved beyond doubt he is a true-blue bibliomaniac.
Born on 4 September, 1941, in Dhaka, Chakraborty's family migrated to India and settled in the fringes of erstwhile Calcutta. Chakraborty taught History and English at Netajinagar Vidyamandir. He also taught for a short period at Barrackpore Surendranath College. But it is his other identity as a bookworm that has stuck to him like his second skin and has made him popular among booksellers and publishers. There was a time in his youth when he frequented the bookstores at Gol Park and College Street daily and spent all his earnings on buying books. Book store owners knew him like one of their own. Now advancing age and physical ailments have curbed his mobility to a great extent, but still the very mention of his name brings a familiar smile on the booksellers' countenances. Chakraborty is very widely read and is still addicted to books.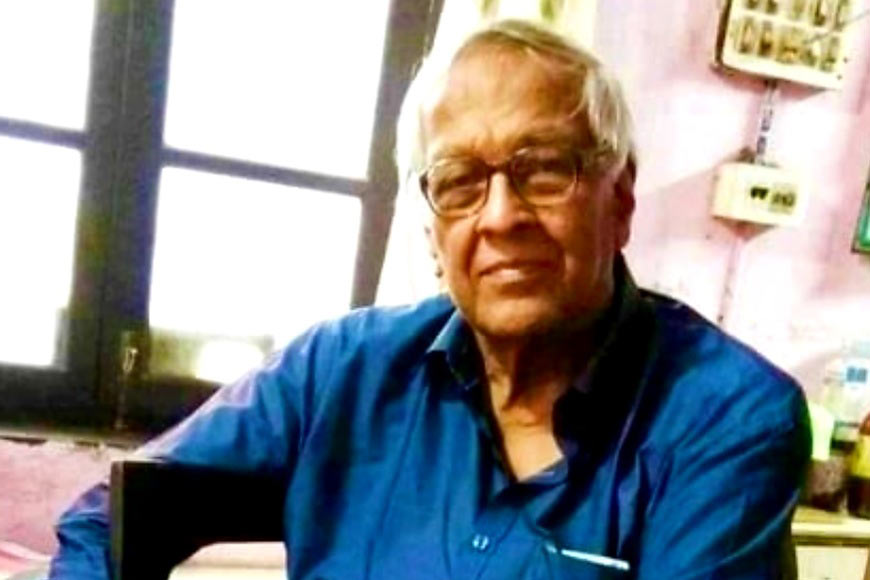 Over the years, he has collected rare books and documents which have immense historical value. Chakraborty has the original editions of a number of regional and national newspapers published on August 15, 1947, the day India became Independent. There are many funny anecdotes that his family never tires of sharing with guests to regale them. Chakraborty obviously does not enjoy these funny tales at his expense. Once Chakraborty went to the local Bijoygarh Bazar on his bicycle but he just deserted his bicycle in the market and took a bus impulsively to Gol Park to buy books. Later, he returned with his prized possessions to discover his cycle missing from the spot where he had left it!

Chakraborty still prides himself for elevating the mundane and somewhat lowly job of bargaining with booksellers to a higher form of art. He still boasts how he managed to convince a book seller to sell a book priced at Rs 200 for a measly amount of Rs 20! Over the years, Chakraborty did have a few stray but bitter experiences of his acquaintances borrowing books from him and then never bothering to return them. This has taught him a lesson. He is extremely reluctant to part with his books, even temporarily. In fact, even at the cost of sounding outright rude, he refuses to let out any book from his collection to anyone outside his house.
Chakraborty has been really fortunate because his family has whole-heartedly supported this bibliophile. Throughout his career, he spent half of his salary every month buying books. Despite that, his wife, Arundhati Chakraborty never objected. Instead, she stood by him like a pillar of strength. His parents too, were supportive of his passion. As a matter of fact, Chakraborty inherited this love for books from his family. His father, Amiyabhushan Chakraborty, was also a voracious reader. He was an idealist and wanted to do something for the society. He set up a kindergarten school for children named, Shishur Desh (Children's Realm). Arundhati Devi has been successfully running the institution for decades now.
Charaborty's collection of books has been growing organically so the family has set up a living center within the house at Bijoynagar. It functions like a reading library where readers are encouraged to sit and read books but the only condition that must be adhered to is that, before leaving, the book must be kept in the specific bookcase. Chakraborty does not mind sharing his books with other bookworms as long as they are under his nose.