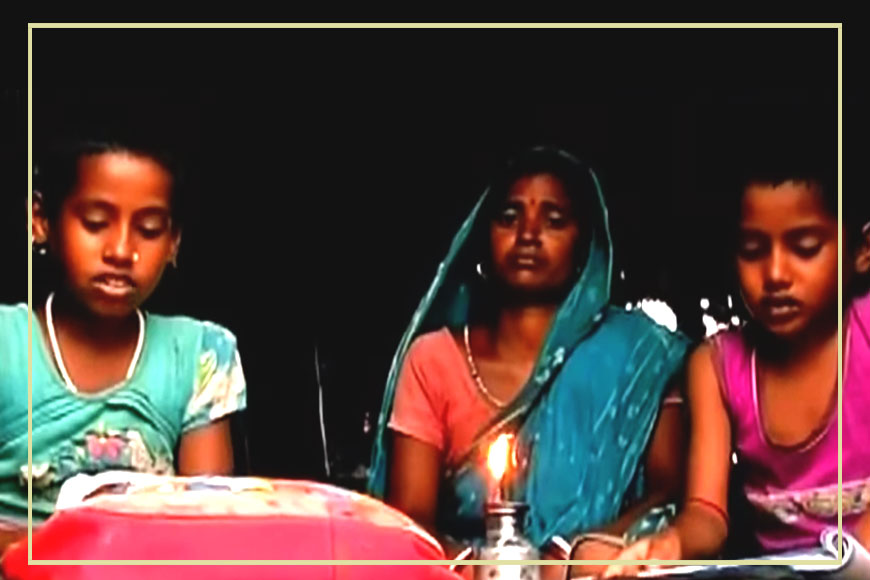 Bhuvaneshwari village in coastal Kultali, South 24 Parganas had been ravaged by the impact of Amphan. Signs of destruction and devastation are still scattered everywhere. But amid all this, the indomitable spirit of Asima is inspiring others to start all over from scratch and rebuild their homes and their lives once again.
Asima Bhandari's dream was to become a teacher and she wanted to pursue higher studies. However, abject penury stood like an impenetrable wall and she had to give up her studies when she was in Class VIII. But hard times did not deter her and she kept her passion alive within her. She is now conducting regular classes and imparting education to the children of her area.
It has been almost a month now since Amphan battered the coastal regions of Bengal. Bhuvaneshwari remains engulfed in darkness as the electricity poles lie uprooted or mangled and power is yet to be restored. There is no connectivity as hundreds of trees were uprooted during the cyclone, damaging houses. The low-lying areas have been inundated and the heavy downpour washed away embankments. Even Rabindra Shishu Shiksha Kendra, the only primary school building in the village, lies in a shamble. Everything has come to a standstill abruptly at Bhuvaneshwari but not education, thanks to Asima Bhandari, a poor housewife. She has taken upon herself the responsibility to keep the torch of knowledge burning amid myriad obstacles.
The gargantuan task to rebuild the battered village from scratch will take time and till then, everything is in a state of disorder. Asima realized the importance of inculcating regular study habit in small children who were otherwise whiling away their time idly. She cleared a portion of her battered hut and began her 'Pathshala.' Here she began her regular classes, teaching not only her own kids but also other children of her village. She knows the importance of education and is aware that small children need to revise their lessons regularly. The kids are very enthusiastic and elated to join 'Kakima's' class where study time is fun time and their parents are also happy to see their children learning. In the city, schools are closed due to lockdown and classes are being held online but for the residents of a small, faceless poor hamlet, tucked deep inside South 24 Parganas, 'Kakima's Pathshala' is the only path to emancipation during hard times.
Bhandari says, "These children are our future and I don't want them to suffer the way we are putting up with due to lack of education. That is why I am teaching them." Her 'Pathshala' is held twice a day – once in the morning and once in the evening. At night, when the entire village is enveloped in darkness, the oil lamp is her only source of light. Despite umpteen barriers, she manages to buy oil for the lamp so that classes are not hampered. Nothing can stop Bhandari's determination in her solo battle against illiteracy.