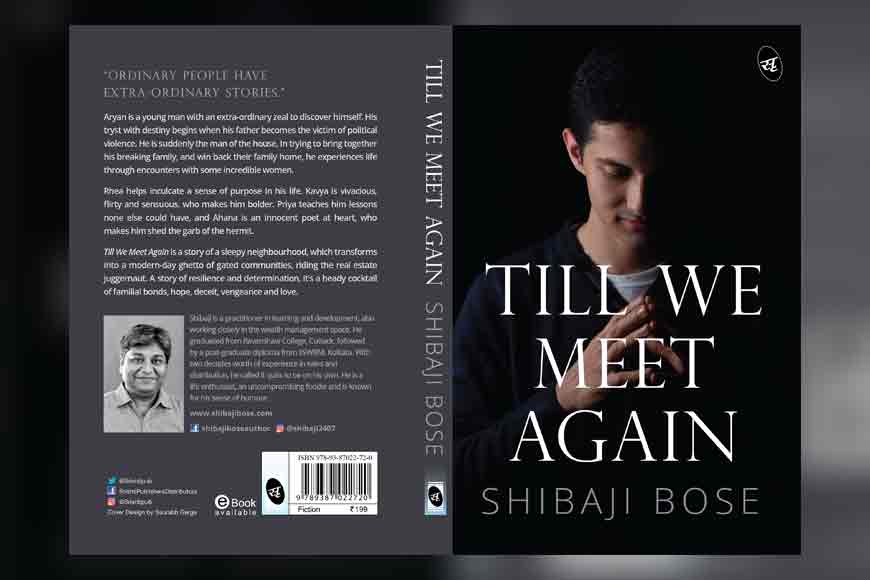 Meet author Shibaji Bose and learn about his new book Till We Meet Again
• How does it feel to turn an author from a corporate hotshot? Was this always your dream?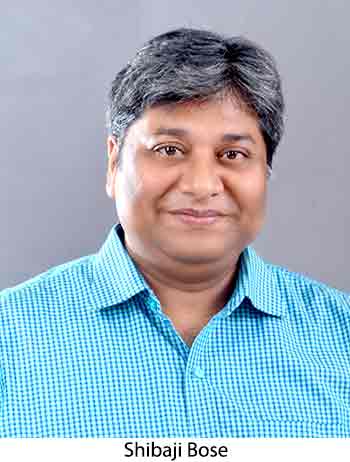 I believe there are many out there who secretly nurse the idea of becoming a published author. There are so many unique stories waiting to be written. Writing is one of the best forms of expression and anybody who has a keen sense of observation with a knack for penning down those observations in black and white, can write an absorbing read.
As it happens with most of us, a job rarely engages you beyond timelines, targets and trivialities of a living or attending to responsibilities. It seldom offers you the opportunity to engage yourself with the unknown. Writing is an incredible journey, where you feel impatient to celebrate your creation. So yes, I am feeling inexplicably awesome!
My exposure to corporate life served me with the opportunity to write, as I came across characters and instances, which created the curiosity in me to interpret and deduce the outcomes. What if? Why not? How about? These were questions that kept playing at the back of my mind and I enjoyed scribbling them down in a note book. I knew I have lot of stories to tell. To begin with, a story somewhere between fiction and a fairy-tale. Deep within, I have the conviction that the readers will relate to my writing.
• Why did you try a hand at fiction, rather than a non-fiction self-help or marketing and leadership book that happens to be your professional forte?
I am not closed to the idea of writing non-fiction. But it will not be written by design, just because there are takers. I must relate to what I am writing and it must create either a social or a business impact. Today there is a thin line between knowledge and information. You need an information on anything under the sun, you will get it. But when it requires you to contribute to the subject beyond what is available in the information, you are left with the choice to either abort it or selflessly pursue it. The quest for knowledge has almost no takers these days as the repository of knowledge is our Facebook walls and Twitter handles.
If I ever write non-fiction, I will prefer to experiment and adopt the story telling mode. The idea is engaging readers and not to overwhelm them. I have applied story telling as a method in my workshops and it has been well received. I have used story telling as a tool for working groups, students from business schools and my teams. It has always produced interesting results. I have tasted the magic of storytelling and thus, I chose to write a fiction.
• What is your book about?
The book is titled, 'Till We Meet Again.' It is the story of a young man, who is considered to be a mediocre. How would you react if I were to tell you that a young man is considering hair styling, when he is required to decide his career? The protagonist Aryan chooses to become one and makes it big! Set against the back drop of a sleepy Kolkata neighbourhood, the story revolves around a middle-class family and their compulsions, struggles and accomplishments. The family has a father who is a failed careerist himself and is misunderstood, mother plays the second fiddle but is resilient and hopes to win wars, the daughter is an investigative journalist who exposes an infamous chit fund scam. The younger brother is considered to be worldly wise but lands himself in the prison for infidelity.
The story has layers and sub plots that circle around the political scenario between 2012 and the present times and the journey of Aryan from getting chastised as an average to becoming a successful stylist with one of the most luxurious beauty and wellness chain. A shopping mall plays a dominant fixture in the story along with the beauty and wellness clinic. It adds to the build-up of the situations and provides a seamless transition from one state of being for Aryan to a heightened state of engagement for the readers with fast-paced events.
• How much of you is reflected in the character of Aryan, the protagonist. Any similarity or you have seen such a person in your life?
I am still evolving as I cannot dissociate myself from the events and characters around me. If there are shades in my character that binds me to my protagonist, I will not be surprised. When I started writing, I did not sketch the character of Aryan as either my extension or the alter ego. Consciously no! Do I know someone like Aryan? Yes, I know so many of them and that gives me the confidence that the readers will relate to all characters of the book.
• You speak of 'Ordinary People Having Extra-ordinary Stories.' Please elaborate this idea
We idolize heroes and we cheer their triumphs. Now, how do we adjudge the triumph? Simple, we create benchmarks. If you have crossed the benchmark, you are my hero and I will cheer for you. If you have not been able to beat the benchmark or even ended up close to it, then, who are you? I don't even know you exist. You are a face in the crowd. You are like me. An ordinary person.
So, when this ordinary person goes on to occupy that sought after hot-seat and then wins the cheque in Kaun banega crorepati; we immerse ourselves in admiration for someone who we do not even know in real life. The ordinary becomes extraordinary! I heard the best of stories when I used to visit the neighbourhood saloon long before it became a salon. Or for that matter, at the humble tea stall before it became a café. The stories always are about ordinary people. I think, Gupi Gayen and Bagha Bayen are the best example of ordinary people having extra ordinary stories.
• Your book has a number of female characters as opposed to a male protagonist. Was this attempt deliberate? If so, why?
As a man, I have no qualms in accepting the fact that I have been hugely influenced by women around me. The idea is to watch and interpret the world through the eyes of my female protagonists. An ecosystem primarily infested with the priorities and orders defined by men. I am great fan of the Johari window and I have leveraged it on many occasions in my consulting assignments, workshops and even with my prospects in wealth management. It has helped me to improve my inter-personal skills and thereby establish a context for a conversation. I have tried to be honest with my treatment of the characters, irrespective of them being either a man or a woman.
• In which genre would you like the book to be segmented as? Thriller or otherwise?
My book belongs to the contemporary literary fiction genre. A socio-political narrative.
• What inspired you to write in the first place?
I was born and brought up in quaint places across Bihar, Jharkhand and Odisha. Getting to read books was a luxury as we used to receive the late edition of the newspaper, a day after it was published. My first brush with reading was Thakumar Jhuli, Indrajal comics, Parag and Anandamela. When I moved to the cities, I realised that I had to earn my stripes to be even considered in a discussion around books. The penny dropped!
I remember asking my cousin sisters to gift me story books during Bhai Phonta. They obliged and I was introduced to the magical world of Bengali literature. I am a voracious reader. I started reading the works of Sanjib Chattopadhyay, Syed Mustafa Siraj, Sunil Gangopadhyay, Dibyendu Palit, Shankar and Satyajit Ray. One of my closest friends introduced me to the world of Sidney Sheldon, Robin Cook, Robert Ludlum, Eric Segal, Jeffrey Archer, Agatha Cristae among others. Thus, began my love affair with reading and it continues unabated.
It was then, I secretly wished, I will write my own book someday. But there is a specific event, which spurred my fancy to take up writing my maiden work of fiction. I used to visit this unisex salon. I was a regular client and became quite friendly with the owner and the stylist. I used to visit them during the afternoons when the salon was relatively less frequented. It was during those hours, which coincided during their lunch break, I was regaled with the stories around their lives. I took up the paper and pen.

• How was the feeling when you started penning down your first novel and after you finished it off?
For a debutant, writing a book is merely 20% of the entire process. The next 30% is to find a publisher. The balance 50% is all about promoting the book. I had sent the manuscript to ten publishing houses. A couple of them offered self-publishing as an option while only two of them asked for the complete manuscript, till Srishti Publishers chose to show it the light of the day. I was literally numb, realizing that it is not only about finishing the manuscript; there was so much more than what meets the eyes.
Once I was through with writing, I invested a lot of my time in researching the blogs, websites, journals and books to learn - next is what? So, there was the cover letter, the chapter planning, synopsis, marketing plan and designing the hook to get the editor's attention that required to be organised. This is besides and beyond the revisions, re-drafting, grammar checks etc. An incredible learning process where you discover the fascinating world around books and publishing.
• Any future plans? Any new book on the anvil?
I want to devote my time with working on the promotions for the book. My publisher and the editor have been candid with their feedback and with the actions to be taken going forward. Srishti Publishers and distributors is known for catering to the commercial fiction segment. They have launched many bestselling authors, which includes Durjoy Dutta, Ravinder Singh, Preeti Shenoy, Sudeep Nagarkar among others.
The publisher and my editor are of the view that my book has the required content, writing style and the substance of recall in order to recreate a fresh perspective. I do have plans in place, to keep writing but as of now, I want to reach out to as many readers as possible. Once I am relatively in the comfort zone, I am planning a sequel of 'Till We Meet Again'!