Bankim Chandra's office at Jessore, the first district of undivided Bengal, lies in shambles today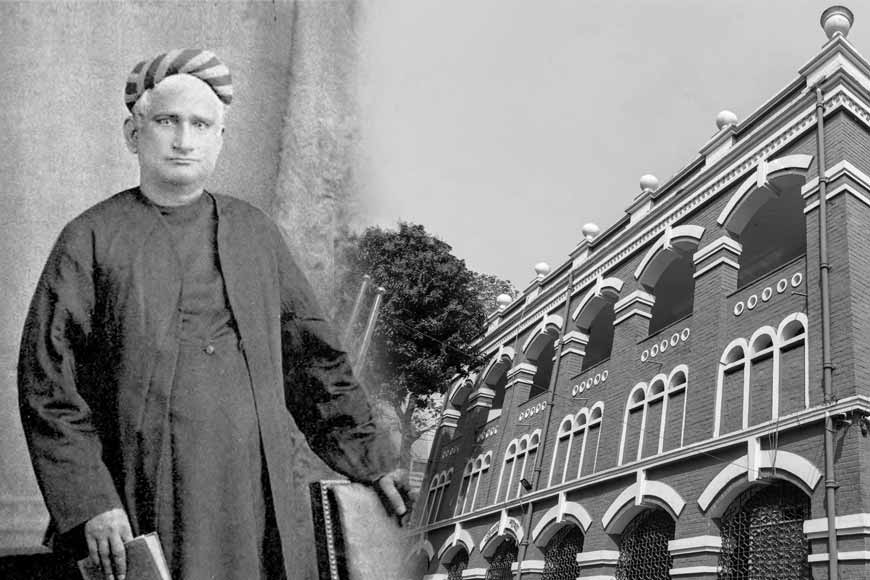 For a region with such a rich and diverse history and culture, Bengal does very little to preserve the remnants of its past. Lack of funds and initiative has resulted in most monuments and historical sites being neglected for years. Their surroundings are often poorly maintained and the whole experience of visiting them is a world away from what it's like to visit sites of more recent history in the developed world. What's worse is that some ancient monuments have even disappeared. One such neglected structure is the old Collectorate Office of Jessore (now in Bangladesh) which was built in 1781.
One of the greatest novelists of India who indoctrinated Indians with the sacred 'mantra'- Vande Mataram,' Bankim Chandra Chattopadhyay was a renaissance man. He joined the Subordinate Executive Service under the British Government and worked for 32 years. In 1858, he was appointed Deputy Magistrate (the same position held earlier by his father, Jadab Chandra Chattopadhyay) of Jessore. After the merging of the services in 1863, he became Deputy Magistrate and Deputy Collector of Jessore.
During the mid-19th century, Jessore was a backward village, home to various tropical diseases including malaria, typhoid, dysentery, etc. Chattopadhyay was a man of fine taste and when he arrived at Jessore, he was appalled at the unhealthy environment where people were forced to use contaminated water for all purposes including drinking, bathing, cooking, and cleaning. He was aware of the dire conditions that prevailed in Jessore while he was in Calcutta, but he had just joined the services and this was his first posting. It was his call of duty that finally brought him to the under-developed hamlet. However, over time, he forged an emotional bond with the town and its people and then he never regretted his posting in Jessore.
He honed his professional skills during his tenure at Jessore. He also went through deep personal tragedies and a roller-coaster career that spanned 32 years! It was anything but smooth for Chattopadhyay, serving as the first 'native' executive under the British government. He was a very honest, conscientious, and fearless employee who often faced stiff resistance from his co-workers who were all Englishmen but he never submitted to their unjust or disorderly conduct.
In 1856, Bankim Chandra joined Presidency College, Calcutta, to study law. The University of Calcutta was established the following year and the BA examination was introduced in 1858. The first batch comprising 13 students took the test and only two cleared the examination, both securing second division. He joined the Subordinate Executive Service and on August 23, 1858, he was appointed Deputy Magistrate and Deputy Collector. The following year, he passed the law examination and located to Jessore, his workplace. Jessore was the first district of undivided Bengal.
In 1781, the district administration of Jessore began with the appointment of Mr. Tillman Henkel as the collector. At that time, the district headquarters was established at Murali in Jessore. Murali was once the capital of Samatata. In fact, Jessore is an ancient town that was once a part of the kingdom of Banga Janapada. Banga is recorded as an administrative unit in Kautilya's 'Arthashastra.' Kalidasa describes Banga as a notable naval power. There are also records of subdivisions within Banga, including an area called "UpaBanga" (Upper Banga) which corresponds to Jessore, and forested areas corresponding to the Sundarbans.
In the 15th century, Jessore was a part of the kingdom of Pratapaditya. The fiscal administration was then placed in English hands, having been transferred to the East India Company with that of the rest of Bengal in 1765. British administration was finally established in Jessore district in 1781 when the Governor-General ordered the opening of a court at Murali near Jessore.
All the officers of the administration moved to the new Collector Office in 1801 in the former Sahebganj area. Now, of course, the name of the area is Old Kasba. It was the first Collectorate building in Jessore which was later used as the Office of the District Registrar and now it stands abandoned. Bankim Chandra Chattopadhyay came to the Collectorate Office and joined the service as Deputy Magistrate and Deputy Collector. His office was in a room in this building.
This time was the late 19th century and the transportation system between Calcutta and Jessore was off the beaten track. There was no railway connection and it used to take three to four days to reach Jessore via boat although Jessore is situated only 110 kilometers away from Calcutta. It is very interesting to note here that though the majority of rivers in the area run from north to south, but from Jessore to Kolkata, it stretches from the south-west corner. One had to cross Bhagirathi, Upper Bhairav, Mathabhanga, Kapotaksha and Lower Bhairav to reach Jessore. Again, in the south, there was a river connection between Calcutta and Jessore. In addition to boats, government officials used palanquins. Kali Poddar, an affluent businessman of the time, magnanimously spent a huge amount to build a dirt road between Jessore and Calcutta and ease the tedious journey. Today, it is known as Jessore Road.

Bankim Chandra usually preferred to travel the distance in a palanquin. Jessore was then a town amid dense forest and waterbodies which were infested with mosquitoes and various other insects and reptiles. There were no proper roads and the rides were bumpy and fraught with dangers. In the initial years, Bankim Chandra despised Jessore and feared getting infected by malaria. But gradually his aversion turned to fondness. Here he got introduced to renowned dramatist Dinabandhu Mitra who wrote 'Neel Darpan.' Mitra was the Post Office Superintendent of the Jessore Division. The two were familiar with each other's works which were published in 'Prabhakar' and 'Sadhuranjan' newspapers. However, the two became close friends when they met in Jessore.
A public library was set up in 1854 which had sports facilities as well. Bankim Chandra used to visit this library regularly. During his tenure in Jessore, he arranged programmes to sensitize people against malaria. In 1849, he got married to Mohini Devi, a girl from a neighbouring village. Bankim Chandra was only 11 years old at the time of his marriage while Mohini Devi was a five years old child bride! When she turned 15, he brought her with him to his workplace in Jessore. Bankim Chandra was a 22-year-old dashing young man at the time. While in Jessore, his wife developed a high fever. She was rushed to Calcutta for treatment but she succumbed to her illness within a few days. Bankim Chandra was shattered. The death of his young and beautiful wife made him very unhappy as his one-year-old blissful, conjugal life came to an abrupt end. The pain of this loss greatly affected Bankim Chandra and he wrote, "Monay kori kandibo na robo andhokare/ Aponi noyon tobu jhare dhare dhare/ Gopane kandibo pran shokoli andhar/ Jeebon eko shrote cholibe amaar" (I decide not to cry but embrace the darkness/ Yet my eyes shed copious tears like rivulets/ I'll cry in secret as my soul is engulfed in darkness / Though my life will go on in the same stream.'
Bankim Chandra remained in Jessore till January 1860. After Mohini Devi's demise, Bankim Chandra married again. His second wife was Rajalakshmi Devi. They had three daughters but no son. Bankim Chandra's youngest daughter, Utpala Kumari is said to have committed suicide. During his stay in Jessore, the indigo revolution was gaining ground and the oppressive measures against hapless farmers were going on in full swing. Whenever Bankim Chandra went on official assignment to investigate instances of clashes, his reports invariably went in favour of the peasants. This antagonized the planters who threatened to kill him. He was transferred from Jessore to Nagoya in Midnapore district but was again recalled and transferred back to Jessore.
The single-storied Collectorate Building was abandoned long ago and the unkempt structure stands secluded in Sahebganj, Old Kasba region in Jessore town as a remnant of a time when titans like Rishi Bankim Chandra Chattopadhyay entered the hallowed portals of the illustrious administrative building of Jessore.