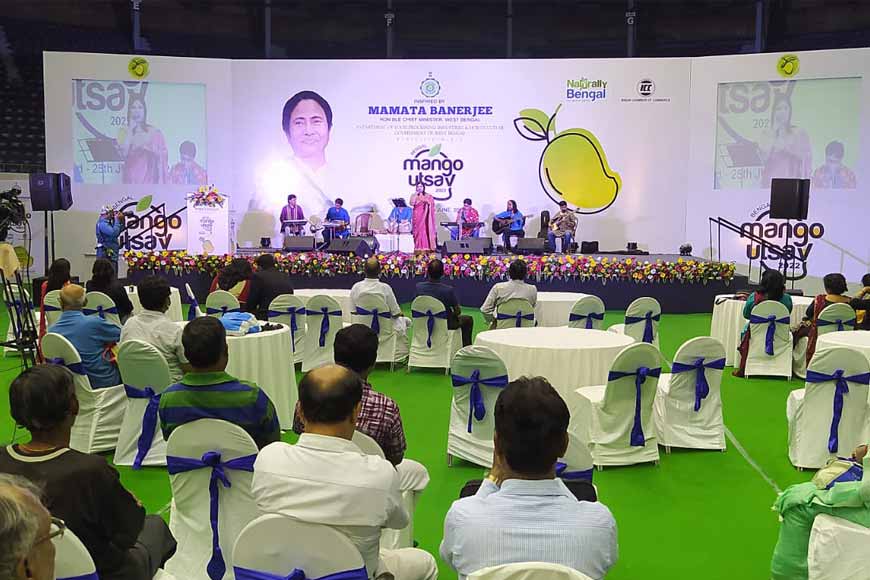 After the grand success of many editions of Bengal Mango Utsav since 2012 and to promote Bengal's Mangoes and Mango products, the Department of Food Processing Industries & Horticulture, Government of West Bengal jointly with the Indian Chamber of Commerce organized Bengal Mango Utsav 2022 between 23rd – 25th June at Netaji Indoor Stadium. The event largely facilitated market linkages, explored the export possibilities of both fresh and processed mango products and ensured better prices for growers implementing high quality standards.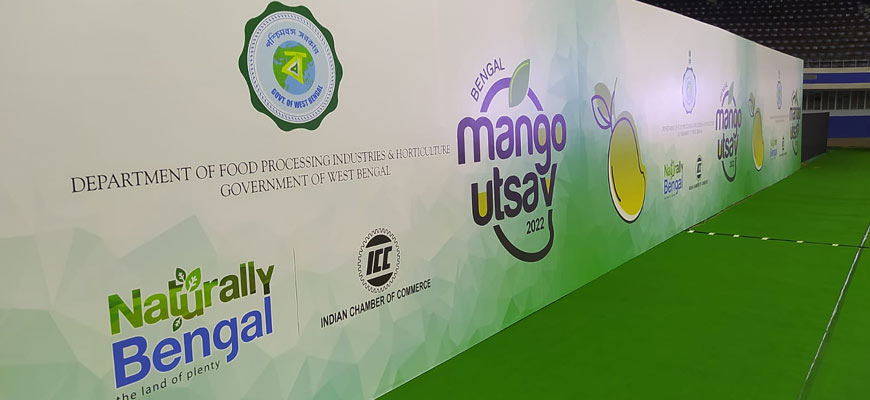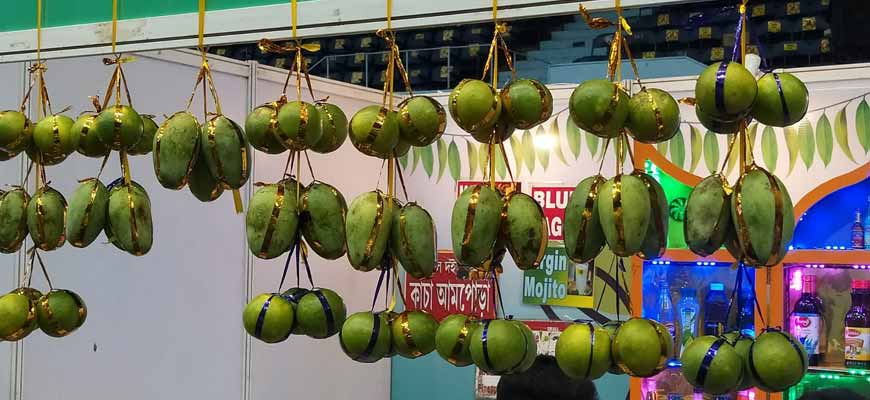 Stall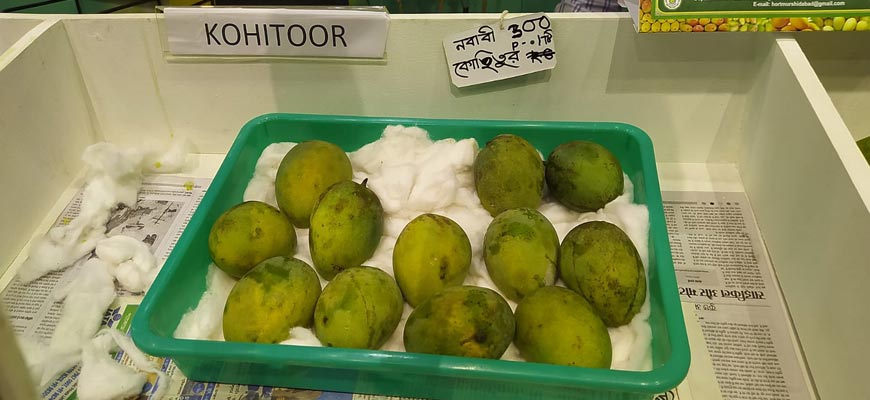 Kohitoor-the mango kept in cotton
The festival was graced by Mayor Firhad Hakim, Mr. Subrata Saha, Hon'ble Minister for Food Processing Industries & Horticulture, Dr. Subrata Gupta, Additional Chief Secretary, Department of Food Processing Industries and Horticulture, Sovandeb Chattopadhyay, Minister for Power & Non-Conventional Energy and Dr Rajeev Singh, Director General of Indian Chamber of Commerce.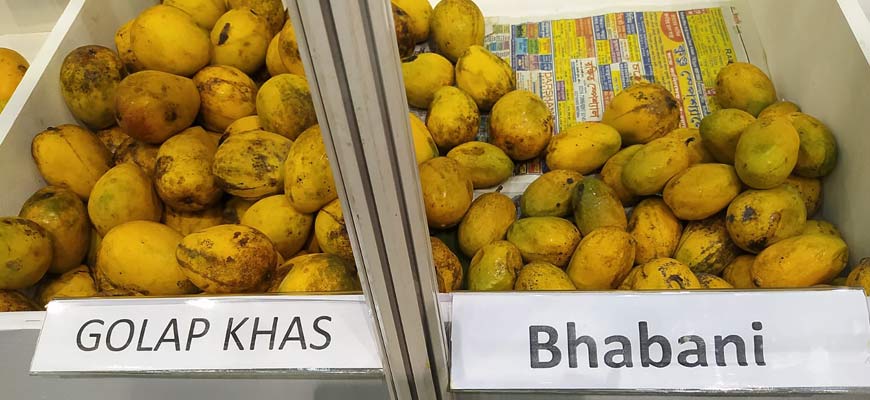 Popular mango varieties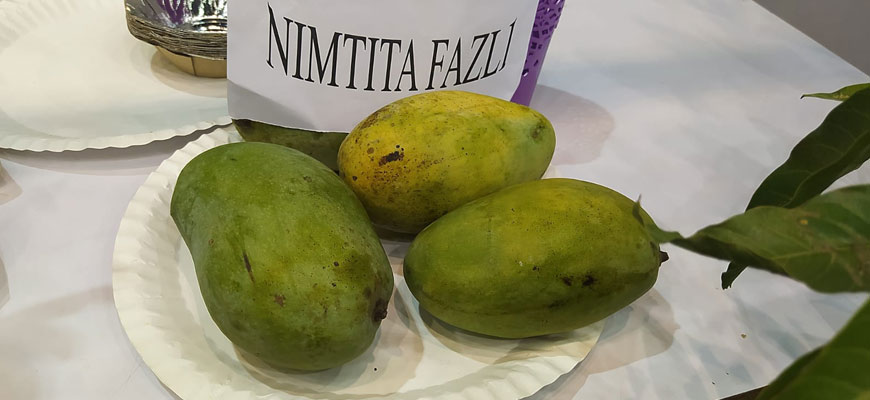 Nimtita Fazli - speciality of Murshidabad
Variety of mangoes from different districts of Bengal
The State Government, under the guidance of Hon'ble Chief Minister, Smt. Mamata Banerjee, has taken many initiatives to help farmers grow mangoes in different districts, not just Malda and Murshidabad. Hence there were stalls from Purba Bardhhaman, Uttar Dinajpur and Nadia too. Along with growing mangoes, the government is also trying to popularise exotic mango varieties and processed mango products through such festivals. As Firhad Hakim mentioned: "We aim to take this festival to an international level to make consumers aware of different exotic table varieties of Bengal Mango and avail the opportunity of buying different varieties of good quality Mangoes at a reasonable price."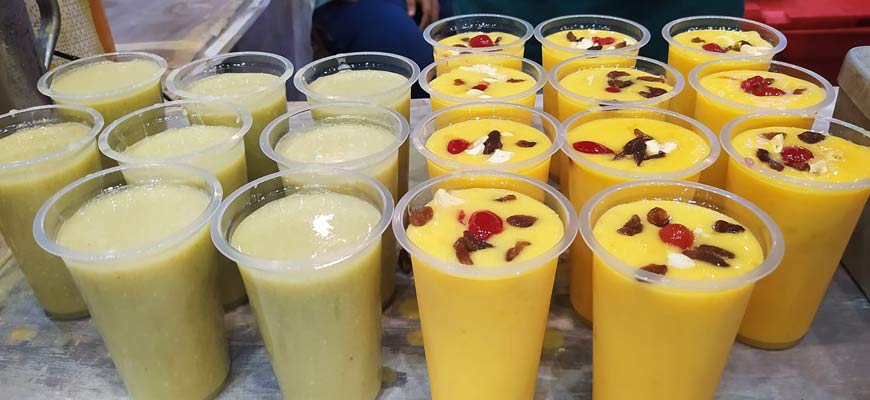 Cool savouries made from mangoes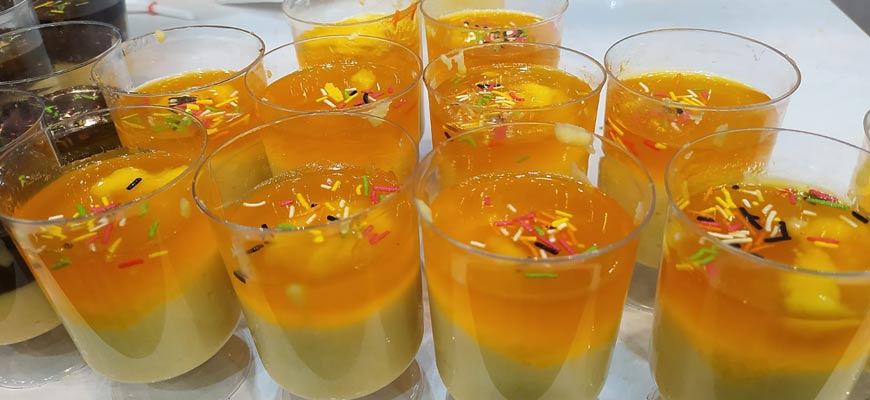 Mango Souffle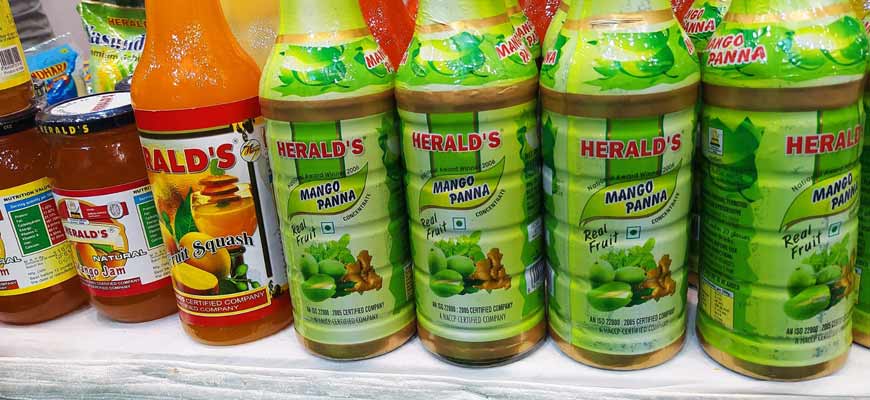 Aam panna and mango juice
The Festival helped farmers to connect with the buyers. Subrata Saha mentioned how the 'legends' associated with the mangoes grown in the state will also survive through festivals like 'Bengal Mango Utsav.
The people of Kolkata got a taste of around 35-40 varieties of mangoes, some very rare like the Kohitoor that needs to be kept in cotton and costs Rs 300 to 500 a piece. The government even plans to start a Mango Museum in Murshidabad.

Mangoes of different varieties, like 'Amrapally', 'Mallika', 'Himsagar', were sold across various stalls set up in the stadium.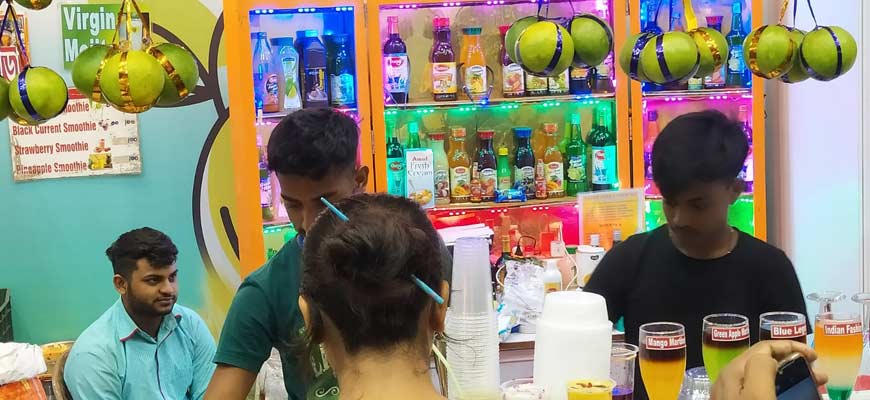 Mango products - hot favourite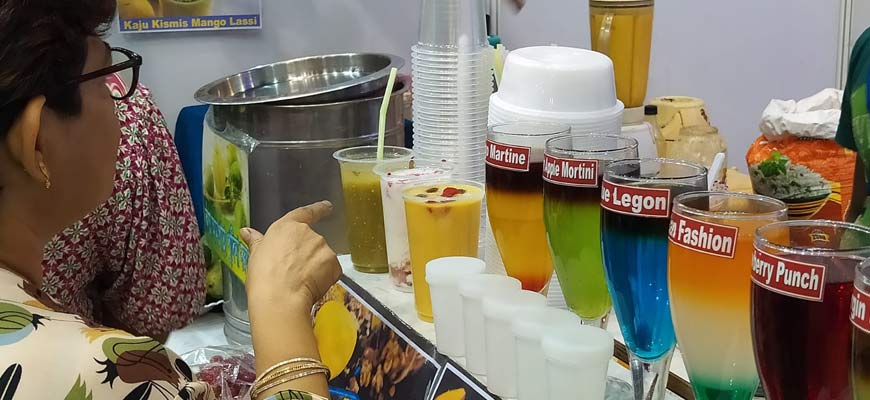 Checking variety of Mango punches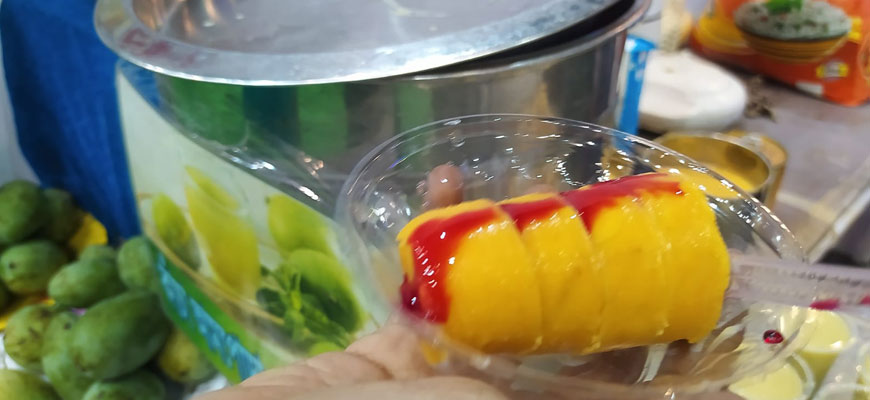 Mango kulfi
The stalls from different districts of the state, including Malda and Murshidabad, known for cultivating tempting varieties of mango, were seen competing with each other to showcase their supremacy in producing the King of Fruits.
However stalls from Bakura, Hoogly, Nadia, Uttar Dinajpur, Purba Bardhhaman did brisk business in mango products like pickles and squash and Aam Panna. Some stalls sold mango tree saplings along with fresh mangoes. The Mango based chocolates sold by MAD CHOCOLATE was a big hit. The Malda stall showcased different mangoes like Himsagar, Lakhan bhog, Amrapali, Fajli, Jitudagi, Mohan bhog.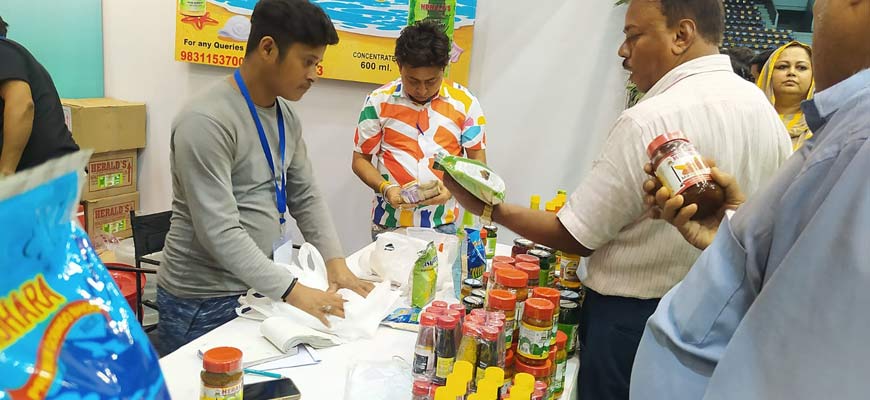 Visitors checking out Mango gift items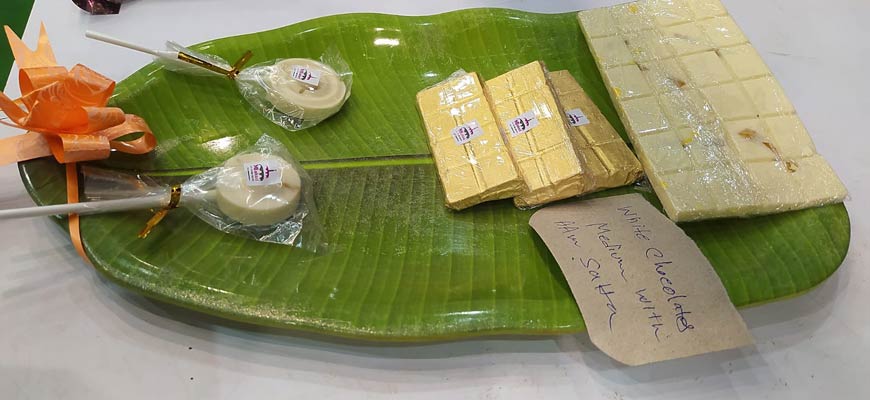 Gift items made from mango
MAD chocolates Mango Mania
Uttar Dinajpur stall had SURJAPURI MANGO and Nadia stall came up with Amrapali, Banana King.
Well known sweetmakers Nalin Chandra Das and sons came with Mango Rabri and mango sandesh. At MBAKED STALL Madhumita Sengupta informed about their home made delicious WHITE CHOCOLATE, PESTA MANGO CHOCOLATE, MANGO LOLLIPOP, MANGO DRY FRUIT and MANGO JAR CAKE.
The crowd swelled and the farmers and stall owners were happy indeed.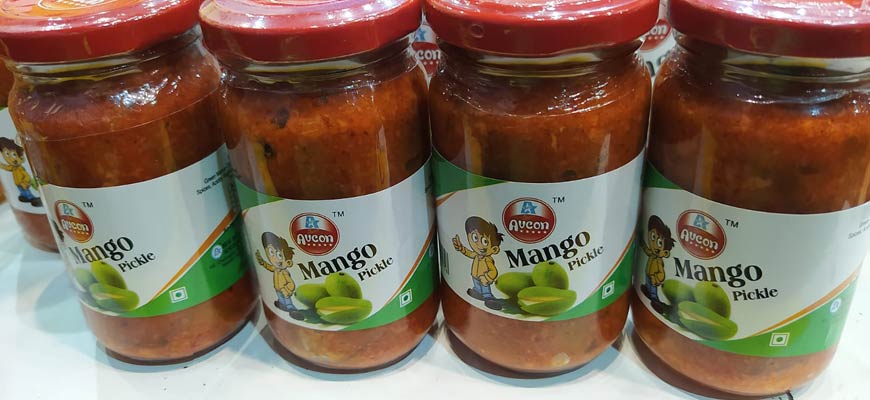 Mango pickles made by self help groups of Bengal