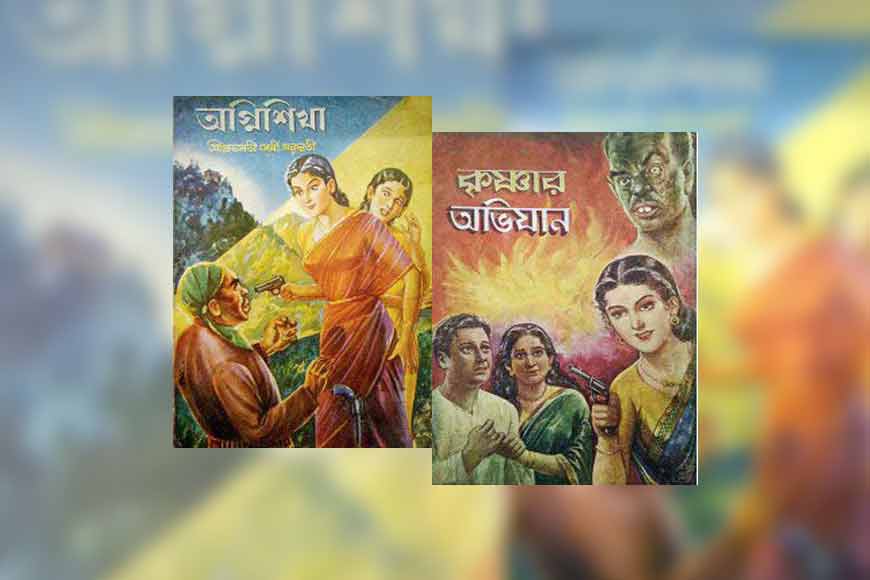 Married at the tender age of nine, the girl who could not complete her school education, wrote more than 300 books! She then went on to get the 'Saraswati' title conferred by the prestigious Nabadwip Bidwajan Sabha (Nabadwip Scholars Society) and received Leela Purashkar from University of Calcutta. Yes, we are speaking of Prabhavati Devi who was connected to Jorasanko Tagore family and was extremely popular during her lifetime, so much so that there was a time when the Bengali fiction market was flooded with titles which bore her name as the author.
In fact, Prabhavati Devi had to publish advertisements in the media and warn her readers from getting duped by plagiarists who used her name unethically to publish their works. Her novels were serialized in Bharatvarsha magazine. As each serialized story neared conclusion, the magazine's editor had to print and announce the date of the commencement of Prabhavati Devi's next novel. Readers just lapped up her works. Her stories in the famous detective series, Prahelika and Kanchenjungha, published by Deb Sahitya Kutir prompted other publishers to pick up the series on the exploits of lady private eye, Krishna, a character introduced for the first time in Bengali fiction by Prabhavati Devi.
The series was publicized in the Baishakh 1952 issue of Shuktara. Her lady detective is a female protagonist, who is quick-witted, smart, astute, rational and not scared to face her foes. She is cool and capable of holding her own in the face of any adversity. She defeats villains who hatch diabolical plans with her ready wit. She was projected as a role model for Bengali girls in those days. The entrance of Krishna in the precinct of fictional detective characters --till then an only male-bastion -- was a clear indication of emergence of female power.
But why was Prabhavati Devi prompted to create Krishna? Perhaps Krishna reflected her own experiences, her interaction with her contemporary society and her determination in a male-dominated society. Krishna emerged on the literary scene like a meteor and was an instant hit. Prabhavati Devi followed the success of Krishna's exploits with another female detective, Agnishikha Roy. She dedicated an entire 'Kumarika' series to Agnishikha Roy's daring escapades. While introducing the two sleuths, she emphasized her intention for writing the adventure stories with female protagonists at the centre to inspire all girls teaching them to come out of their safety net and face challenges bravely and intelligently.
She penned 20 books under the 'Kumarika' adventure series which were hugely popular. Fresh prints were not made available in the market for decades. Readers lapped up the stories when they were in circulation. Deb Sahitya Kutir has now taken the initiative to re-publish the Kumarika series along with other short stories written by Prabhavati Devi. The compilation is edited by Ronita Chattopadhyay, a researcher on detective fiction and the books will be formally launched during the upcoming Kolkata Book Fair.