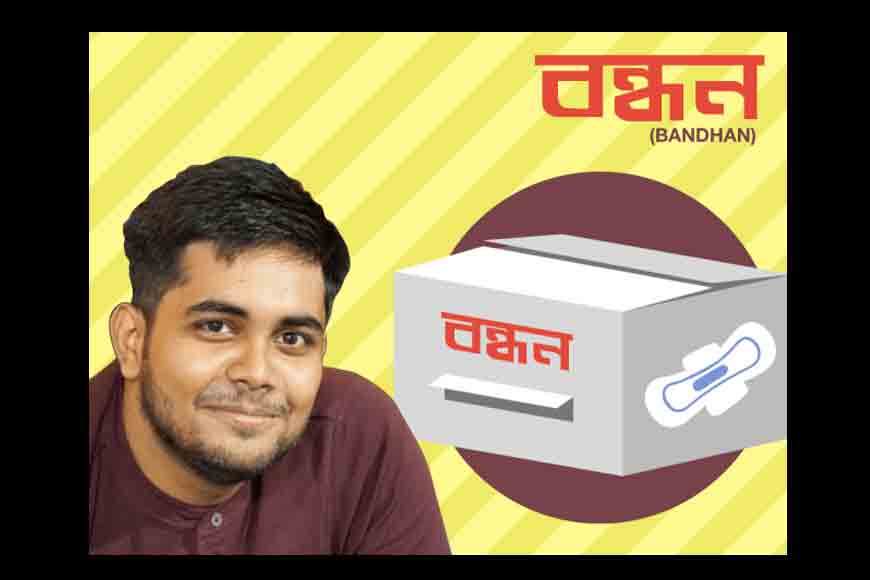 Journalist Shabina Akhtar runs a Pan India newsportal enewsroom
Twenty-one-year-old Sobhan Mukherjee, an MSc student of Ashutosh College, has been silently installing Bandhan sanitary napkin boxes in the public toilets of Bansdhroni, Golpark and Naktala area of Kolkata. The agenda of Kolkata's Padman is simple, women travelling or on emergency need not rush to a chemist. First the aid, then the purchase.
He wears no fancy attire, but he has a superpower – commonsense, which many lack. So, when one of his female friends excused from a college meeting citing some emergency, he asked his friend the reason. "She told me that she had got her periods and wasn't carrying a sanitary pad. So, she needed to go to the chemist. I found this incident very disturbing. In an emergency like situation, she had to rush to a chemist. This was when I thought, if sanitary napkins could be stocked in public toilets, it would definitely come handy in such emergency-like situation," narrates Sobhan.
With this came the idea of installing boxes, under the name of Bandhan in public toilets. "I began with Tridhara, toilets for transgenders. Sometime back, I had played a vital role in convincing local councillors to have a separate toilet for this community, within the premise of public toilets. So, I took my study table and set it up on the toilet premise. I purchased some sanitary napkins and displayed them on the table for women to use during emergencies."
Since then there has been no looking back for him. "From October 2017 I have been meeting local councillors with this request of having a Bandhan box installed in public toilets of their area. The support has been good so far. We will be meeting the mayor soon."Bandhan box is a carton designed to stock sanitary napkins in public washrooms. A cheap and effective answer to the many sanitary pad vending machines installed in 150 government colleges of India under the direction of West Bengal government in 2015. Unfortunately, most lie defunct today. The vending machines in colleges are non-functional and those working have not been refuelled. Also, not many girls know about the existence of such boxes. Sobhan is hopeful of Bandhan taking off very well, as he is using social media, making videos, creating posters to make women aware of these boxes, which can come handy during emergencies or for women who can't really afford expensive sanitary napkins.
"Even today in remote areas women use sand during periods. My aim is to reach out to that woman in that remote village of India. This is just the beginning. Bandhan boxes are getting a good response. Earlier these pads were available free of cost. But now I am charging Rs 2 for each napkin. The money collected will be used to supply pads to women of remote areas."
Shobhan feels the taboo surrounding menstruation must end. "It's normal. It's not a disorder. So, why not discuss it in the open? Why this secrecy? We first need, to make women realize that napkins are a need and not luxury and under no circumstances, they should use any other substitute. If we are unable to convince them, they will keep going back to rags, sand and what not." He also adds, "Sanitary napkins should be made cheaper for the poor women."
Unlike Arunachalam, who faced criticism from his family and loved ones, Sobhan is getting support from all quarters. His family helps him, his mother helps him pack the sanitary napkins. "My mother Sutapa Mukherjee, is my support system. My father also has been kind enough to volunteer at times. Had they not been supportive, I wouldn't have reached this far."