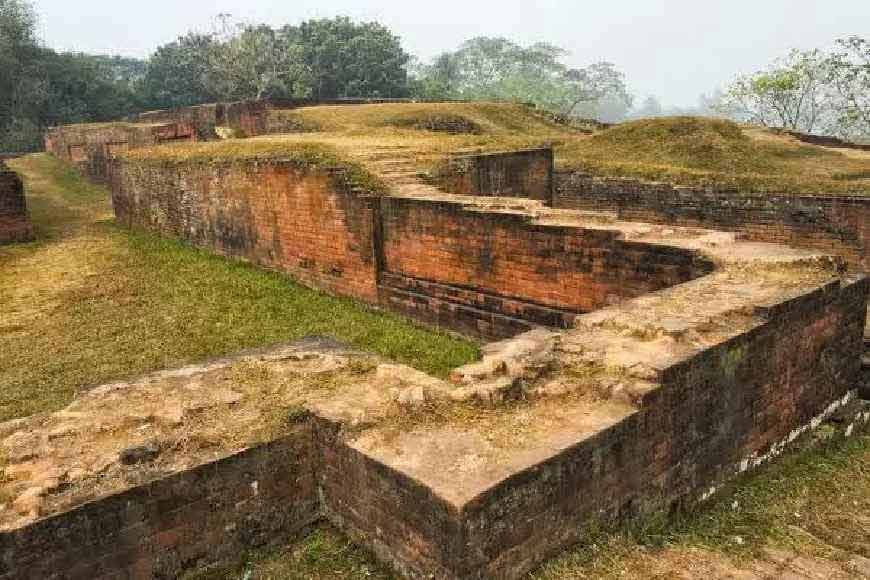 Mahasthangarh is one of the oldest and most traditional places among the archaeological monuments of Bangladesh. This ancient monument is located on the banks of the Karatoya river in Shibganjupazila, 13 km north of the Bogra district of the Rajshahi division. It was part of Pundravardhana in ancient Bengal. Pundravardhan was the most prosperous town of ancient Bengal. The capital of this Pundravardhan was Pundranagara, later known as Mahasthangarh. It was an important city of the Maurya Empire. 'Mahasthan' means holy place, and 'garh' means fort. Built about 2,500 years ago, this place was famous for Buddhist teachings. Many Buddhist monks from China and Tibet used to come here for education. Then they spread to different countries in South and East Asia to propagate this education. Chinese traveller Hsiuen Tsang wrote about this place in his travelogue.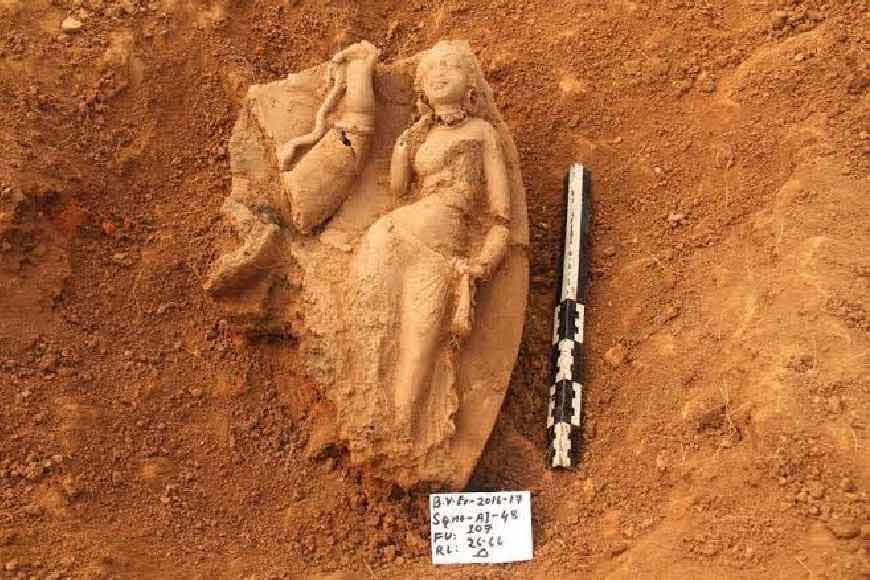 It was a significant region of Bengal during the rule of the Maurya, Gupta, Pala, and Sena kings. It was important during the Muslim rule as well. Unfortunately, only their dilapidated ruins can be witnessed now. Yet Mahasthangarh stands proudly. Currently, it is preserved by the Department of Archaeology. In 2016 it was declared the cultural capital of SAARC. One of the reasons for the development of the city here is that it is one of the higher regions of Bangladesh. The area is about 36 meters above sea level, so evidently, it is naturally flood free. A wall surrounds the Mahasthan. The walled city has archaeological monuments from different eras. The fort is located at the centre of the city and is rectangular from above. It spans 1.523 km north-south and 1.371 km east-west. The fort wall is about 11 to 13 meter high from the surrounding area.
During the reign of Lakshmana Sena, the last king of the Sena dynasty, this fort remained unguarded. Nala was the king of Mahasthangarh at that time. But there were continuous conflicts between him and his brother Nil. At that time a cursed Brahmin came to this area. He came here from southern India's Srikshetra, to atone for his sins. He was cursed for killing his mother with an axe. He pretended to resolve disputes between the two brothers but became the king himself. Although he is known as Parashurama in history, his real name was Rama. After becoming the king, he emerged as a tyrant. When the people of the area were fed up with his torture, a dervish with spiritual powers reached there. His name was Hazrat Shah Sultan Mahmud Balkhi.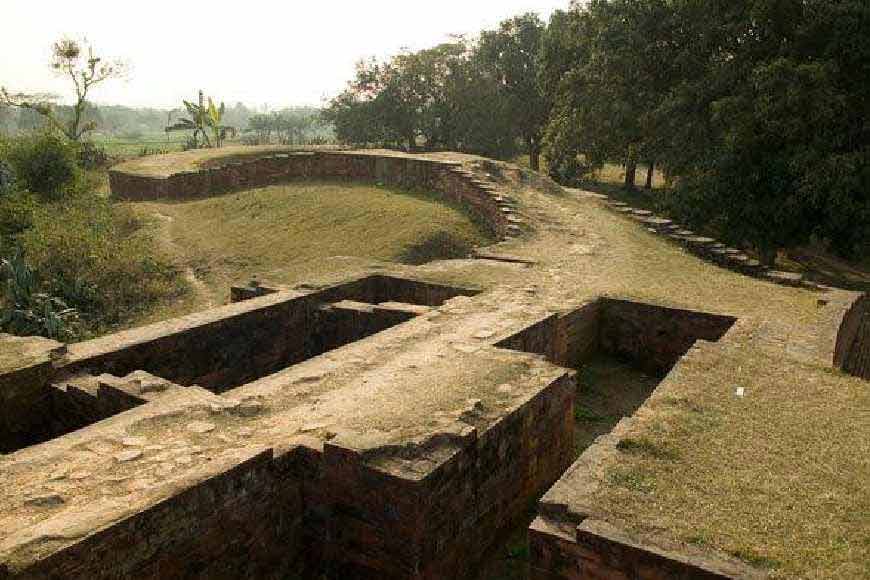 According to legends, he came to Mahasthangarh in a fish-shaped boat (according to other sources, on the back of a fish) across the then-huge Karatoya river. Hence his other name is Mahisawar, which means 'traveller on the back of a fish'. He came from Balkhi Nagar in present-day Afghanistan. He also brought many followers to the region. When he came to Mahasthangarh and started preaching Islam, he had a conflict with the local king Parashuram. Eventually, (circa 1205-1220 AD) there was a war between them and in the battle, Parashurama was defeated and killed. It is said that Parashurama's wounded soldiers were cured by drinking water from a well called Jiyat Kund. So Hazrat Shah Sultan Mahmud Balkhi threw a piece of meat into the well and the water lost its spiritual powers. This is how Parashurama was defeated in the war.

To the southeast of Mahasthangarh fort wall or slightly west of Mahasthangarh bus stand is the Mazar Sharif of Hazrat Shah Sultan Mahmud Balkhi. A type of sweet called "katkati" is available in the shops outside the mosque. It is a specialty of Mahasthangarh. Here are some sightseeing places discovered in Mahasthangarh. According to historians, it was originally a Buddhist monastery. It is believed that Emperor Ashoka built this monastery. But according to folklore, this is where Behula-Lakhindar used to live. Chand Saudagar locked his son Lakhindar in a secret chamber of Gokul Medh to protect him from the Goddess Manasha. On their wedding night, even though Behula and Lakhindar stayed inside the secret chamber, a snake trained by the Goddess Manasha entered the chamber and bit Lakhindar. It is a long and oblong smooth stone. It is believed that King Parashurama used this stone for sacrificial purposes. Today, many Hindu women bathe this stone with milk and vermilion. Some women take off their shoes and then pour milk on the stone.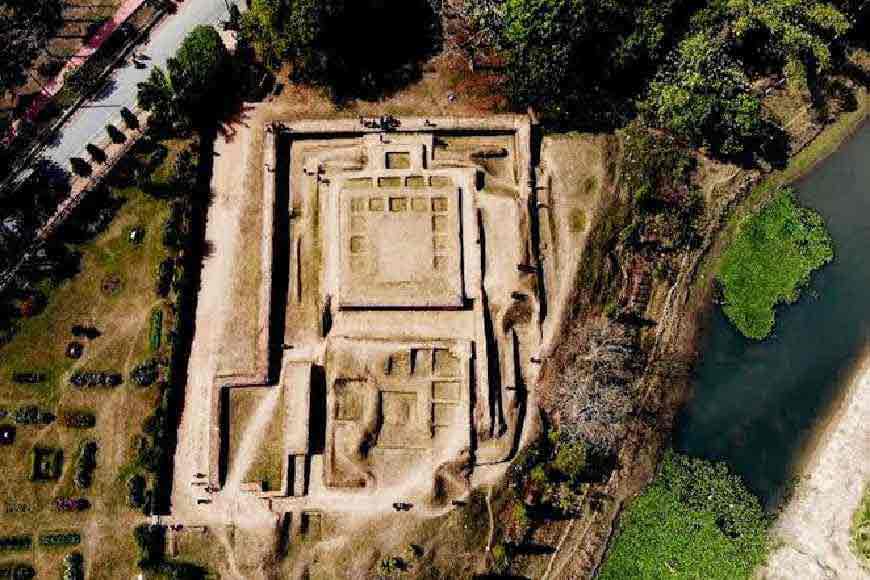 Shiladevi's Ghat is located on the banks of the Karatoya river to the east of Mahasthangarh. Shiladevi was King Parashuram's sister. It is said that after King Parashuram was defeated by Hazrat Shah Sultan Mahmud Balkhi, this is where Shiladevi sacrificed herself. Even today, many Hindu devotees worship this place and bathe here every year.Gobindo Bhita is located right in front of the Mahasthan Museum. 'Govinda Vita' means the abode of Lord Vishnu. A temple is here, however, no sign of the Vaishnava religion was found there. Bhasu Bihar is locally known as "Narapati's dhap" (or Narapati's step). Remains of the Buddhist Sangharam have been found here. It is believed to have been a Buddhist shrine. The Palace of Parashuram has traces of buildings built during the Pala period has been found here. But locally it is known as Parashuram's palace. Bhima's forest is a long embankment, which is believed to have been built by King Bhima as protection from foreign attacks. It resembles the round castles of Italy. According to another theory, it was built to protect the area from frequent floods. It surrounded three sides of Mahasthangarh and extends to about 70 km in the northern region. There are many monasteries here. Apart from that, there are some other places to visit such as Mankali's Mound, BairagirBhita, Skandha'sDhap (Step), Totaram Pandit's Dhap, Vihar Dhap, Mangalkot Stupa, Tengra Buddhist Stupa, Kalidah Sagar, etc.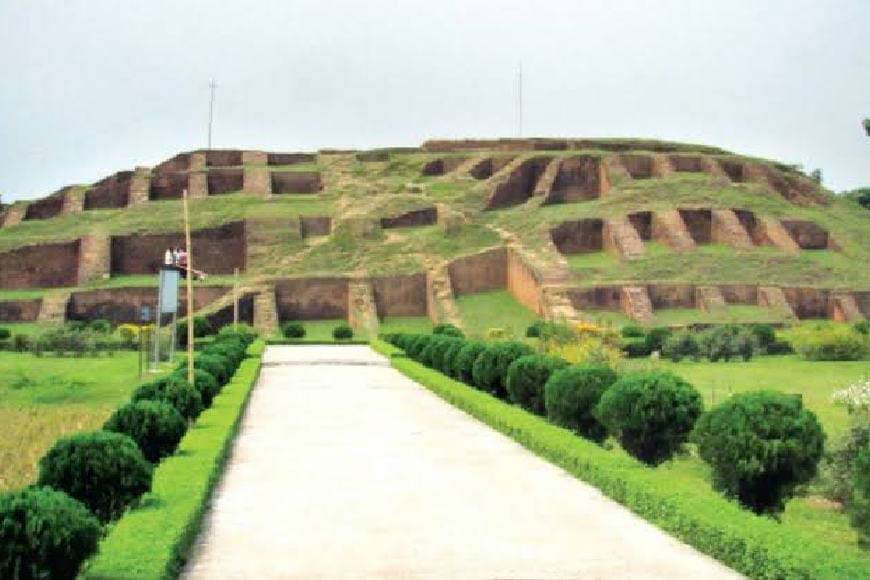 Around the 14th century, Shamsuddin Ilyas Shah built a kingdom called Bengal along with the areas of Gaur, Banga, Pundra, Samatat, and Harikal, and gradually, the importance of Mahasthangarh started declining. Evidently, around the fifteenth century, people stopped visiting Mahasthangarh and the place loses its former glory. Over the ages, it turned into a ruin. For many years this place remained unknown to people. Then in 1808 Francis Buchanan Hamilton first identified these ruins. Later on, the British archaeologist Alexander Cunningham confirmed these ruins as Pundranagar. The first archaeological excavations at Mahasthangarh were started in 1928-29 under the supervision of Kashinath Narayan Dixit, the then Director General of the Archaeological Survey of India. Archaeological excavations of 1931 led to the discovery of the Brahmi script, which show the records of Emperor Ashoka's aid to the famine-stricken people. The Mahasthangarh Archaeological Museum can be seen from a little north of Mahasthangarh, which was established in 1967. The valuable items found from the excavations of Mahasthangarh are preserved here. Notable among these are statues of various gods and goddesses of Hindu and Buddhist religions, coins of different eras, memorabilia, clay tablets, terracotta tablets, seals, inscriptions, weapons for self-defense, precious ornaments, gold, silver, iron, bronze, copper and other precious metals. Bogura can be easily reached by bus or train from Dhaka. Rangpur Express or Lalmoni Express can also be boarded to reach Bogura from Kamalapur Railway Station. One can easily reach Mahasthangarh in 30-40 minutes by bus or auto rickshaw from Bogura Haddipatti or the railway station. Many tourists visit this place every year.