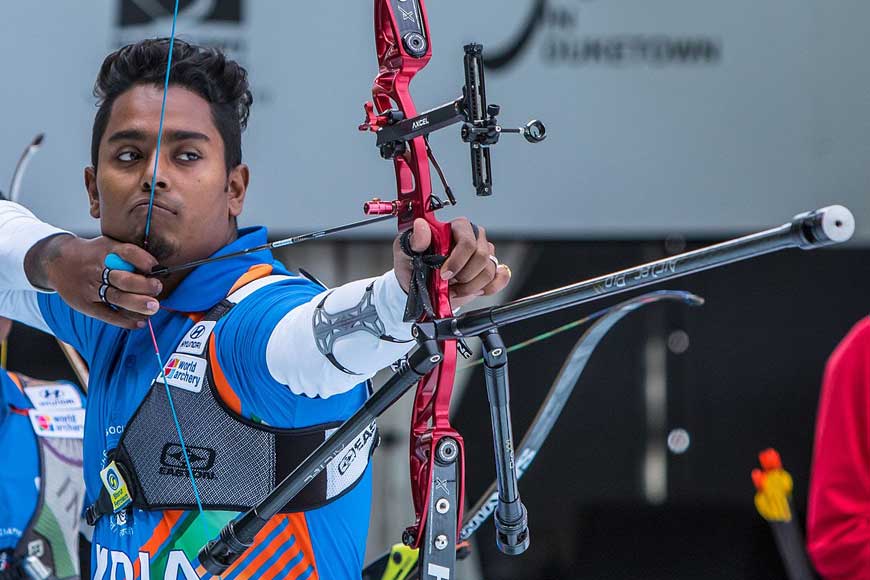 As India's ace archer Deepika Kumari kept shouting and inspiring her husband from the stands of Tokyo Olympics this morning, India's No. 1 Archer Atanu Das went on to cause a massive upset in the history of Olympic archery. He defeated 4-time Olympic medalist, Korea's Jinhyek OH in a shoot-off. This came after he beat Deng Yu-Cheng to enter Round of 16. Atanu came back to tie the game in the 4th set and won the match in a shoot-off, scoring a perfect 10 against Jinhyek OH in the Men's Individual Archery 1/16 eliminations.
Bengal has always been a great sport-loving state and other than soccer at the Maidan, which has been part and parcel of Bengali psyche and the ever-entertaining ghoti-bangaal arguments, many youngsters are taking up sports like archery, gymnastics and table tennis these days and making it big at the world forum. Now a boy with dreams from Baranagar in North Kolkata has made it happen at the Tokyo Olympics. Atanu Das is the new Prince of Bengal for sure, considered as India's archery prodigy. Though from the first bow worth Rs. 30,000 that his parents bought him to shooting at Sambodromo, his rise has not been smooth.
Archery is not a simple game, and though we come from a country of Arjuna and Rama, it is a sport that has never been appreciated by mainstream public. India's connection with archery goes back a long way. After Limba Ram equalled a world record feat at the Asian Championships in 1992, there was a renaissance in the sport. Next came Dola Banerjee's World Cup Gold in 2007. It was the same year when Atanu participated in the Nationals for the first time and won a medal. His first Olympic experience was at the youth level in Singapore, where he finished a disappointing 17th. Six years later, he went to Brazil, seeded fifth in the global ranking. Atanu became the top-ranked Indian male archer in 2011 and since then has been winning medals in the team and mixed events. He kept progressing, but after the silver in Wroclaw in 2014, he lost foothold for some time. A change in equipment in 2015 ensured he qualified for the Asian Championship which happened to be the last tournament of the year and his first. Three months before the all-important Summer Games, he clinched two bronze medals – one with Deepika Kumari and then by pairing with Jayanta Talukdar and Mangal Singh Champia in men's team event.

While the mixed pair of Deepika-Atanu got the better of South Korea in a nerve-wracking shoot-off, the men's team put up a commanding show to blank England with a series of perfect 10s. A month later, in June, the young boy who started on the northern outskirts of Kolkata, recorded his highest individual finish, fourth, at the 2016 Hyundai Archery World Cup in Antalya, Turkey. His bronze-medal match against the top-ranked player in the world, Kim Woojin, was phenomenal. After running away with a 4-0 lead, Atanu lost the game in a so near yet so far shoot-off, which saw the Korean's arrow being nearer to the centre (but by millimetres, if anything), which gave him the win. Atanu Das was born on 5 April 1992. He did his schooling from Baranagar Narendranath Vidyamandir.
The men's team losing the quarter-finals in Antalya meant that India settled for a single men's invitation to Rio de Janerio. All three archers competed against each other in Bangalore to take up the spot, and Atanu won. By then Atanu was working with Bharat Petroleum. At Rio, he began his elimination round against 60th ranked Jitbahadur Muktan of Nepal and went on to beat Cuba's Adrian Andres Puentes Perez to go through to the round of 16. Shooting amid heavy rain, Atanu went down 4-6 to World No.8 Lee Seung-Yun after losing his nerve on a couple of occasions. In the decisive fifth set, Atanu and Lee were tied 19-19 after the first two arrows. While Lee managed a 9 off his final arrow, Atanu needed to go one better to take the match into a shoot-off. He struck a 9 which was not enough to take him to the final eight. The Rio experience did not break him, but gave him a courage that sailed him through at Tokyo.
Atanu has always been a shy kid. As a teenager his neighbours remember him speaking very less. He is a product of Tata Sports Academy. In 2020 he tied the knot with another ace archer of India Deepika Kumari, who is undoubtedly a very big inspiration for him. After all they both have a common aim. Kumari had once said, poverty can break or make a player. Though Atanu did not face the poverty that Deepika did, he undoubtedly gets a big boost from his better half, just like he did today and made India and Bengal proud. We wish him more success.
Image courtesy: en.m.wikipedia.org/wiki/Atanu_Das