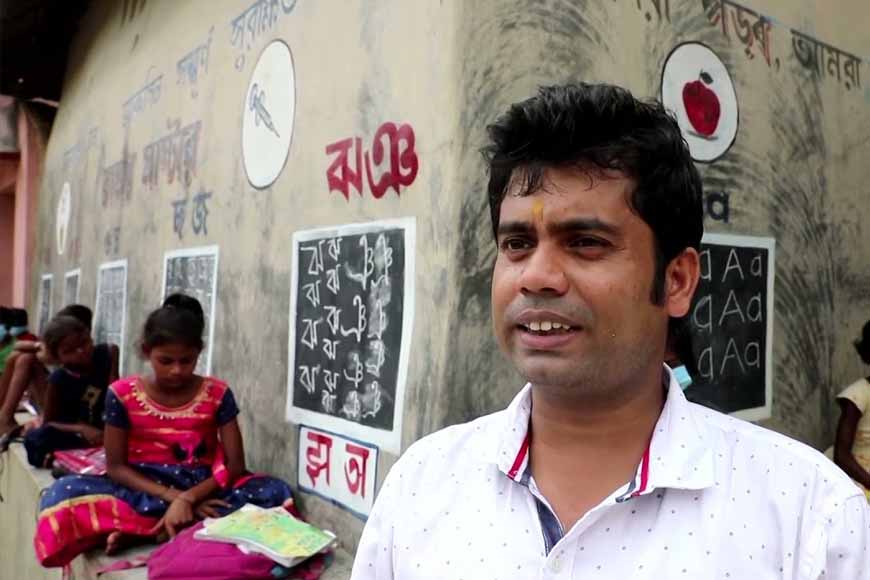 Deep Narayan Nayak, nominated for the Global Teacher Award
Two Indian educators, Deep Narayan Nayak, a primary school teacher from West Bengal, and Hari Krishna Patacharu, an English teacher from Andhra Pradesh, have made it to the top 50 shortlist for the 2023 Global Teacher Prize. The announcement was made recently, acknowledging their exceptional contributions to the field of education. The prestigious award celebrates educators from around the world, with the winner being chosen from the top 10 finalists.
Organized by the Varkey Foundation in partnership with UNESCO and in collaboration with the UAE-based philanthropic organization, Dubai Cares, The Global Teacher Prize, a USD 1-million annual award aims to acknowledge educators who have displayed extraordinary dedication and innovation in their teaching practices. The prize is open to working teachers who teach children who are in compulsory schooling or are between the ages of five and 18. This year, 7,000 nominations and applications from 130 countries around the world were filed for the coveted prize. The prize will now be narrowed down to the top 10 finalists, to be announced later in the year. The winner will be chosen from the top 10 finalists by the Global Teacher Prize Academy made up of prominent individuals.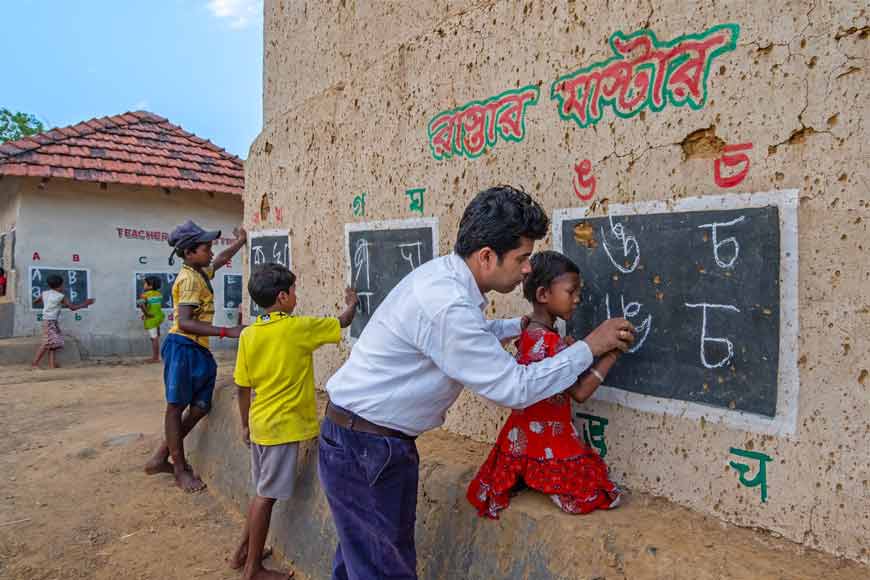 Nayak, a teacher at Tilka Manjhi Adivasi Free Primary School at Jamuria in Asansol, was selected for his innovative teaching methods that have transformed the lives of underprivileged children facing educational and social challenges. "Amidst the pandemic, he turned mud walls into blackboards and roads into classrooms, bridging the digital divide for marginalized students. His focus on educating parents, eradicating superstitions, and addressing learning disabilities has empowered both children and communities," the Global Teacher Prize said in a statement.
The Global Teacher Prize, now in its eighth edition, was set up to acknowledge outstanding teachers who have made significant contributions to the profession while highlighting the pivotal role teachers play in society. The shortlisted educators are celebrated not only for their dedication but also for their innovative approaches to teaching, which have had a far-reaching impact on their students and communities. Stefania Giannini, Assistant Director-General for Education at the United Nations Educational, Scientific and Cultural Organisation (UNESCO) writes, "I would like to extend my warmest congratulations to Deep Narayan Nayak and Hari Krishna Patacharu. UNESCO is a proud partner of the Global Teacher Prize because teachers deserve our great recognition. They inspire and prepare children and youth to navigate a rapidly evolving world. Their efforts play a leading role in transforming education for the future."
Nayak became a messiah for students in Jamuria and the neighbouring villages during the Covid-19 pandemic, which forced the closure of around 1.5 million schools and impacted over 247 million children across India. Nayak was determined not to deprive the poor children of their fundamental right to education because of COVID-induced lockdowns and made elaborate plans to continue his mission against all odds.
Nayak is a son of the soil and is well-loved and respected by the local tribal community. He has always extended a helping hand to the needy and people from backward communities in every possible way. A teacher at the Tilka Majhi Adivasi Free Primary School, he has been organizing free coaching classes for his students. In March 2020, he was extremely worried when all schools closed and everything came to a grinding halt. His young students were confused and asked him why he did not teach them anymore. He had no concrete answer and felt guilty. During the lockdown period, Nayak went to check on his students and was shocked to discover their plight. They were forced to sever their ties with books and some went to graze cattle, while others were sent to collect leaves to help their families eke out a living. These children were all first-generation students for whom attending school regularly was a major challenge. With schools closed, it was a huge setback for them and could even drive them to delinquency. Nayak knew he had to do something to reverse the situation.
Nayak met the parents of the children and spoke to them about starting a self-sustaining school. Following discussions with the head of the village and other stakeholders, he set out to convert the front yards of the villagers' huts to makeshift classrooms. In no time, the walls of the huts turned into blackboards on which everything from English and Hindi alphabets to mathematical tables were written. The school began in earnest. For the tribal villagers, this was a boon. At a time when most people were wary of leaving their homes, Nayak stepped out every day to teach the children. His initiatives extended beyond education, tackling issues like malnutrition, child exploitation, and environmental sustainability and his 'Rastaar Master' (Roadside Teacher) project offered a global roadmap for inclusive education, addressing pressing post-COVID challenges.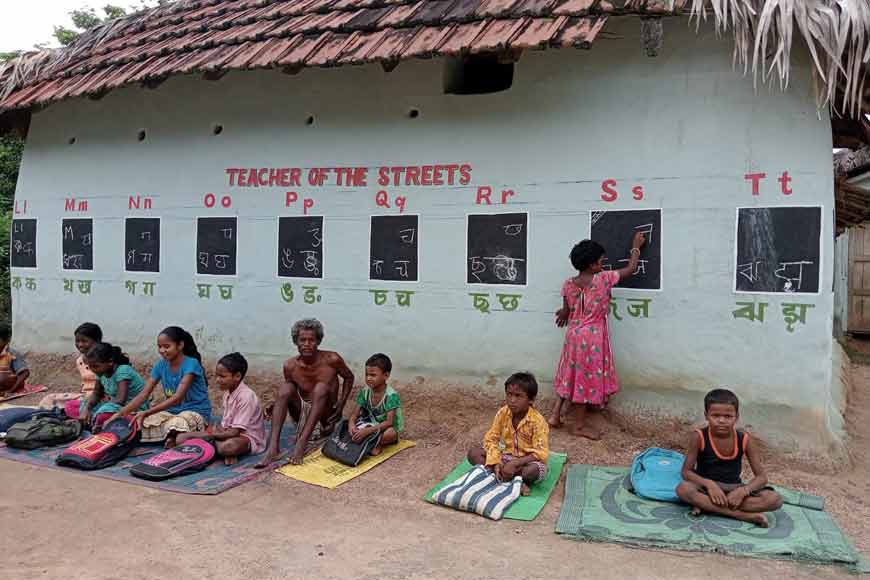 Procuring food for the kids was a major concern for him during the pandemic and he combatted this problem by distributing food items like cakes, biscuits, bread and milk, anything he could arrange as a substitute for their midday meals. They were also taught important COVID-19 rules of wearing masks, using sanitizers, and maintaining social distancing, even as they learned to read and write. The Global Teacher Prize acknowledged Nayak's contribution in a statement: "Amidst the pandemic, he (Nayak) turned mud walls into blackboards and roads into classrooms, bridging the digital divide for marginalized students. His focus was on educating parents, eradicating superstitions, and addressing learning disabilities has empowered both children and communities."
Later, Nayak made efforts to eliminate the fear of COVID from the minds of the people and arranged for free vaccination in the interior areas and took the ailing to the nearby health centres for treatment. He also started a mobile library, which operates on weekends, travelling from one street corner to the next to spread education among the underprivileged people of Jamuria. By now, he has initiated 50 roadside schools which are operational at Jamuria and neighbouring villages.

After the lockdown was eased, he moved from one tribal village to another, asking parents/guardians to send their wards to his roadside school. Nayak's class starts in the morning when children lay mats on the road and then lessons begin. The mud walls of the local villagers transform into blackboards. Nayak is known as the 'Master of the Road'. He has shouldered the responsibility of building the future of tribal children in remote areas.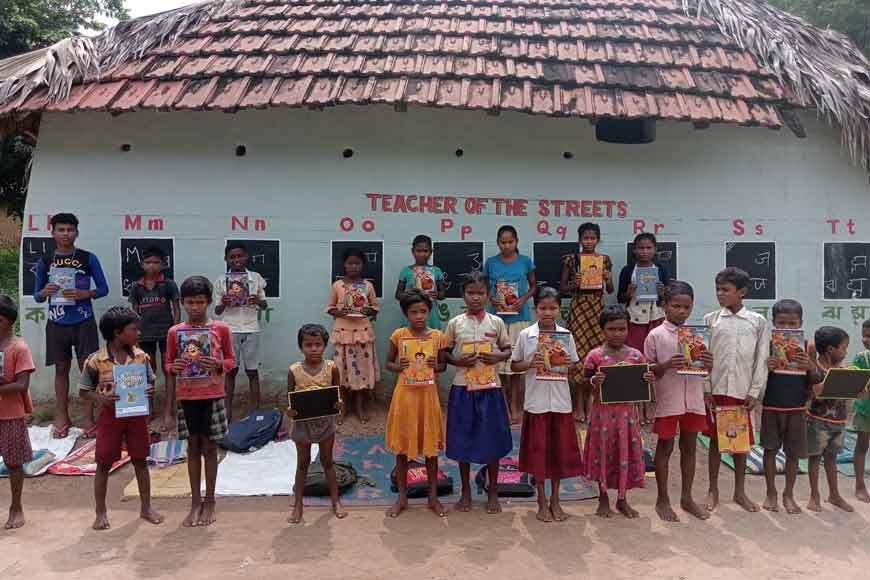 When news of him being shortlisted for the prestigious global award reached him via email, he was not even aware of it since he does not use the internet frequently. He was overwhelmed when the news was published in the media and he was flooded with congratulatory messages. Nayak has won many awards as Best Teacher but this global recognition is something very special for him. In the past, he had an opportunity to visit Austria when he was invited to the Austrian Parliament but he could not make it as he never bothered to get his passport done before. Now of course, he has his passport issued and is excited and willing to go and attend the programme if he receives an invitation from the authorities.