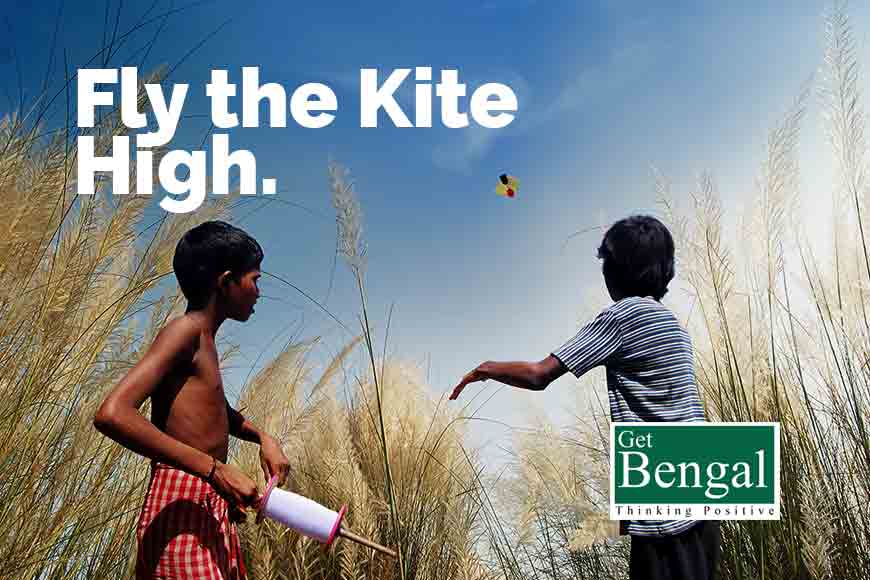 It is that time of year, when the blue heavens are decorated with colourful, geometric blobs, and the air is rife with ecstatic screams of "Bho-katta!" Crowds form on the roofs of houses, and the children, nay, warriors, wage the ancient battle to be the best kite flyer in the world!
Rather, that is what used to be, right around Vishwakarma Puja. Kite makers would work late hours, selling kites of all sizes, and mending the defective ones. There used to be masses grouped around these shops, looking for the perfect kite. Ah, the perfect kite - just the right size for ultimate speed and velocity, and bright enough to spot miles away from the ground. The string connected with the kite has to be strong, but not too heavy so the kite won't take off the ground itself. The best spool, the best thread, and finally, the model kite. A kite had to fit into all these criteria before being purchased by the hawk-eyed kite flyer. Now, kite shops have closed down by the dozen, for the lack of buyers. What happened to warrant this kind of a mass exodus from such a beloved sport that had become tradition?
'Mobiles have killed kites,' complains Ajit Dutta, applying a paste of white flour and Bengal gram onto a flimsy wooden kite frame almost lovingly, as if holding a baby. 'Look at kids these days, they're always on their phones. Who wants to fly kites?'

Dutta is a kite-maker — a kite-master more appropriately, given his expertise — and kites have been his livelihood for over 50 years. Only a handful of kitemakers still ply their trade, and business is drowning. This is a far cry from the regal beginnings of kite-flying in Calcutta in 1856, when the last Nawab of Awadh was exiled by the British to the banks of the Hooghly. Wajid Ali Shah brought his passion for kite-flying with him. For the next 150 years, the Calcutta sky would be invaded with coloured paper, and the joy of yelling "Bho-katta!,' and running after fallen kites would be unbridled joy for most.
Kite flying is a dying art, and one which is so inherently a part of our Bengali constitution, should not be allowed to fade away into annals of history. A revival of this forgotten art is vital, if only to hold onto our inherent identity and history.