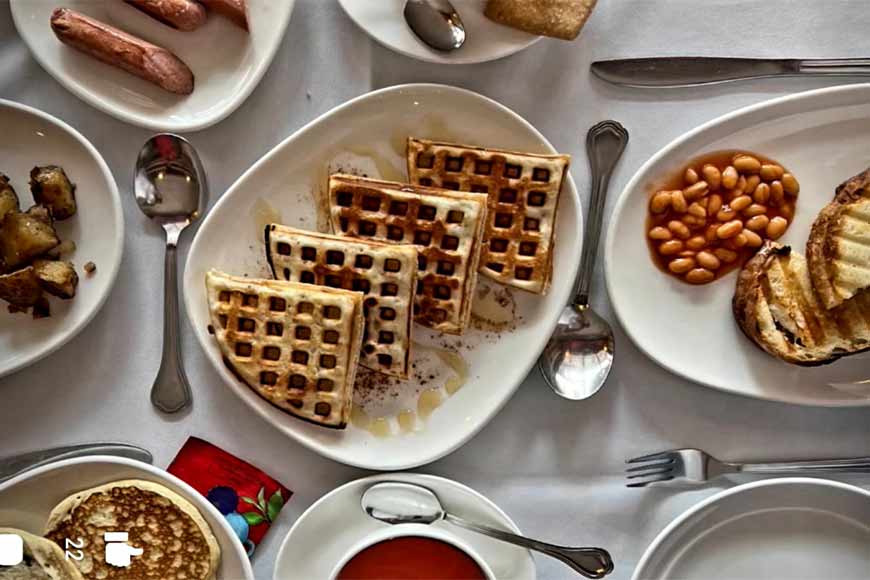 Those in Kolkata who had lived from 1939 to 1960, had the good luck to savour the taste of Trincas' breakfast. Not after that. For the breakfast fever next shifted to Flurys, and Trincas no more served the elaborate English breakfast that it was once upon a time so famous for. Many thought a cuisine gem vanished from Park Street and found a place in the annals of food history. But revivals are fun, especially when they land up in the 21st century after a long gap of almost 62 years. Yes, the breakfast is back on the Trincas' platter, enticing the citizens to hop on a winter morning, the crisp in the air caressing the soul and the hot favourites of Trincas catering to a happy wholesome breakfast, keeping you energized for the day.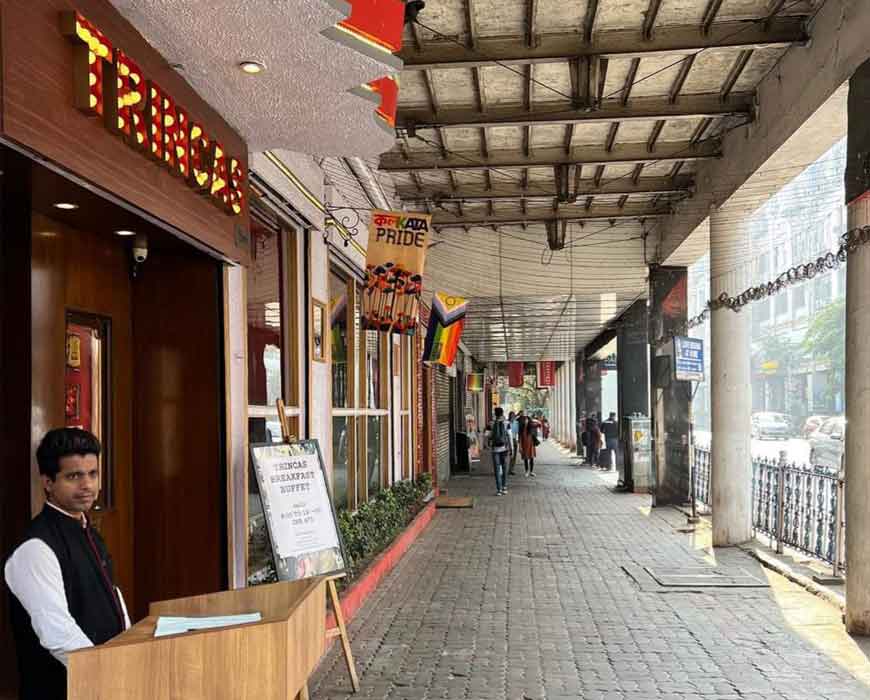 The heady aroma of freshly brewed beverages, with a chance to try a hand at your own egg recipes, fruity pancakes to go along with lip-smacking syrups, and of course the gourmet cheese spread that one finds only in 5 stars of Kolkata. Trincas' revived breakfast menu along with the DIY options, would have definitely made Gorosthane Shabdhan's Jatayu yearn for more. Abhishek Bhattacharya who wished to revive his grandmother's memories of a Trincas breakfast recently, took his children to give them a taste of the gems of Park Street. "My kids thoroughly enjoyed the waffles and the eggs. The best part is you can toss the eggs as per your own recipe and taste. That gives a lot of space for children to try out their hands and excite them to eat as most of them are picky eaters.'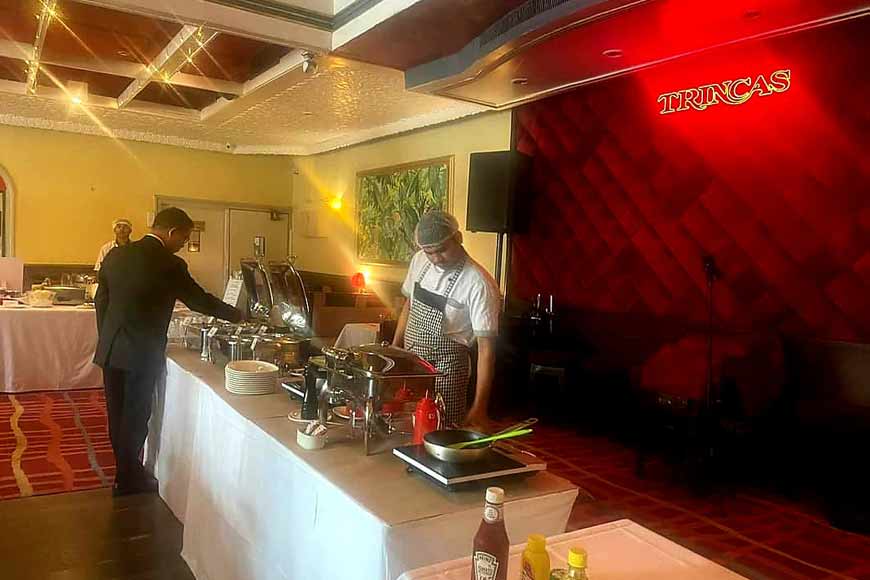 Karishma Shah came down from the USA to her favourite Park Street and was in for a surprise when she learned she now stands a chance to enjoy the nostalgia of a six-decade-old memory. Karishma loved the Choco-chip Pancakes and the Blueberry Pancakes and swore that they were much better than the ones they get back in the States. "The best part is the syrups, jams, jelly, and honey that are served with the pancakes. You thus have several topping options with seasonal fruits like strawberry, guava, apple, and so on other than the Nutella and cinnamon."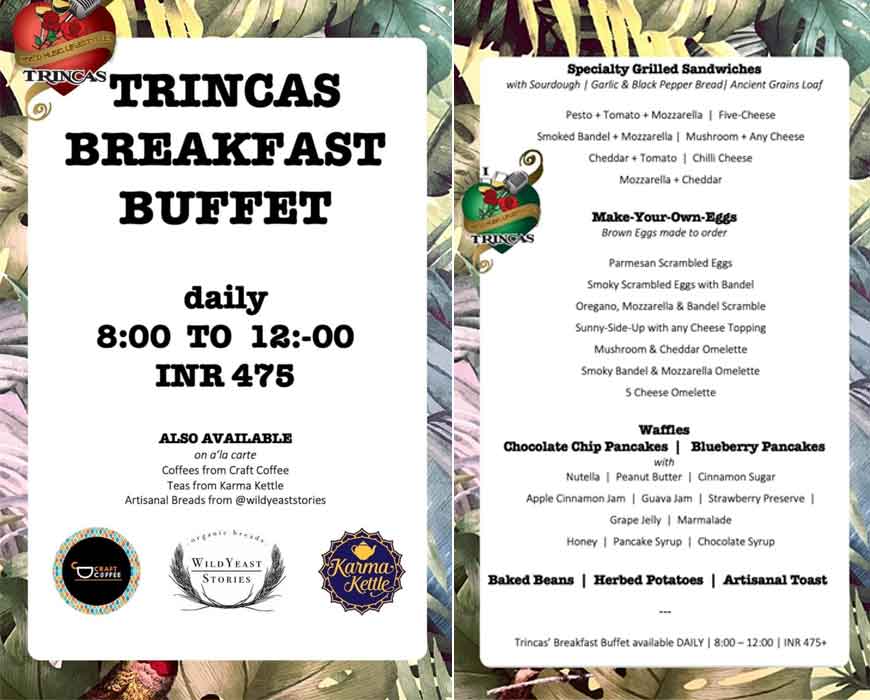 However, what Trincas served 62 years ago was quite different in the menu than what they are serving today and that is primarily because food tastes have changed over decades and many fusion foods had to be included. The yesteryear menu primarily had confectionery picks like patties, croissants with seasonal favourites, and special festive offerings during Christmas. The Christmas menu often had a dash of specialties like almond croissants, chicken patties, minced pies, and cocktail sausages along with delicacies like Palmier Biscuits. These heart-shaped biscuits were a specialty of Trincas and were made of butter and melted sugar.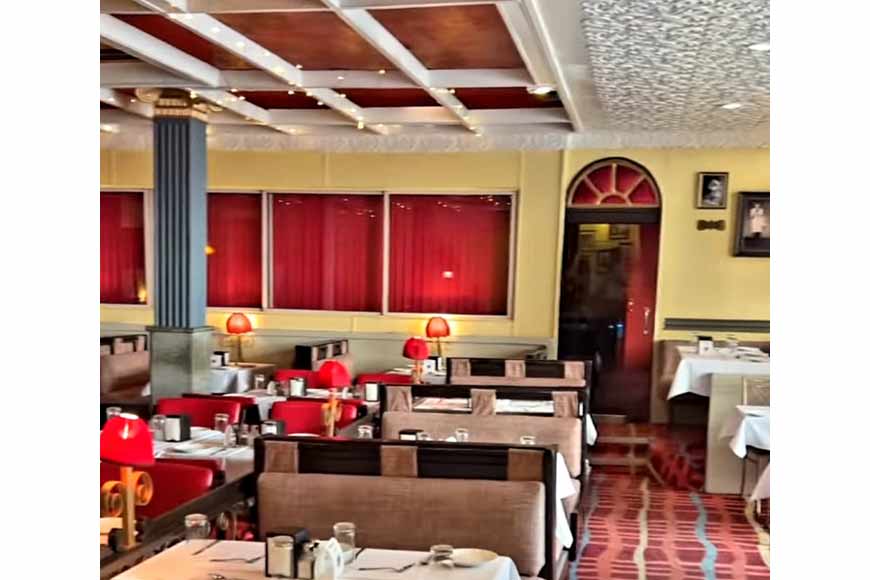 Today the menu is more contemporary with many sandwich options, egg options along with waffles. But the best part is the kind of bread used, like the Sourdough Bread sourced from a local baker and of very high quality. To make the menu experimental, the restaurant has played around with its eggs. Omelettes are made with brown eggs, to give a dash of colour to them. The pancakes and waffles are made fresh to serve hot on the plate. Deviating from the typical breakfast menu, one gets a chance to experiment here with different combinations of bread, eggs, and cheese. Cheese is served as a delicacy and includes five varieties. Cheddar, parmesan, mozzarella, Kraft, and smoked Bandel cheese – a specialty of Bengal which can compete with any international standard cheese and has a rich history of its own. The cheese goes well with artisanal loaves that are named artistically too, like Ancient Grains Loaves and Roasted Garlic and Black Pepper Bread.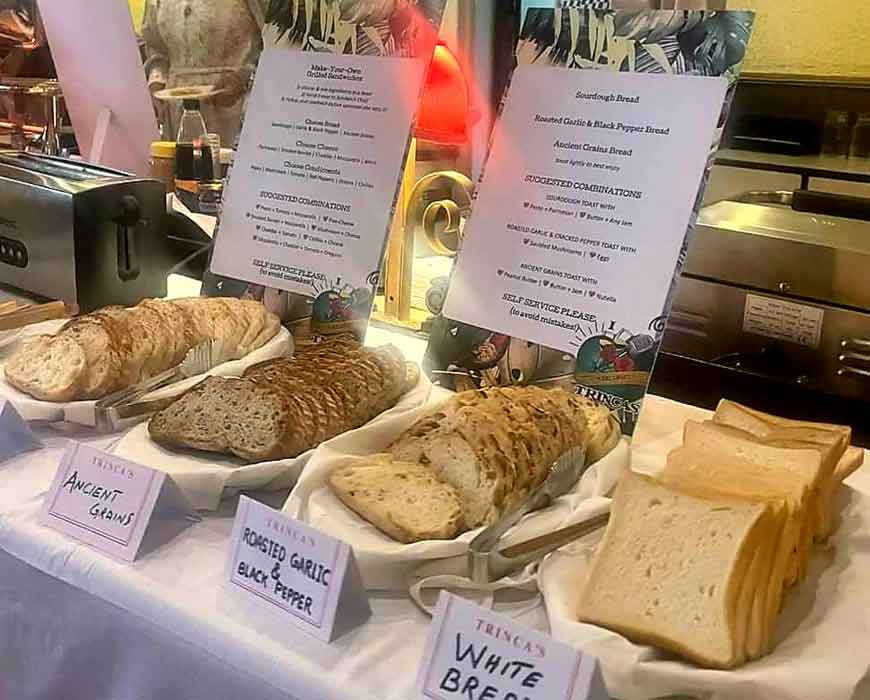 'Make Your Own Eggs' is a DIY station that whips up eggs as per your taste. Scrambled to sunny side-ups to go with red onions, cherry tomatoes, bell peppers, mushrooms, pesto, and cheese. You can also try your hand at the Sandwich Station or the live Waffle Station. The waffles and pancakes can be topped with special spreads like Apple Cinnamon Jam, Marmalade, and Grape Jelly along with a dusting of Cinnamon Spice.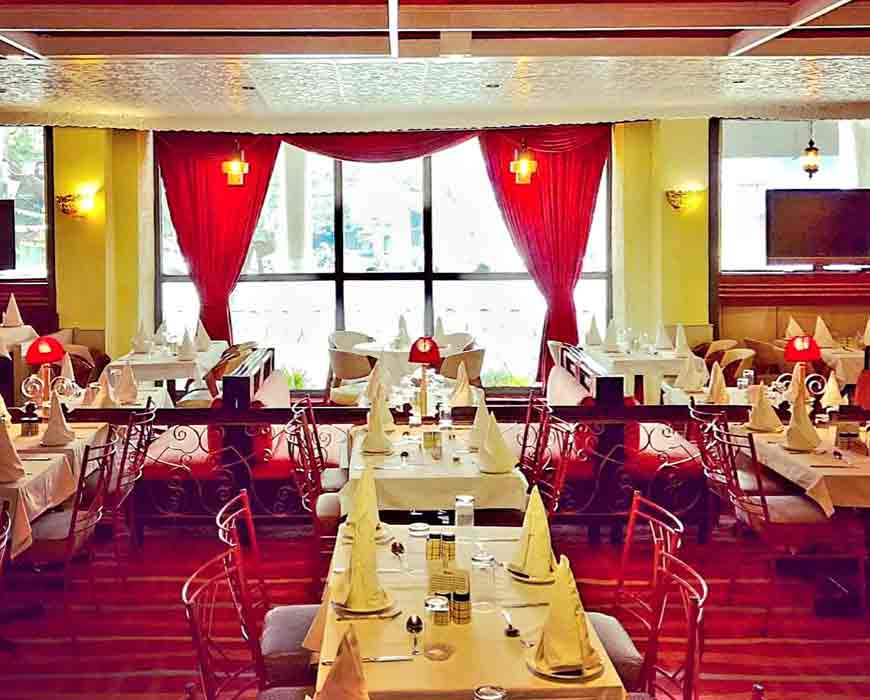 If you ask around what are the favourites to try out here, most of those who have had their breakfast at Trincas will swear by their Smokey Scrambled Eggs with Bandel Cheese and a Pesto, Tomato and Mozzarella Sandwich, Chilli Cheese Grilled Sandwich, Oregano-Mozzarella-Bandel Cheese Scramble, Roasted Garlic, and Black Pepper Loaf along with a sip of Strawberry Hibiscus Cockscomb. They also have an a la carte menu with add-ons like chicken or pork sausages, bacon and ham, and varieties of tea and coffee. What is best is an affordable price. Served between 8 am-10 am, you can grab your unlimited breakfast for just Rs 475!