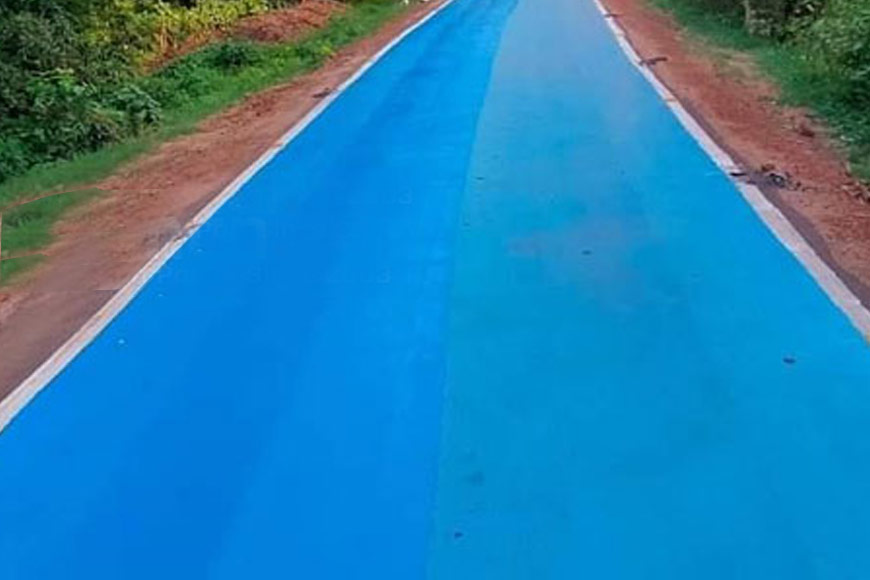 "Great artists make the roads; good teachers and good companions can point them out."
― Ursula K. Le Guin (science fiction author)
Yes, as Le Guin rightly points out, great artists make the roads and in a groundbreaking move, the Uchalan Gram Panchayat of Raina in East Burdwan district has garnered the attention and admiration of both locals and experts by constructing a charming, unique blue road. We are accustomed to black-metalled roads constructed with cement, concrete, and bitumen of coal, but this is the first time in India that road construction was done by blending discarded plastic with asphalt. This innovative decision not only exhibits remarkable durability but also adds to the aesthetic appeal. The road stretches 320 meters from Eklakshmi Toll Plaza to Rautara Bridge under the Raina-II Block of the South Sadar sub-division of East Burdwan district. Such colourful roads are common in Arab countries but in India, East Burdwan district ushers in a new revolution for the rest of the country.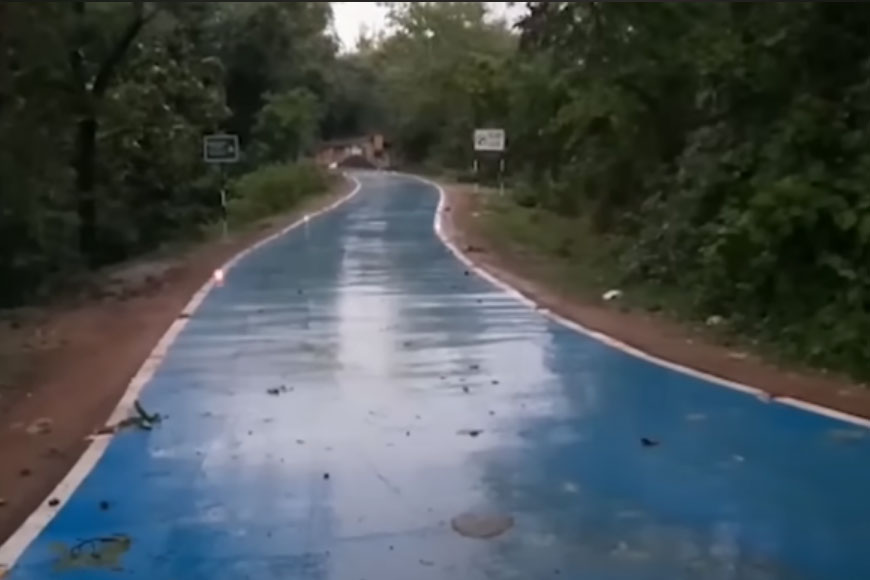 Roads are an important mode of transport in India. According to Wikipedia sources, India has a network of over 6,215,797 kilometres (3,862,317 miles) of roads as of 1 December 2021. This is the second-largest road network in the world, after the United States with 6,853,024 kilometres (4,258,272 miles). Despite our pride over such a massive network of roads that connects all parts of this vast country, water, and extreme heat have long been adversaries of traditional asphalt roads, rendering them vulnerable to damage. As a result, every summer and monsoon, our pride takes a bashing. There are several reasons though why the roads in India may be more susceptible to damage during summer and monsoon. One reason is that many of the roads are not built to withstand heavy rainfall and flooding. Additionally, India's infrastructure is often not well-maintained which can make it more vulnerable to damage from natural events. With the first downpour, the roads are washed away and potholes increase. Also, India's monsoon can be particularly severe, with heavy rainfall and high winds. Furthermore, many Indian cities are densely populated, and the drainage systems are not well-equipped to handle large amounts of water quickly.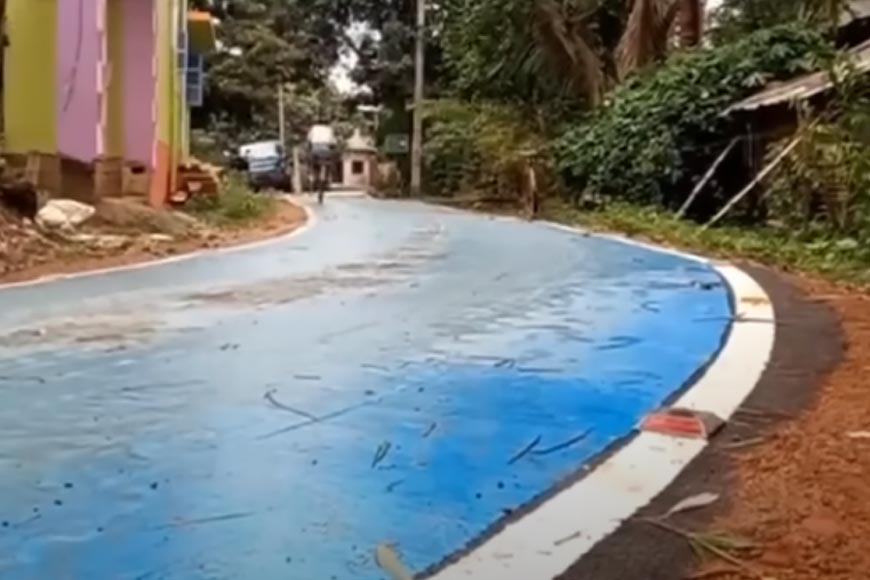 Technocrats and bureaucrats in Bengal have been brainstorming over increasing the durability of concrete roads and they all zeroed in on adopting a technology commonly used in the Arab world and initiated the project in collaboration with the Uchalan Gram Panchayat. Engineers involved in the project have accentuated the benefits of combining plastic with asphalt. This innovative approach diminishes the road's vulnerability to water penetration, making it significantly more resistant to damage caused by rainfall. It is not that this is the first time that roads in the state have been made with plastic materials but this is the first time that a blue coating has been added to the asphalt while constructing the road. This thick layer of blue plastic coating serves as an additional safeguard, protecting the asphalt from direct exposure to heat and thus preventing potential heat damage.

These measures have resulted in a road that is both waterproof and heatproof, boasting durability two to three times higher than conventional roads. The layer of plastic coating in a vibrant blue color adds to its unique visual appeal. The incorporation of discarded plastic materials into the road's construction not only contributes to recycling efforts but also enhances its overall durability and attractiveness.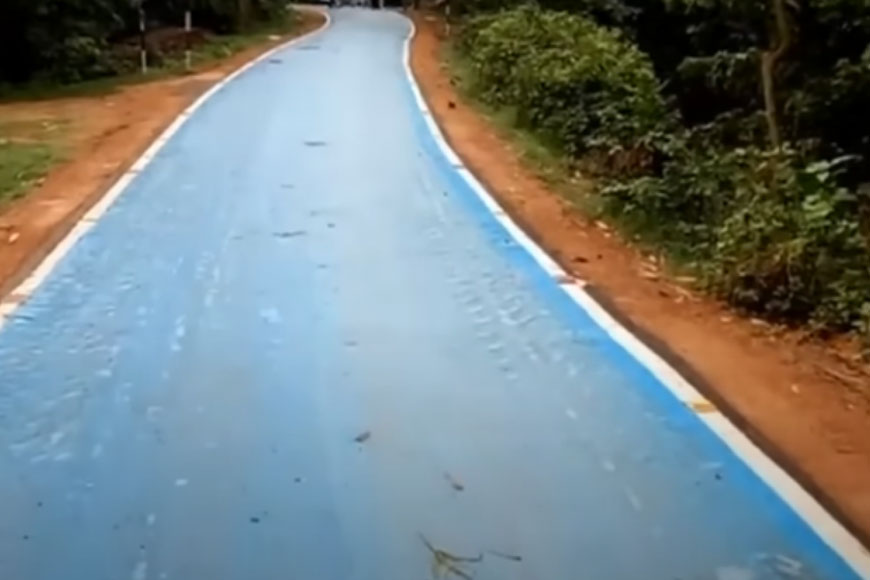 The entire stretch was built at a cost of approximately Rs 22 lakh 94 thousand, with the local Panchayat contributing Rs 8 lakhs from its own resources, and the additional fund, amounting to Rs 14 lakh 95 thousand, was provided by the West Bengal State Finance Commission. The district administration has been taking various initiatives to prevent the spread of pollution from plastic for a long time and this innovative road construction project that emphasized plastic waste management was naturally welcomed.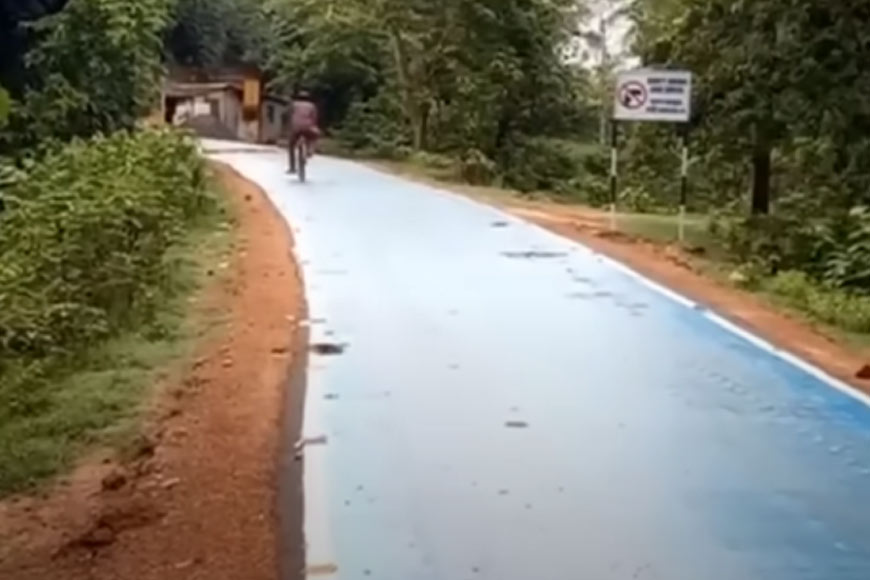 This innovative enterprise contributes significantly to mitigating global warming and its potential to withstand adverse conditions has garnered attention and admiration from locals and experts alike. The success of this project depends largely on its continued support and encouragement from the administration which will inspire replication of the feat in other parts of the state as well as the country as well.