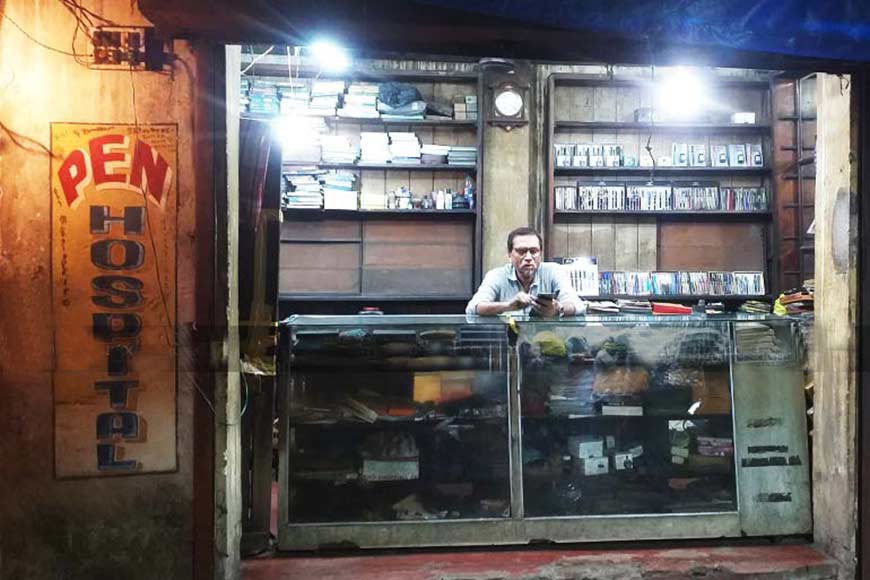 "None of us can have as many virtues as the fountain-pen, or half its cussedness; but we can try." – Mark Twain
In this fast-paced world where everything is transient and innovations keep replacing older models, there are people who hate to sever their ties with the past and they hoard and guard those little objects that grip the key to the floodgates of memories. The fountain pen is one such memorabilia from the past that still holds a place of pride in the hearts of pen enthusiasts the world over. For a fountain pen lover, "the mighty weapon surrenders to none," and that's what a fountain pen is about, apart from many other wonderful things, of course!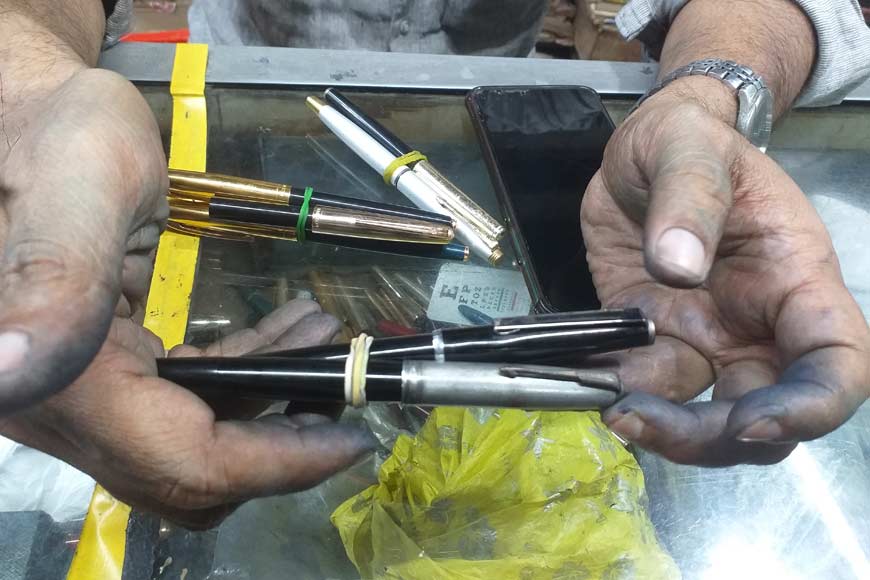 This year, fountain pen enthusiasts of Kolkata ushered in the Bengali New Year (April 15) with a unique three-day 'Pen Mahotsav.' Hosted by the Pen Club, the three-day fountain pen festival, the first of its kind in the city was held at the Indian Council for Cultural Relations (ICCR) and it was amazing to see a significant rise of footfalls o the event. The fest was attended by 22 groups of vintage and rare fountain pen collectors who displayed their treasure trove at the venue. The prices of the pens were anything between Rs 500 and Rs 15 lakhs and most of them went off the racks like hot cakes. It was also seen by many as a fitting tribute to the swadeshi industrialist and fountain pen enthusiast, Fanindranath Gooptu, who had set up the first fountain pen factory in India at Beliaghata in East Kolkata way back in 1905, the year Lord Curzon declared the Partition of Bengal.
Septuagenarian Mohammad Imtiyaz, the lone 'pen doctor' of Kolkata was also scheduled to participate in the event but he could not leave his 'Pen Hospital' unattended and had to forego the fest. Time has consumed the glory and esteem that fountain pens enjoyed in the past yet there still stands a 'hospital' in the heart of the city, dedicated to selling and repairing fountain pens of various makes, but mostly vintage stuff. There was a time when heavyweight international brands like Sheaffer, Parker, Pilot, Visconti, Kaweco, Montblanc, Waterman, Sailor, Aurora, Pelican ruled the roost and were all the rage along with national brands like Asa, Magna Carta, Gamma, Ranga, Kanwrite etc. However, times have changed and once proud owners of fountain pens have relegated their prized possessions in favour of computers and keyboards.
People usually do not buy fountain pens any more these days but there are many who have inherited pens as heirlooms. However, since these pens do not have any utility, they are forgotten, tucked away in dark, dusty corners of closets. But there are connoisseurs for whom a fountain pen is a prized possession. It is an emotion. Their attachment can be inferred from British author Graham Greene's confession, "My two fingers on a typewriter have never connected with my brain. My hand on a pen does. A fountain pen, of course. Ball-point pens are only good for filling out forms on a plane."
The die-hard fountain pen owners/lovers do not discard their fountain pens, rather they collect them, use them, care for them and when age catches up and the pens malfunction, they head straight to a familiar destination in Kolkata at 9B, Chowringhee Rd, Esplanade, Dharmatalla, Kolkata 700013. A small billboard hangs outside a tiny establishment, 'Pen Hospital.'

In its quiet interior, away from the bustle of Dharamtalla, the 7 X12 feet ramshackle kiosk with old wood and mirror panels may not look trendy or welcoming, but is a holy pilgrimage for pen aficionados and popular among tourists and some out-of-towners. Its clientele is old and loyal. Those who visit the shop browse and try any of the thousands of fountain pens behind its glass cases.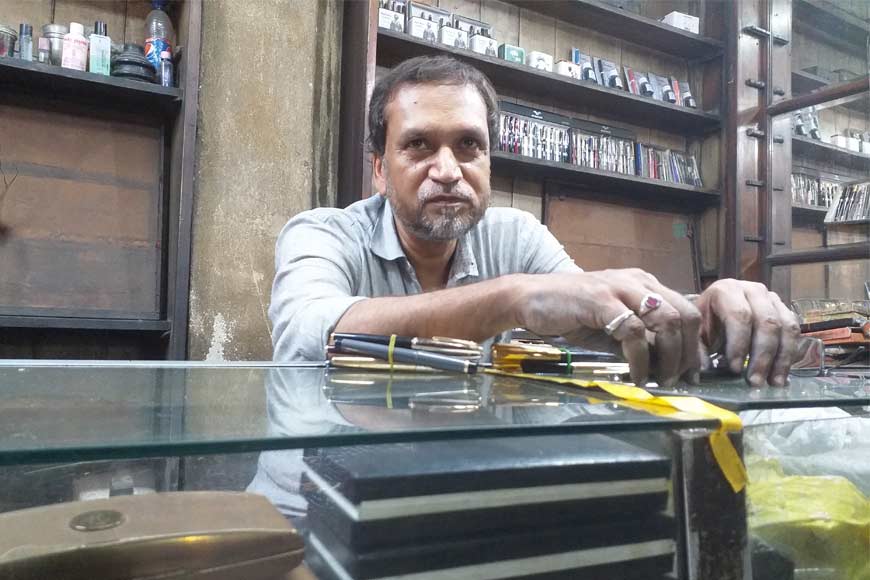 Established by Samsuddin way back in 1945, this 77-year-old shop is now manned by his grandson, septuagenarian Mohammad Imtiyaz. Samsuddin's son, Mohammad Sultan took over the shop after his father. He would often take his young sons, Mohammad Imtiyaz and Riyaz to the shop where they both mastered the craftsmanship from their father. Those were the heady days of fountain pens. With a rich history dating back to the 1940s, when fountain pens were a central part of daily life and took a pride of place in all educated family homes, the Pen Hospital, with its cutting-edge repairing technology, was a popular hunt for owners who needed fixing their imperial possessions like Parker, Pilot, Visconti, Wilson, Montblanc, Waterman, Shepherd, Pierre Cardin and Wilson among others, brought from abroad. "However, I had my own business and could not devote full time to the shop. After our father died, I, and my brother Riyaz, decided to carry on the legacy. Recently Riyaz passed away and now I am the only one left to continue the business," says Mohammad Imtiyaz.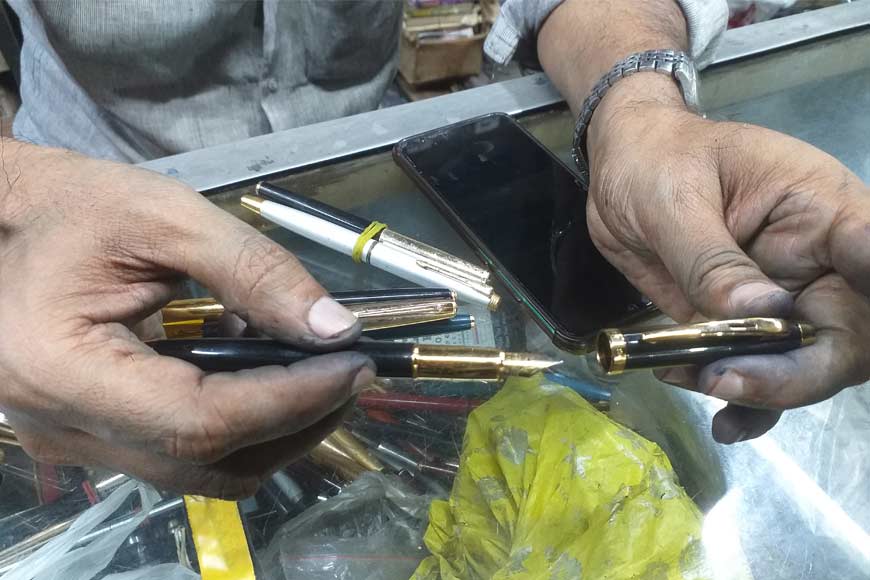 The Pen Hospital specializes in nib and ink pens and even in these times, when ink pens are hardly used, the shop has a stunning collection of pens ranging from Rs 20 to Rs 20,000. The vast array on display comprises locally manufactured and foreign brands, new models, rare collections, vintage pens -- you name it and they have it. Clients drop in now and then to fix a broken pen. Some people buy an old pen for fancy. With myriad pieces of equipment of varied sizes and shapes strewn all over the counter, Imtiyaz carries on his work deftly. His ink-stained palms bestow new life to damaged pens. "Foreign pens are very expensive. People still bring pens worth Rs 10,000-12,000 for repair. The ink filling system from the nib of the pen is different for each pen. Not all pen parts are always readily available. In that case, as soon as the technology of the old pen is changed, the pens get new life and I feel jubilant when I see the beaming face of the owner," says Imtiyaz.
The hospital has been and still remains a favourite haunt of academics, authors and collectors. Many visit the shop for old times' sake. The Fountain Pen Hospital represents a bygone idea in an age of instant communication, but it still draws people from across Kolkata to its storefront in Chowringhee.
Image : Mouni Mondal