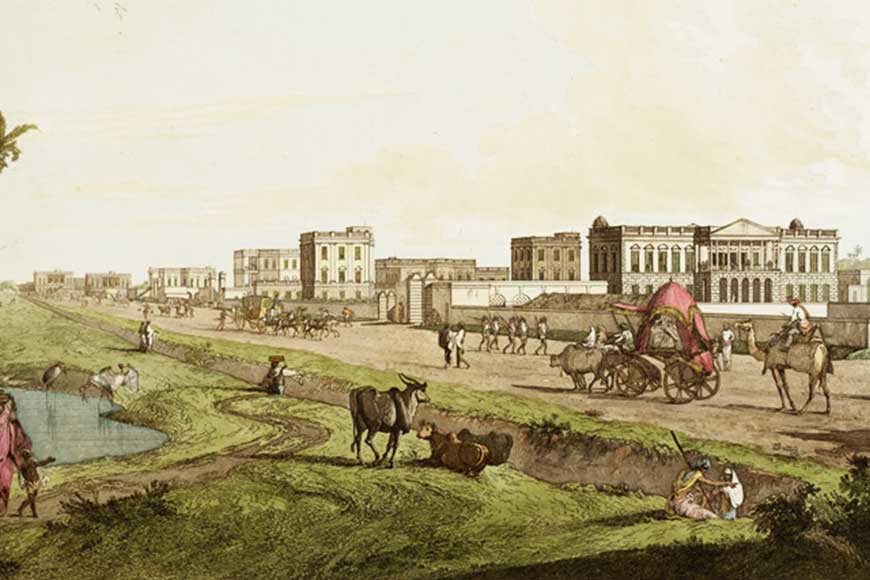 Chouringhee - Thomas Daniell 1787
This was considered as the 'Road to Redemption,' taking one directly to Goddess Kali. At least that's what residents of Calcutta believed centuries ago. Rewinding to the 17th century, the area between Maidan and Esplanade was a tiger-infested forest. At the Eastern end was an old road, which had once been built by Sabarna Roy Choudhury's family that ran between Barisha and Halisahar. Beyond it were pools, swamps and rice-fields, with fishermen huts and those of wood cutters and weavers. This was much before Job Charnock reached present day Calcutta to buy the villages from Sabarna Roy Choudhury. In this region were three small hamlets –Chowringhee, Birjee and Colimba.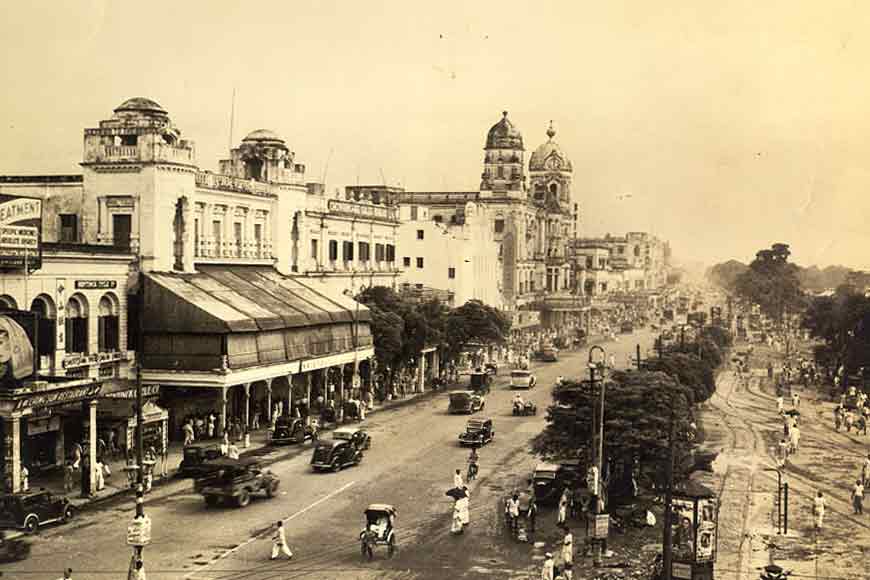 In 1717, Chowringhee was a hamlet of isolated hovels, surrounded by waterlogged paddy fields and bamboo groves separated from another village Gobindopur by a forest. As per legends, Warren Hastings hunted tigers in this very jungle later, when the British made Calcutta their capital. Some historians believe Chowringhee owes its origin to a village called Cherangi, while others believe the name originated from the legend of a yogi, Chourangi Giri, who discovered an image of Goddess Kali's face and founded the original Kalighat temple. That's how and why Chowringhee Road was often referred to as the 'Road to Kalighat.' In an issue of the National Magazine published in December 1889, author Sarat Chandra Mitra wrote that the name of the road comes "from the Hindustani word Chowringhee, which means many-coloured, the houses in that locality commanding views of various sorts and colours."

The first records of Chowringhee are mentioned in Henry Ferdinand Blochmann's book 'Calcutta During Last Century.' He was a German scholar who taught Persian in Calcutta during 1860s. As per Blochmann: "Chowringhee during 18th century was a rural area, with small puddles of water. In 1717, the area that is now called the Maidan and surrounding areas including Chowringhee was mostly a dense forest, in the midst of which the structure of Fort William existed. A creek ran from Chandpal Ghat all the way up to Wellington Square, passing the Government House and Dharmatolla. Over the decades, the forest was gradually cleared to enable the establishment of the villages that occupied Chowringhee."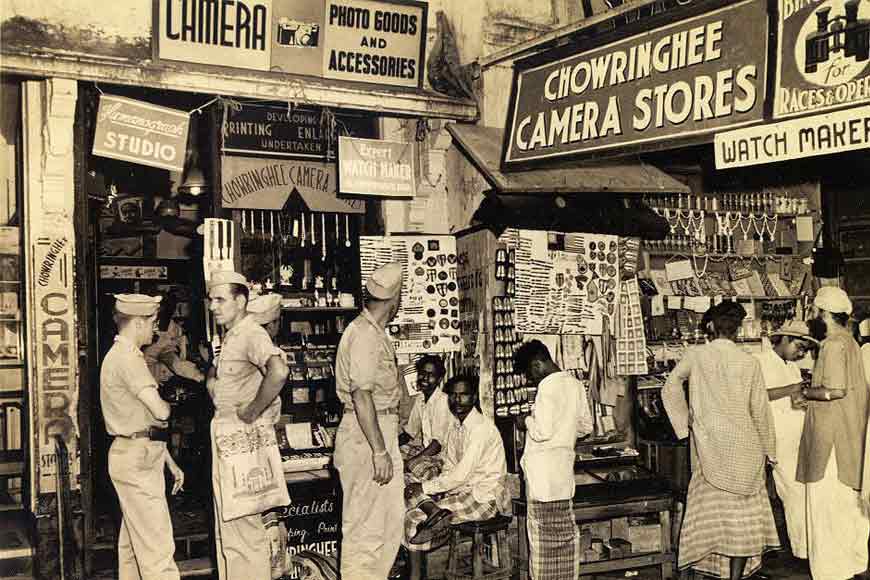 After the British victory in the Battle of Plassey, the new Fort William was built in 1758. That's when European residents of Calcutta started to settle around the Maidan. In the mid-18th century Englishmen began to build magnificent houses on the Chowringhee that earned Kolkata the title of 'City of Palaces'. Interestingly, Chowringhee was the first road of Calcutta where pavements were built to facilitate erection of gas lamps. The traders who had stores on Chowringhee Road objected as their customers were forced to park their carriages at some distance from the shops. In 1857, Chowringhee was lit up with gas lights provided by the Oriental Gas Company. Most of the century old establishments on Chowringhee are now gone or renamed like Bristol Hotel, Auddy & Company, Great Eastern Stores, Whiteaway & Laidlaw, Army & Navy Stores. The only royal feel that still stands tall is the Oberoi Grand Hotel on 15 Chowringhee Road. It started at Royal Hotel and was rechristened Oberoi Grand in 1911, when a wildfire burnt the old Royal Hotel. Another iconic building on 5 Chowringhee Road is the Metro Cinema Hall, that served once upon a time as a classy house of entertainment.
But the question one needs to ask though: 'Is Chowringhee then older than Calcutta itself?'