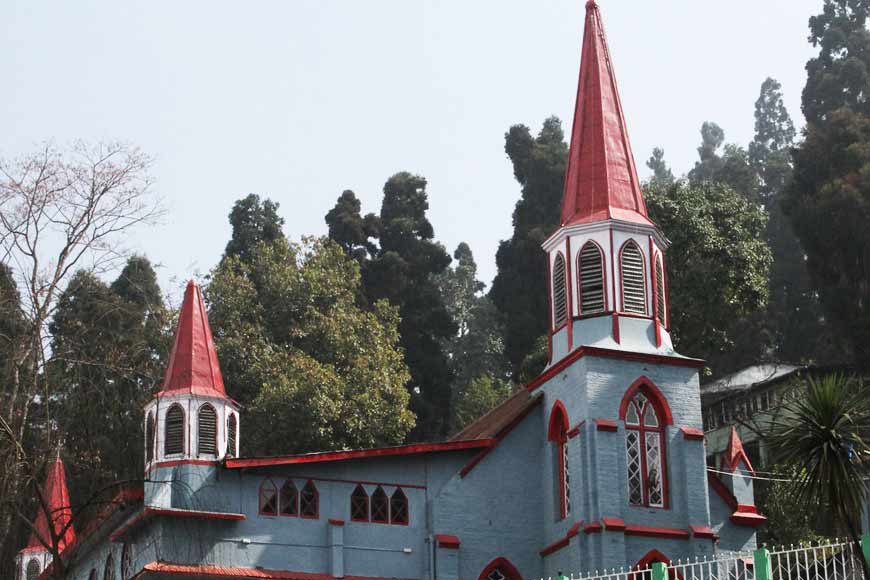 St Paul's Parish - Kurseong
In this season of Christmas, GB goes through historical data to trace how Christianity dawned in North Bengal. Was it brought by the British? Or was it brought in by other colonial powers? In this 5-part series, we shall highlight well-known and little-known churches built in various districts of North Bengal in the 18th and 19th centuries
Part 5: The Church of Kurseong that got its name even before it was built
St Paul's Parish, Kurseong, got its name even before the Church was actually built. This is evident from the writings of Fr Josson, S.J. in his French Book "La Mission du Bengal Occidental (1, p. 97)". But the records show that it was on March 19, 1904, that Rev. Fr Bernard, S.J., the Rector of St Mary's College, blessed the first stone of the parish church when all looked forward to the day when for Sunday Mass the 'Dak-Bungalow' would not be needed.
On January 15, 1905, the Parish Mass was celebrated for the first time in the new church. The bell-tower was erected only in July, 1906. The church building was blessed by Mgr Muelman, the Archbishop of Calcutta, on September 24, 1905. The Parish was named after the name of the first Archbishop of Calcutta, Msgr Paul Goethals. The Gayabari mission station was a part of this Parish since 1891 though the name of St Paul's Parish appeared nowhere in any register at that time. Initially St Paul's parish was looked after by the priests from St Mary's theologate. It was in 1919 Fr Van Tichlan was appointed parish priest. The other great parish priests were: Fr Michael Wery from 1940-48; Fr William Mackey from 1948-57; Fr Jean Henrichs from 1959-61; Fr Lawrence Wimpenny from 1961-1964; Fr J.M. Abraham from 1964-1968; Fr Bernard Bruneau from 1873-1980.

St Paul's Church has contributed greatly towards the development of Nepali Christian Music. During Fr Wery's tenure, many hymns were translated from Latin to Nepali. The parish has today one thousand six hundred and fifty Catholics with Fr Peter Jong Lepcha, S.J. as the parish priest and the parish has been fully entrusted to the care of the Jesuits.
Baptist Church Jalpaiguri
Meanwhile, the more-than-a-century old Baptist Church has been granted the heritage building tag by the West Bengal Heritage Commission. The Baptist Church is the oldest among the Christian edifices in Jalpaiguri district as it was constructed some 127 years ago in the Nayabusti area in 1883. The Church of St Michael's and All Angels, in front of the district collectorate, is even more ancient and was established in 1864, making it 146 years old.
The walls of Baptist Church were made of bamboo poles that were covered with lime and ground bricks. The church was linked to the history of the tea industry in the Dooars as the names of many British planters are linked to it. "Richard Haughton, the manager of Sinagachhi Tea Estate, who died on May 29, 1895, is buried on the grounds of this Church. A plaque to commemorate the manager of Bagrakote Tea Estate, Charles Reginald Trevor-Denne, who contributed largely to the church can also be seen.
(Source: Encyclopaedia of Seventh Day Adventists
Darjeeling Jesuits site
Book: La Mission du Bengal Occidental)