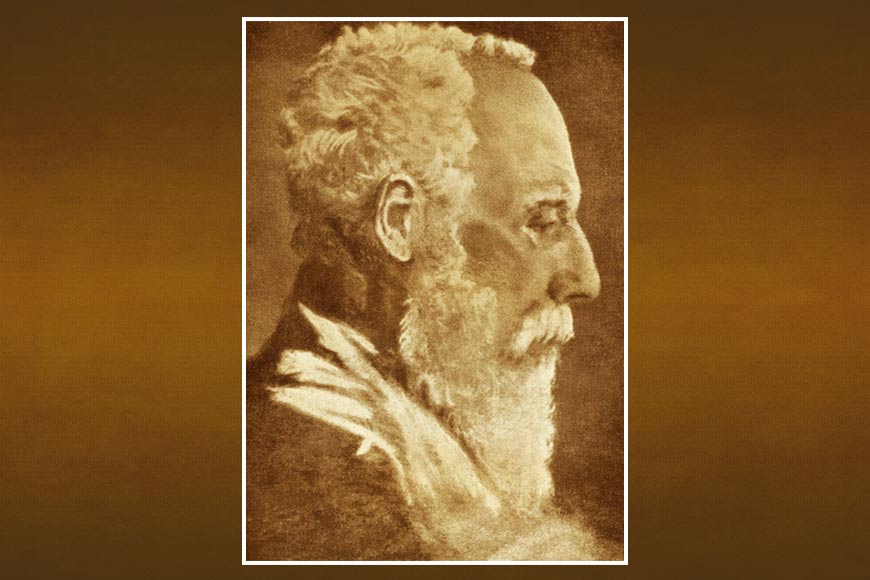 In this 3-part series, GB brings a fascinating tale of Rabindranath Tagore's ancestors, the Pirali Brahmins and how they descended from a converted Muslim of Jessore
We all know that Rabindranath Tagore and his family were 'Pirali' Brahmins. The term 'Pirali' historically carried a stigmatized and pejorative connotation; its eponymic link is Gobindalal Roy aka Mohammad Tahir Pir Ali, who served under Hazrat Khan Jahan Ali, ruler of Jessore. Later Piralya became the name of a village in Jessore district. According to legend, Gobindalal was a good friend of Hazrat Khan Jahan Ali. Once, he was invited to attend the 'Eid daawat (a meal hosted to celebrate Eid). When Gobindalal went, beef was being served to the guests and Hazrat Khan Jahan Ali jokingly remarked that since Gobindalal had already had a whiff of cooked beef, which, according to the Sanskrit phrase, 'Ghranena ardhabhojanam' (the sensation of smell is equivalent to eating half the meal), meant he had already partaken beef, which was strictly condemned by Hindu religion and then offered him to embrace Islam. Roy was in a dilemma but accepted the diktat and became a Muslim.
Much later, by the end of the 15th century, a Brahmin youth fell in love with a Muslim girl and had to convert to Islam to marry her. He was christened Mahmud Tahir, but people called him 'Piraylaee', meaning 'hailing from Piralya'. It was Mahmud who cunningly converted two of his Brahmin friends — two brothers — to Islam. The stigma of defection now fell on their other two brothers, Ratidev and Sukhdev, who were consequently ostracized, and ignominiously branded as 'Pirali Brahmins'. Sukhdev paid a hefty dowry, and somehow, managed to get his daughter married to Jagannath Kushari, the zamindar of Pithabhog.

This, in brief, is the pre-history of the Tagore family, one of the most illustrious families in the cultural history of Bengal, as well as one of the most charismatic in the colonial history of India. Jagannath's descendants, Sukhdev and Panchanan, crossed Adi Ganga and reached Gobindapur which — along with Sutanuti and Kolikata — was being transformed into a port city by the British. The illiterate fisher folk community glorified them — for they worshipped their idols — calling them Thakurs, meaning 'gods'. This was distorted in the British tongue into 'Tagore'. The Tagore family later collaborated with the British in the construction business. The family made a fortune and built a sprawling mansion at Pathuriaghata.
But who was Hazrat Khan Jahan Ali who literally started the line of the 'Pirali' Brahmins? For this we need to go back in time. Islam first appeared in Bengal around 9th century during the Pala rule, as a result of increased trade with the early Arab Muslim merchants. The Arab Muslims established commercial as well as religious connection within the region mainly through the coastal regions as traders and primarily via the ports of Chittagong. Following the conquests of Muhammad Bin Bakhtiyar Khalji and the establishment of the Delhi Sultanate, Indian Islamic missionaries came in this region safely and achieved one of their greatest success in terms of successful dawah and number of converts to Islam in Bengal.
In the 11th century, the Turkish Ghaznavid ruler Sultan Mahmud (971-1030) initiated the first of numerous invasions of north India. A couple of centuries after Mahmud's invasion, Ikhtiyar Uddin Muhammad Bakhtiyar Khilji (died in 1206) made his way to Bengal at the beginning of 13th century. Establishment of a Muslim stronghold in Bengal encouraged several Muslim saints and sufis to come to preach here. Baba Adam Shahid of Dhaka, Shah Sultan Rumi of Mymensingh, Makhdum Shah Dawlah Shahid of Pabna, Jalal-Din Tabrizi of Deotala (in Nawabganj, Dhaka) , Shah Jalal of Sylhet and Hazrat Khan Jahan Ali of Bagerhat were a few of them.
(To be continued)