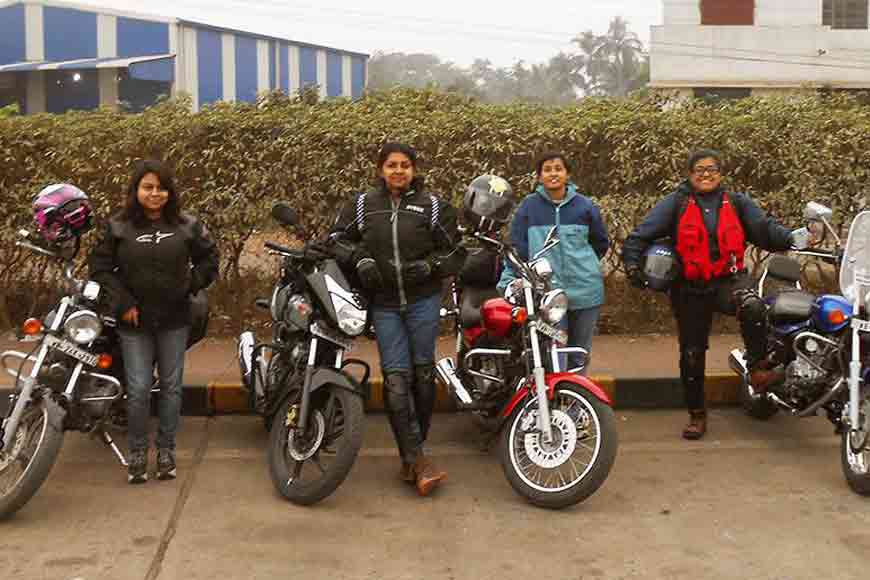 Remember the Hollywood hit, Wild Hog (2007), the biker movie featuring Tim Allen, Martin Lawrence and John Travolta. Well, if not that, the cult movie She-Devils on Wheels(1968), a film about an all-female motorcycle gang, 'The Maneaters,' who hold motorcycle races, as well as terrorize residents of a small Florida town, clashing against an all-male rival gang of hot-riders. Kolkata has its own Lady Bikers' Club, that will set a blazing trail on any wintry evening for sure!
Biking had long been a favourite adventure sport for men in India but now women biker groups have also joined the fray. These dare-devils have come out into the open, breaking all social barriers. And it's now a proven fact that it's not a fad, these ladies are here to stay.One of the earliest women biker groups in India, The Bikerni was founded in 2011 by Urvashi Patole. What started out as a platform for women to come together to ride motorcycles, is now a nationwide club to empower women and is respected in the biking community.
In the same year, Raima Samui Sarkar along with Mohua Polley formed the Lady Biker group in Kolkata. They aimed to bring enthusiastic female bike riders together under an umbrella organization, to share their travel experiences and riding tips. Since then, there has been no looking back for these feisty ladies and their membership has increased over the last couple of years.The Lady Biker Club members have their own bikes and hold their meetings on the road. They participate in safety rallies, practice rides, and go on adventure trips. What makes them a super biker squad is their passion for travel and adventure. From Ladakh to Rameshwaram, Orissa to Rann of Kutch, the Lady Biker squad members have been criss-crossing the country for several years now and have togged up more than 50 trips.
The club members are very particular about maintaining road safety rules and being responsible riders. Irresponsible rash riding and road rage are a complete taboo. Other than participating in adventurous road trips, the club also organizes maintenance workshops to familiarize members with their mean machine. This is a vital part of the training because when the ladies know their bikes inside out, they can fix any sudden problem in their bikes while on a trip.
So, if you are a passionate bike rider, fond of adventure travel and road trips and live for speed, then gear up for your search ends here. Time to join this fascinating club and be a part of the cool squad.