Down Syndrome Association Kolkata celebrated World Down Syndrome Day to raise awareness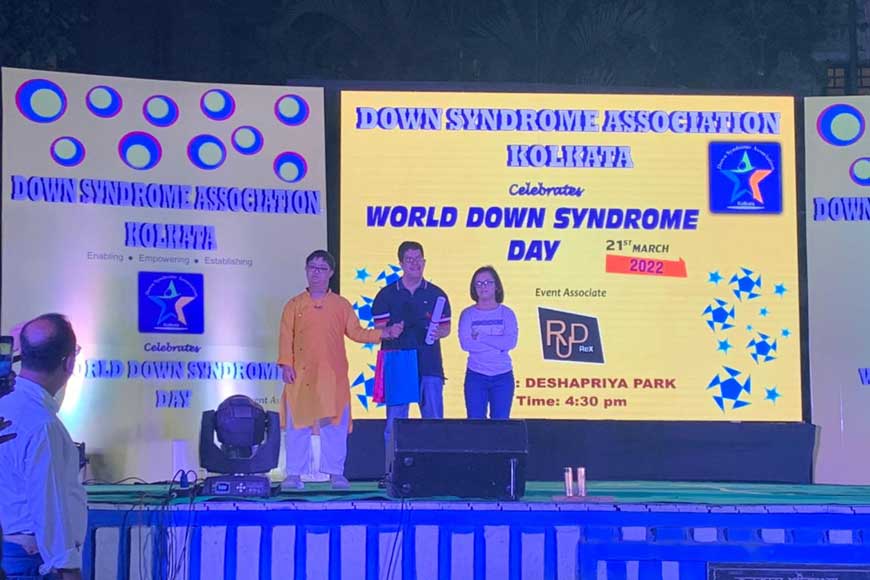 Special Guest of Honor, Tarun Kundu felicitated by the participants
World Down Syndrome Day (WDSD), 21 March, is a global awareness day that has been officially observed by the United Nations since 2012.
The date for WDSD being the 21st day of the 3rd month was selected to signify the uniqueness of the triplication (trisomy) of the 21st chromosome which causes Down syndrome.
Down syndrome, also referred to as Down's syndrome sometimes, (or Trisomy 21) is a naturally occurring chromosomal arrangement that has always been a part of the human condition, being universally present across racial, gender, or socioeconomic lines in approximately 1 in 650 live births, although there is considerable variation worldwide. Down syndrome usually causes varying degrees of intellectual associated medical issues.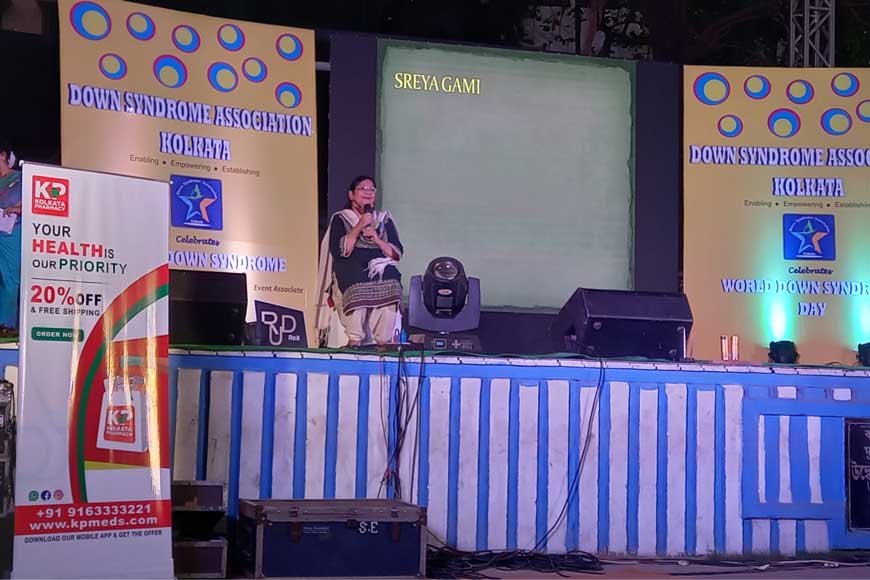 Guest speaker of the event, Smt. Paromita Chatterjee
Six mothers, with over two decades of experience working for people affected by Down Syndrome, founded the organization "Down Syndrome Association Kolkata". To raise awareness about the disorder, they organized a cultural event at Deshapriya Park, a popular landmark located in South Kolkata. The event started off with an awareness walk around Deshapriya Park, followed by a cultural extravaganza that entailed dance, music, recitation, Gaudiya Nritya, and group yoga, among other fun-filled and all-inclusive activities.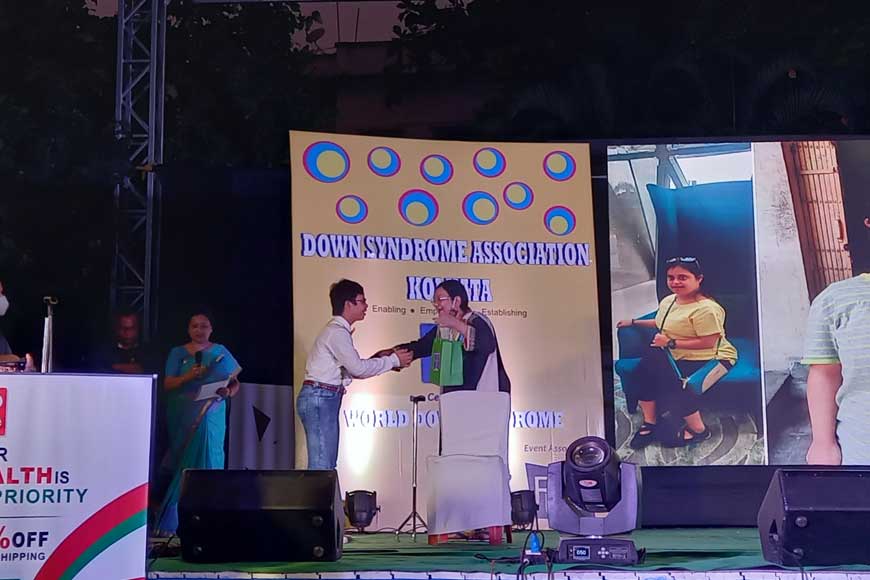 Smt. Paromita Chatterjee being felicitated by one of the participants
The inauguration speech was delivered by Srimati Paromita Chatterjee, Councillor, Ward 84, Borough 8 of Kolkata Municipal Corporation. The highlight of the event was an app launch, presented by Dr. Sujay Ghosh Science College, Calcutta University, and President, Indian Chapter of RS T21, Netherlands, and Professor Amlan Chakraborty, IT Department of Calcutta University.

All the performers and participants at the event were people affected by Down Syndrome, aged between 10 and 27 years. Special mentions include Suha Roy for stotra chanting, Meghna Guha, Tirtha Raj Ghosh, Vidhi Mohatta, Amrita Bhattacharjee, Swapnil Nandy Majumdar, Koyel Basu, Korak Biswas for their dance performances, Abhigyaan Neogi and Ankana Sur for their recitations, Shreyan Banerjee, Medhansh Jain, Abhra Mondol, Shayak Das and Rupanjan Sen for their outstanding musical performances.
Eminent personalities who blessed the event with their auspicious presence included the doctors and medical professionals, such as Dr. Dipanjana Dutta, Molecular Geneticist, Senior Research Scientist, Genetic Counsellor & participant in Indian genome variation database and Miss Indranee Paul, Founder, Sabitri, an organization for the differently-abled & a special educator. Rudresh Malakar, Shalin Bakshi, Agni Datta, Akash Sen and Rishi Das were the other participants who had performed yoga on stage.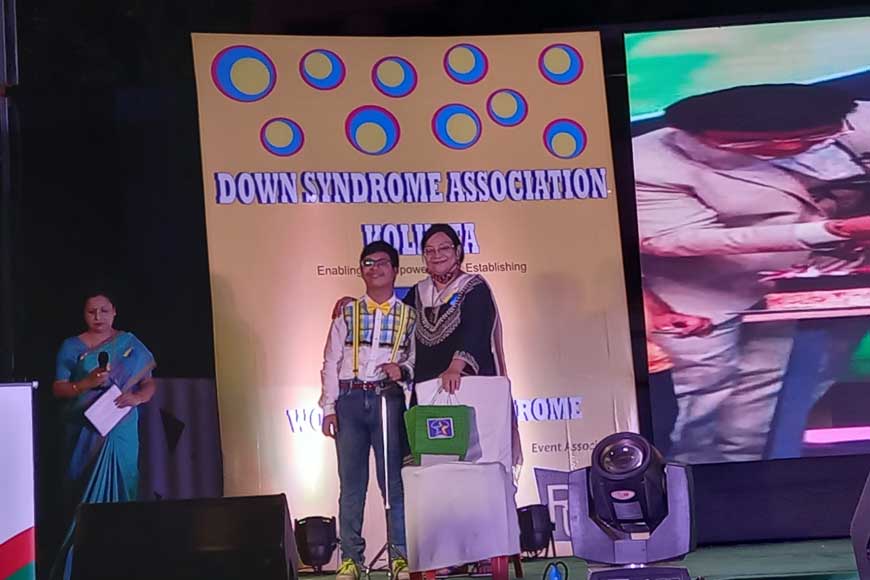 Smt. Paromita Chatterjee with one of the participants
The Chief Guest of the event was Shri Tarun Kundu, a sportsperson who won gold medals at every Olympic event he has ever participated in, a swimmer, cycling enthusiast, a musician who can play the tabla, harmonium, guitar, and the keyboard, and nationally recognized wildlife photographer.
Meghna performing a classical dance
All performers and participants began the event by chanting OM in unison and ended the evening by singing "Bum Bum Bole" from the movie Taare Zameen Par, a Bollywood movie that raised awareness for children with special needs, starring Aamir Khan. The DSAK organizers wrapped up the event with an orchestral performance of "We Shall Overcome", conducted by Mr. Sanjoy Das.