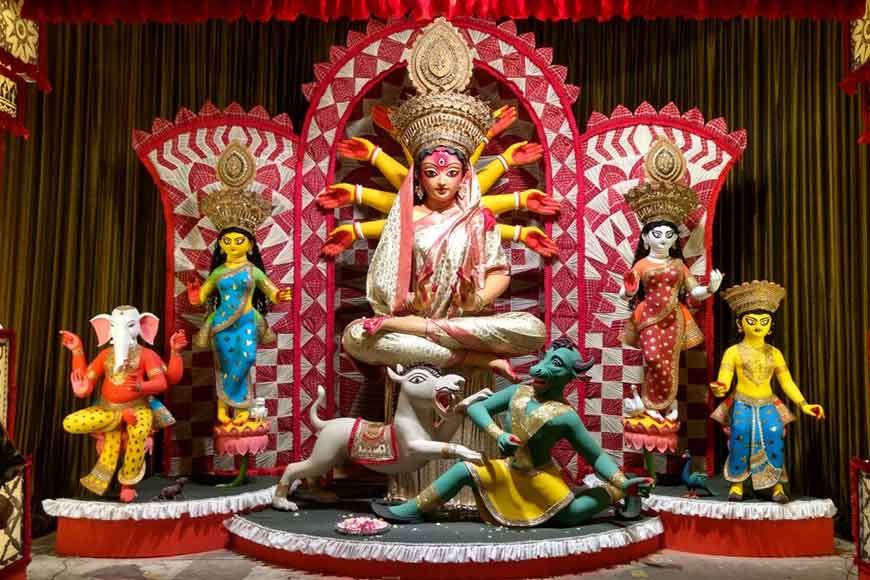 Durga Puja is not just a religious festival. Over the years the event has transformed into an annual carnival with jaw-dropping public art installations. Kolkata is temporarily transformed into a huge public art gallery with beautiful idols of the goddess, all-night crowds, live music sessions, and cultural programmes. Innumerable pandals of every size and shape pop up on streets with extravagant themes and artworks. 'Pandal-hopping' is a kind of gigantic public gallery crawl. But 2020 is going to be different. This year, due to Covid-19, there is a lot of uncertainty. For most big-budget puja committees, maintaining social distancing and sanitization on such a large scale will be a herculean task. Amid all these uncertainties, one thing is certain – when it is autumn in Bengal, Ma Durga will be ushered into her parental home, come what may.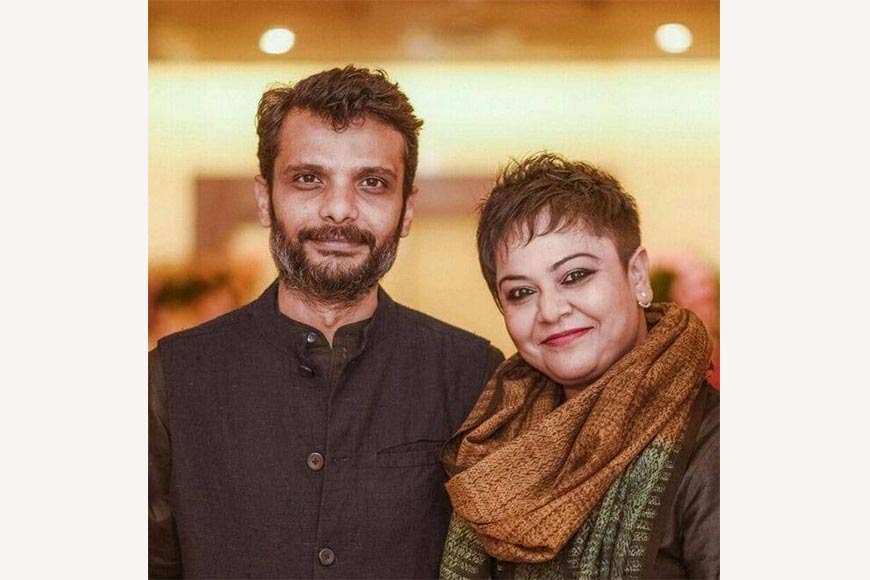 Artists Saumik and Piyali
Arjunpur Amra Shobai Club in East Kolkata has made a name for itself in the last couple of years with its amazing themes. This has been possible mainly because of the enthusiasm of Tamal Dutta, one of the office bearers of the club and two young and extremely talented artists, Soumik and Piyali, who have been associated with this club's puja since 2014.
When GB asked 'what are their plans for this year?' Piyali said, "This year, we were scheduled to travel abroad and one of our friends was supposed to create the theme for Arjunpur Amra Shobai Club and we were supposed to provide him all technical support. However, all our plans went topsy-turvy following the Covid-19 pandemic. All international flights were stalled and our journey was cancelled. There was hardly much time left and we were asked to step in and create the theme for this year's puja. We have been associated with this puja since 2014 so it was easy for us to chalk out a detailed plan and start work on it."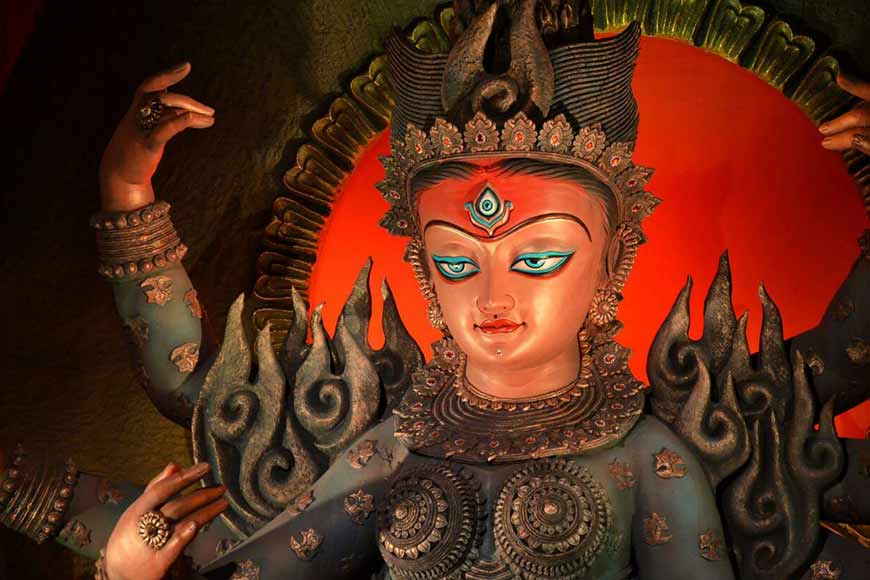 When asked if they are compromising in terms of showcasing their skills under the present circumstances, Piyali said, "Shortage of time is the only major factor we are putting up a battle against. We had gauged the situation and knew we would have to do something different this time. We had to be cautious about our team since it is our responsibility to look after the welfare of the artisans who have been working with us for a long time. They all wait for the annual festival so that they can come to the city and get involved in the creative process. This time though, many artisans were worried and demoralized. They were keen to start work with us and sent fillers. After all, there's no denying the fact that those who work in the unorganized sector like us cannot just sit at home and while away time. We need to work. The workforce under us needs employment to sustain."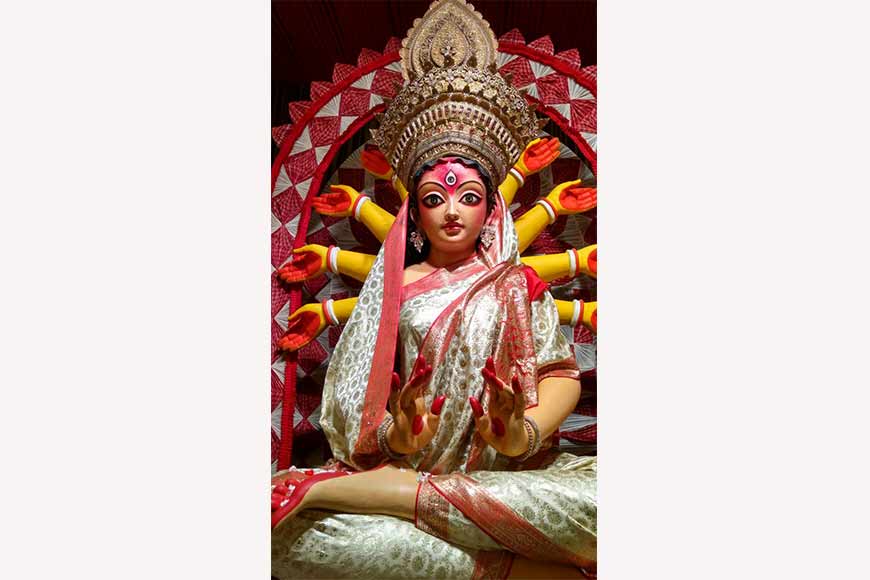 For them the choice is between the fat and the fire. Either they stay at home and starve to death or else take a chance and work with all precautions but if they get affected by Covid-19, well, bad luck! We have been very cautious this time and instead of congregating at one spot and working together, we have spread the work. This year, we have conceptualized the area like a free-access spacious 'Rangmanch' (open air theatre) so that there will be mobility and viewers will be able to maintain safe distance and move in and out of the pandal without any obstruction.
Piyali and Soumik have assigned small groups to work separately on a piecemeal basis at their factories or work shed and when everything is done, they will bring it to the spot and all the pieces will be assembled to complete the installation. Piyali herself has transformed a portion of her house into a studio/ work station and she is mostly working from there.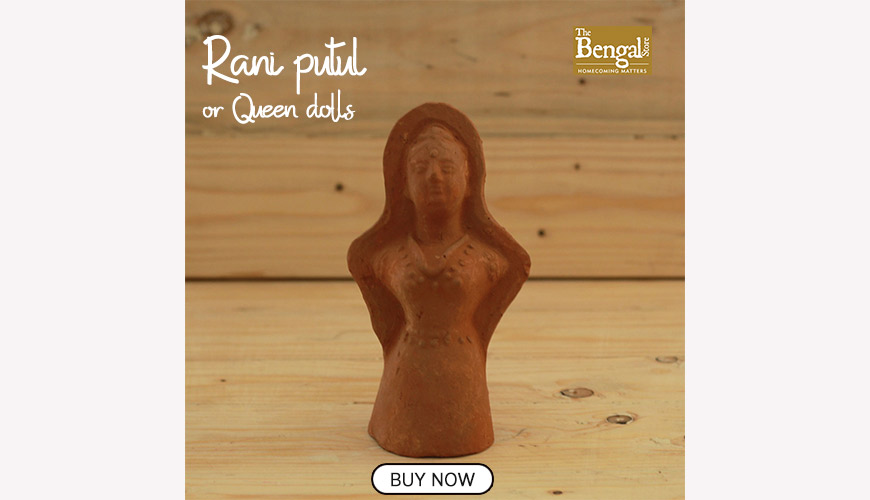 But what about the budget? Most big Puja committees have tightened their purse strings this year. Corporate funding has eluded most organizers. Isn't that posing a problem for the duo? Piyali promptly says, "It is most unfortunate that many artists have to work within a tight budget. But we are lucky indeed. Tamal-Da (Dutta), who is supercharged and very enthusiastic about the Puja has been giving us solid support. He has given us a free hand and never interferes with our work. This gave us the impetus to work on industrial scale. I have my own team of artisans who have been working with me for years. They have all trooped in from villages in Habra in North 24 Parganas and are working round the clock to complete the work on time.
Prakash Das, proprietor of Oriigin, a company that specializes in making 3d artworks for exhibition pavillions, interior design, showroom design, stage design, set design etc is an old acquaintance and he pitched in to help with the fabrication process. Tamal-Da is a man of words and he will pay us in installments and Prakash-Da has agreed to the arrangement amicably. "So we really don't need to worry about the financial aspect just now. I am more concerned about the health of my teammates. One day, they all had to go to Burra Bazar to procure raw materials. We sent them with gloves, masks and sanitizers."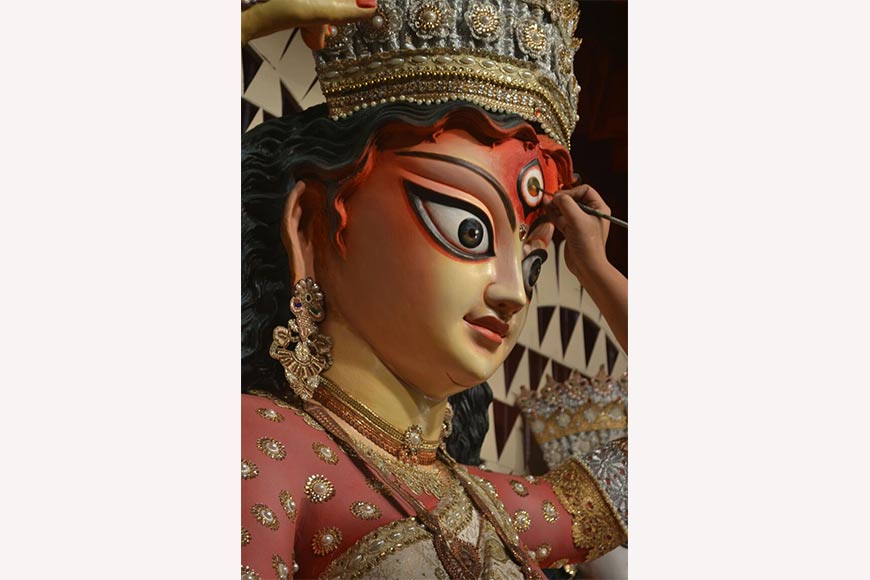 Their Puja has a theme titled 'Kaal-Chakra' which means 'wheel of time' or 'time cycles.' Just like the wheel is in motion, time continues to be in motion for eternity. In this set up, Shakti as represented by Goddess Durga, the primordia cosmic energy and represents the dynamic forces that are thought to move through the entire universe. Shakti is the personification of the Energy that is creative, sustaining, as well as destructive, sometimes referred to as auspicious source energy. Whenever we humans forget that we are mere cogs in a wheel and tamper with the harmony set by Mother Nature. And then Shakti (Energy) manifests itself in all forms of matter, thermal energy, potential energy, gravitational energy etc.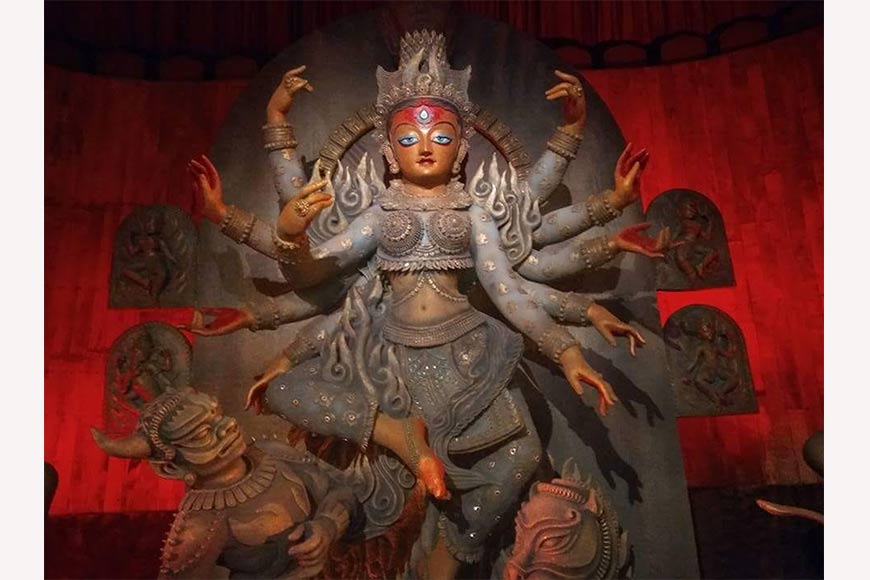 Do they expect a large crowd thronging the pandal during the Pujas this year?
Piyali is a little hesitant and prefers to let the question pass. She is very categorical when she says, "For any artist, communication with the viewer holds large and we are no exception. We definitely love to see viewers thronging our pandal on a mega scale, admiring or criticizing our work. This motivates us to work better. But this year we would insist on the old adage: 'Better be safe than sorry. These are very tough times indeed and people in Bengal wait for an entire year for this annual festival. A number of digital platforms will be inaugurated to facilitate 'Darshan' by senior citizens and people with disabilities or children from home. We hope to satisfy our viewers with our installation this year as well like the previous ones."
With these parting words, Piyali moved on as she hollered at someone to be careful.
Story Tag:
Installation Art, Durga Puja