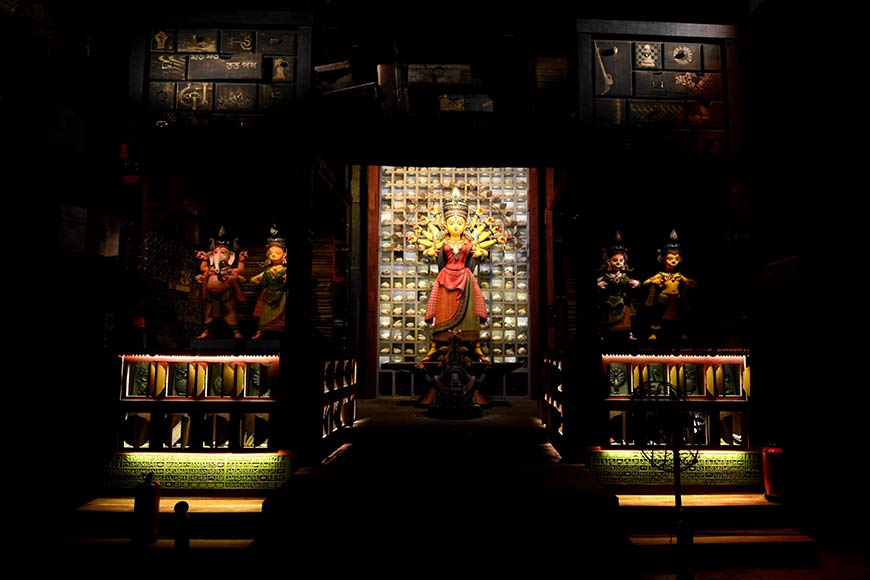 Durga Puja, the annual autumnal festival is heralded with much pomp and grandeur in Bengal. The puja unleashes a gamut of emotions for Bengalis not only in the state but across continents, living in every corner of the world. This is October and the biggest festival in the state is just round the corner and the state is gearing up to usher in Goddess Durga and her brood amid this Covid-19 pandemic.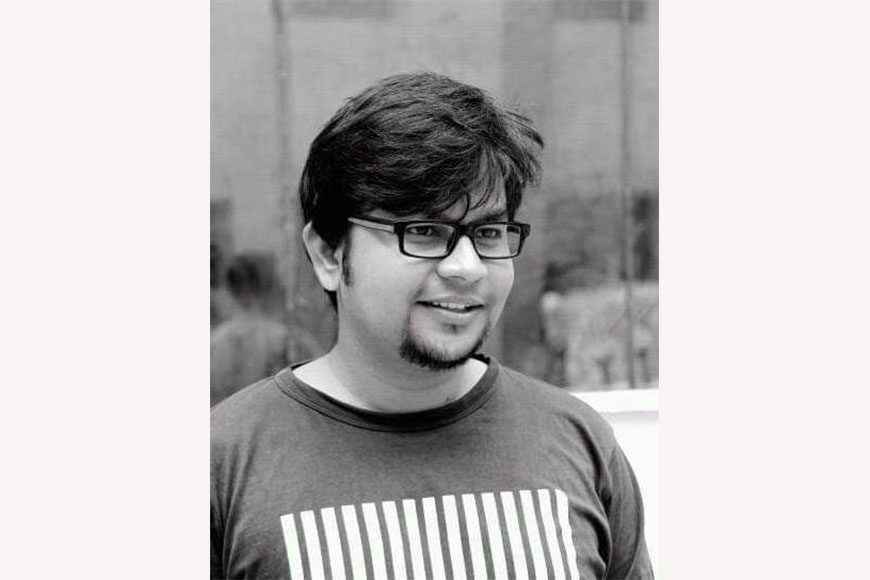 Artist Pradip Das
Artist Pradip Das has been associated with famous South Kolkata puja Samaj Sebi Sangha's Durga Puja since last year. This year, he got only 30 days to give shape to his theme and now with the Pujas knocking at the door, his men are working round the clock to wrap up the installation after putting the final touches. Das is extremely busy now but he took time out to speak to us.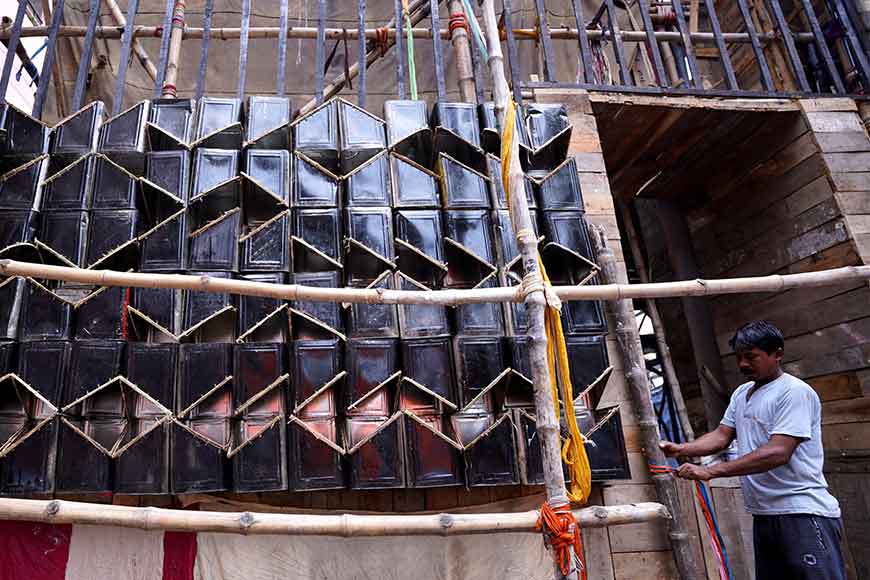 A glimpse, Samaj Sebi Sangha
At a time when most famous Durga Puja committee members have decided to curb expenses, Samaj Sebi Sangha's puja, will be celebrating its Diamond Jubilee in a unique manner and Das' theme, too, will reflect it. Das said: 'Planning for a big puja begins a year ago, soon after the immersion of the idols. Hence, this year too, the organizers had planned everything on a major scale but with the outbreak of the pandemic, everything was thrown out of gear. By mid-March, we were all very despondent and apprehended that this year there would be no Puja at all. So many people depend on this annual event for their livelihood and this was such a big blow. But as months went, the picture became clear. I received positive vibes from the organizers and began my planning. I knew, everything would have to be scaled down, not in terms of looks but in terms of concept. For instance, I generally use metal like iron rods and other heavy stuff for large installations but this year, I substituted it with other materials. As a result, the final look will be grand like previous years, but the raw materials I have used are lighter and cheaper. All this needed a lot of research and planning which I did during the prolonged lock-down period."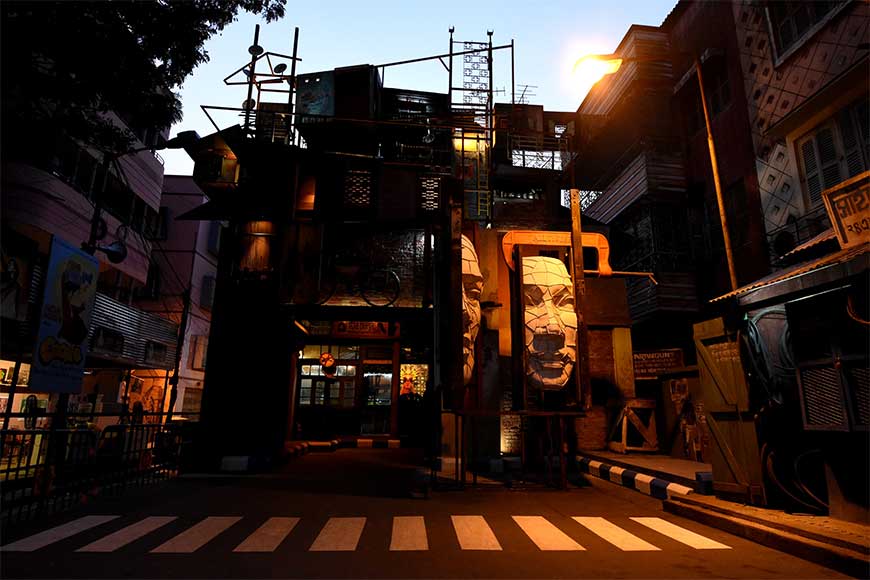 Samaj Sebi Sangha, Durga Puja 2019
When asked about this year's theme he is working on at Samaj Sebi Sangha, he said, he is working on the concept of 'Setu' (Bridge). Das explained why he had selected this theme. Samaj Sebi Sangha's Durga Puja was initiated by eminent freedom fighters like Sarat Bose, Leela Ray, Anil Ray, Meghnad Saha and other social workers during the communal riots in Bengal. Samaj Sebi Sangha was formed to help the riot-affected people. This aspect of 'seva' (extending a helping hand) is an integral part of the puja ceremony. Last year, Samaj Sebi Sangha reached out to Autism Society of West Bengal (ASWB) to share the grand experience of Sharodiya Utsav with people with autism and other disabilities.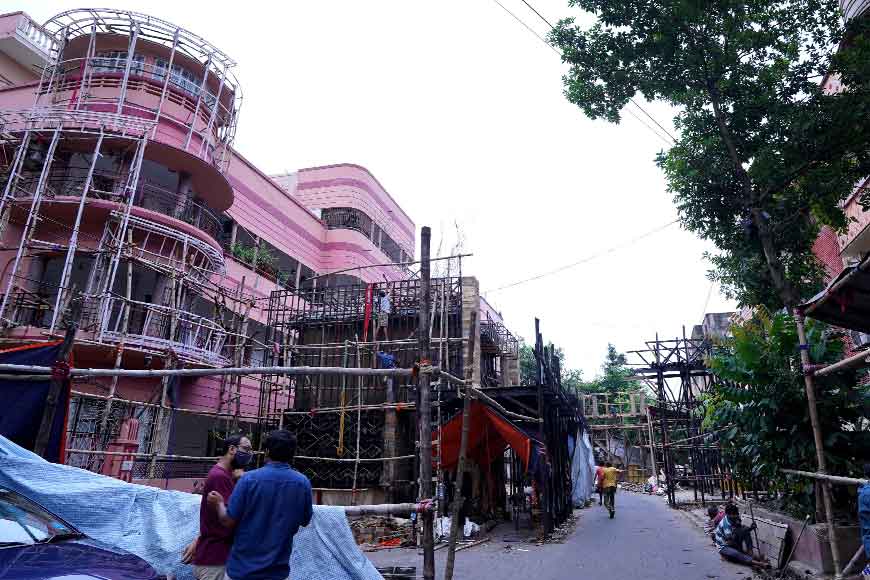 The initial structure
This year is no exception. Since this is the 75th year of Puja, members of the organization went deep inside the Sundarbans after the super-cyclone ravaged and mangled the cluster of low-lying islands in the Bay of Bengal. Villages were wiped off the atlas with a deadly blow. The members of Samaj Sebi Sangha zeroed in on a small hamlet named Madhabkathi, located on the banks of the Raimangal River and adapted 75 families from the poorest of the poor villagers. Samaj Sebi has pledged to look after the welfare of these 75 families and try to fulfill all their requirements in the future. Das decided to highlight this gesture in his installation this year. "The way Samaj Sebi Sangha has extended a helping hand to lift up the needy and accommodate the marginalized people in the mainstream of society reminded me of a bridge. This entire vision of inclusion is like building a bridge to connect and that is why I worked on this theme of building a 'Setu.'
Any art form, be it visual or performing arts, is a kind of dialogue -- between the creator/performer and the viewer/audience. When an artist or sculptor is giving shape to his/her thought, he/she is actually trying to communicate with his audience through his work. So, working under so much stress (lack of time) and so many restrictions, what is Das expecting this time?
"I am quite confident about people coming out their houses to participate in this festival. People have been cooped up in homes for six months and now that the biggest festival is here, I don't think people, especially youngsters will choose to remain indoors. In fact, I have seen the puja is garnering a lot of interest among the masses. Our pandal is on the main road, and every day passers-by stop over and excitedly peep inside the pandal to find out about the progress of the installation work. I am a little apprehensive at this stage since many over-enthusiastic people might just throw all cautions to the wind and this can pose a big hazard for the people. But the organizers are trying their best to take adequate precautions to maintain social distancing , sanitizing the area during the festival and sensitizing the masses. A number of digital platforms will be launched during the pujas so that the elderly people and others with physical ailments or disabilities can stay indoors and enjoy the sights and sounds of the event from the safety of their homes. The organizers, no doubt, will face yet another tough challenge to ensure the virus doesn't cost more than the celebrations. But all said and done, I won't be surprised to see a deluge of people on the days of the puja."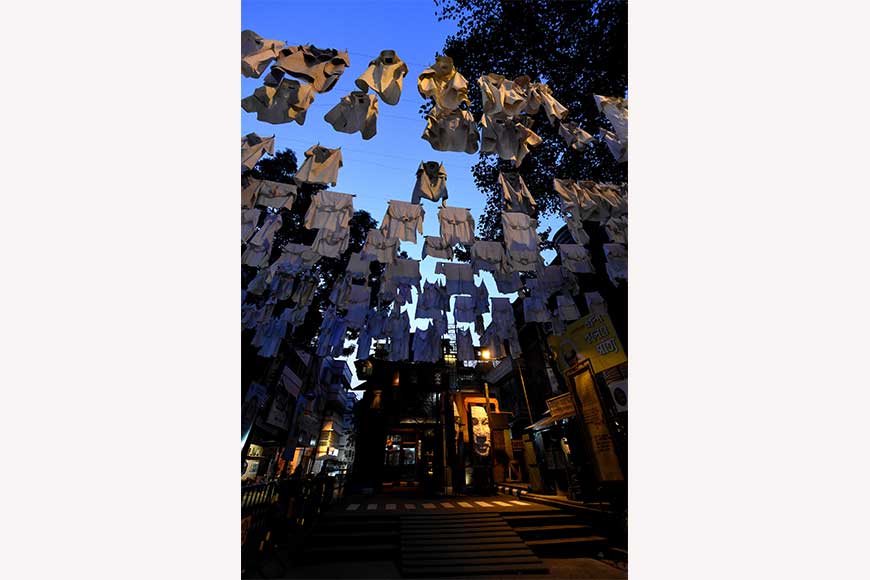 The look, 2019
When Das was asked about the kind of support he was getting from the organizers, he was exuberant and full of praise. "I had no problem whatsoever with the puja committee. The members have extended full support. This year, we all know the entire world is reeling under a series of calamities so everything needs to be done in a balanced manner and you can't forget the fact that Samaj Sebi's budget is allocated for social work as well. Despite that, the members have been most magnanimous and have never posed any problem for me. My real problem was the paucity of time. In the previous years, we would get at least a hundred or 150 days to work on a project but this year everything started so late and now has to be wrapped up before 'Tritiya.' Hence work is in full progress and my men are working day and night to complete everything on time."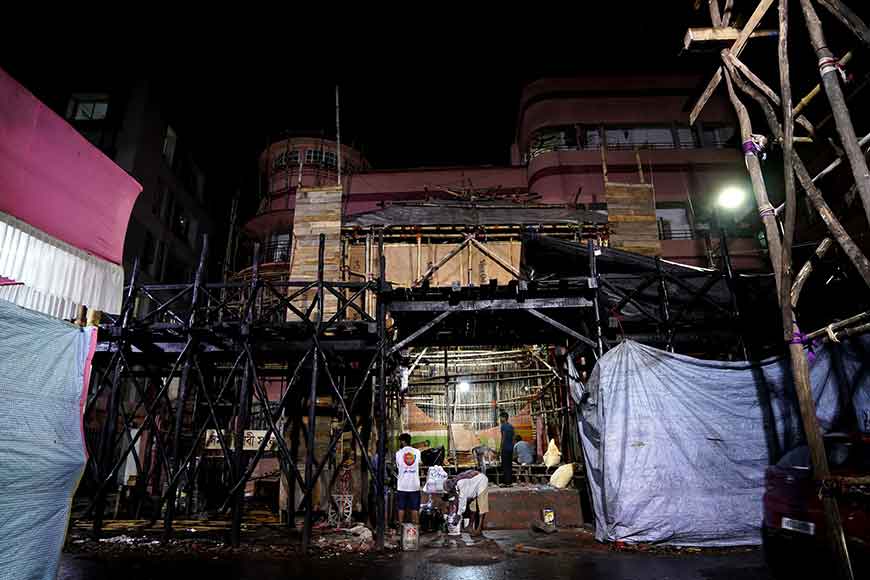 This years work in progress
When asked about the lock-down effect on the artisans who come from villages to work for him, Das said, "I did not face any problem because I have my set of artisans who wait for the Pujas and come from their villages to work for me. This year, too, was no exception. They all came and I allotted them specific assignments and they started work in right earnest. Now we are nearing our last leg of work which we home to complete on time."
With these words, Das took leave and got busy working with his men.
Story Tag:
Durga Puja, Kolkata, West Bengal